Okay- so let me just set the scene…… my oldest son was about to turn three years old, and I couldn't wait to celebrate with a full-on birthday bash (notice that I said "I" couldn't wait….. I am not even sure that Kyle was asking for a party)! It didn't matter that I had a 20 month old, and a brand new baby (3 month old)…. AND that we had just started a renovation project on our house to add on two additional bedrooms….. I was having this party! Kyle was a fan of Bob the Builder, and since our front yard was already "decorated" with construction equipment, this seemed like a good theme for our party.
True to my hyper-organized self, I created a detailed week-by-week timeline outlining all of the things that I needed to accomplish in order to pull off this party. It looked something like this (I know, because I actually saved it…… you know, in case I wanted to follow it as a guideline for all of my future parties!)…
The Planning Timeline (Note: Do NOT follow this!)
5 weeks out:
Create and send out the invitations
Call rental company and order tables and chairs
Come up with ideas for the party games
Make signs for the party games to hang up in the game area (obviously my post-partum brain wasn't registering the fact that 3 year olds can't read!)
Make and test tattoos (umm.. yeah- I couldn't find Bob The Builder tattoos, so I actually purchased tattoo paper for my color printer, and MADE the tattoos)
4 weeks out:
Make the fishing pole and find a bucket for the "worms" for the "Bob the Builder Fishing Hole game"
Make the cut-out for the "Pin the Wrench on Bob" game and find a blindfold
Test the craft idea and make a sample to show the kids
3 weeks out:
Make the racetrack for "Roley's Race Track" game
Assemble the toolbox craft
2 weeks out:
Make chocolate lollipops (as prizes for the games….. no plain old store-bought suckers for my big boy and his pals- no way!)
Write up activities for my party helpers (a.k.a Grandmas and Grandpas- because clearly this party was so detailed, it required hand-written instructions for anyone involved!)
1 week out:
Shop for ingredients for lunch and cake
Write guest's names on hats, bags, aprons, toolboxes
Follow up on RSVPs
Follow up with the rental company
Choose serving pieces for snacks (I envisioned serving them in cleaned out toy cars and dump trucks, but eventually gave up on this idea when I couldn't get the boys to stop playing with them!)
Make prize bags for "winning the games" (fruit snacks and graham crackers)
A few days before the party:
Bake and decorate cakes
Buy fruit and cheese
Tables and chairs delivered- clear out furniture and set up "party rooms" (formally known as the living room and dining room)
Day of the party:
Cover tables, set out paper goods, set up staging area for crafts, and food service
Cook chicken nuggets and tator tots (put in warming trays)
Pick up balloons
Set up music (of course I had music from the TV show!)
Set out garbage cans, wipe boxes
Make sure bathrooms are clean and have extra hand towels
And somewhere on this list I forgot to include
HAVE A NERVOUS BREAKDOWN BECAUSE THIS IS INSANITY!!!
But allow me to show you the results of all of
my hard work…. here it is- in all it's glory…….
Kyle's Bob the Builder Party!
The Bob the Builder Party Invitation:
Bob the Builder Party Order of Events
When the party guests arrived… they were met by this sign hanging near the front door. When they stepped inside, we had a large wheelbarrow next to the door to hold all of the birthday presents.
The party goers were invited to the table where they could decorate their construction hat and their "prize bags", and don their construction apron too! This was our "opening activity".
We had four party games planned, that were manned by our very helpful Grandmas and Grandpas….. the first was "Roley's Race Track", where the kids could race little Bob the Builder cars and win a prize. The second game was "Pin the Wrench on Bob" (a la Pin the Tail on the Donkey)…. but I quickly learned there that 3 year olds wanted no part of wearing a blind-fold!. The third game was Bob the Builder's Fishing Hole where the guest would put a gummy worm on the end of a fishing pole, and dangle the line over the top of a sheet that was hung at kid-height across a doorway where my father was hidden on the other side of the sheet, and would take off the gummy worm and replace it with a package of fruit snacks. The kids loved this game! The final station was "Scoop's Tattoo Parlor" where the party goers could receive a homemade Bob The Builder tattoo of his or her choosing!
After the party games, we went back to the tables which were now set up with our craft project….. we painted these wooden toolboxes. (My poor husband had to assemble 28 of these things from kits!)
Bob the Builder Lunch
After the craft, I gathered all of the party guests into the other room, where I read them the story "Bob's Birthday". While this was going on, my hubby and the Grandmas cleaned up the tables, and readied them for lunch. The kids could choose from homemade chicken nuggets, tator tots, fresh fruit, cheese cubes, pretzels and goldfish, salad, juice boxes, and water.
Bob the Builder Birthday Cakes!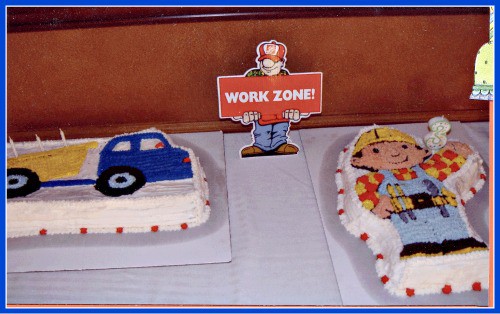 All Parties Need an "Exit Plan"!
After the cake, we assumed that everyone would be gather up their little one and all of their party goodies, and head home….. so we were surprised to find that so many parents and kids continued to hang out, take seats on our couches in the family room, give themselves a tour of the house…. we even found one Dad checking out our furnace in the basement (I swear!). And that's when we decided that future parties needed an exit plan…… and from that point forward we concluded our parties with an outdoor treasure hunt for goodie bags!(Live and learn!)
This party was so very cute- and I loved going back and admiring these pictures and remembering that special day….. but really- it was a ridiculous amount of work! As time went on, and I got a few more of these birthday parties "under my belt" I learned how to simplify it a bit, and still make it a fun and magical day for the birthday girl or boy!
If you liked this party idea, you might also enjoy these other at-home birthday parties we've thrown for our kids:
At Home Birthday Parties YOU Can DO!
To stay up to date on the latest tips and ideas, please consider signing up to have Momof6 delivered daily to your email inbox!