When I asked my kids if they wanted to go to Legoland Westchester this summer- my 8-year-old son Alex just about lost his mind with excitement! And he asked me every single day afterward, "When are we going to Legoland?!" Sadly we couldn't fit it into our schedule until mid-summer, so I had to hear quite a few requests! But at last the day came- and we were off on our adventure!
I declared this outing to Legoland Westchester to be a full family event- all the way up to the 13-year old- who wasn't at all sure that playing with Legos was how he wanted to spend the day. But after a few reminders that his younger siblings have sat through about 10,000 of his soccer games over the years and that this was one way he could return the favor, he reluctantly came along.
And as it turns out- all 6 kids (including him and Mom!) had an awesome time!
After checking in at the main desk and picking up our tickets- we were offered the opportunity to purchase passbooks for the kids that would allow them to collect stamps throughout the Discovery Center and trade it in at the gift shop at the end for a prize. Lili was excited to try it- and for $3 I purchased a passbook for her- but truth be told- we got caught up so much in the fun of everything else we did that forgot all about collecting the prize. (So next time we would skip the additional purchase).
The visit kicks off with a "factory tour"- a trip through a Lego workshop that is meant to instruct how Legos are created from small plastic beads. The staff member that led the tour did a nice job of trying to involve the kids- but honestly- nothing is actually being made here, so except for the youngest members of the crowd- this wasn't too exciting.
But every member of the group received a Legoland Westchester Lego as we left the tour- which made up for it!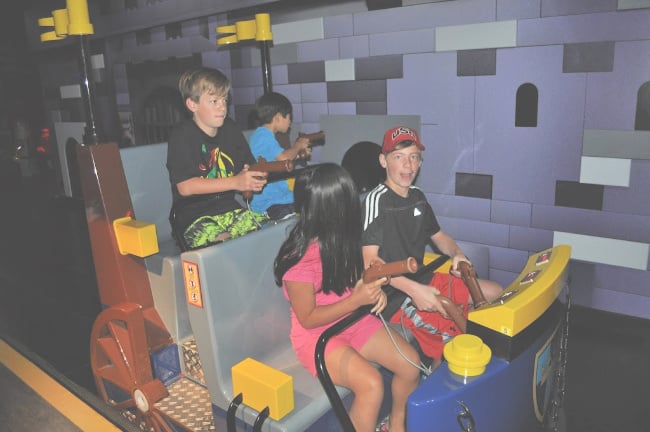 Legoland Westchester- Kingdom Quest Ride!
Next- we filed into the Kingdom Quest ride, where the kids had a chance to shoot at bad guys as we traveled through the exhibit. We all loved this ride! (It drew more than one comparison by my kids to Buzz Lightyear ride at Disney!)
The only bummer is that you only have the chance to ride this once during your visit- we would have loved to try this several times to see if we could beat our scores!
Legoland Westchester- Minicity!
When we exited Kingdom Quest- we entered the room with the minicity- New York City created entirely out of Legos! This was a huge hit for my family- every few minutes the lights would dim so you could see the display lit up for "the night" and then a little bit later morning would arrive and everything would return to daylight.
My kids were fascinated by the working baseball and football stadiums, loved seeing the city skyline and even the bull on Wall Street. This was one impressive room!
After the minicity room, we exited into the main floor of the Discovery Center where my kids were thrilled to check out all of the exhibits. They immediately headed over to where they could build and race Lego cars.
But just as we were getting started, I noticed that the Master Builder Class was going to begin- and I didn't want to us to miss that- so I herded everyone into the classroom (and don't worry- we came back to make and race cars for more than an hour later!)
Legoland Westchester- Master Builder Class!
In the master builder class, each of us was given a full kit to create these adorable Lego dragons.
The instructor was fantastic- he kept us on track and building together while teaching us all of the names of the various components.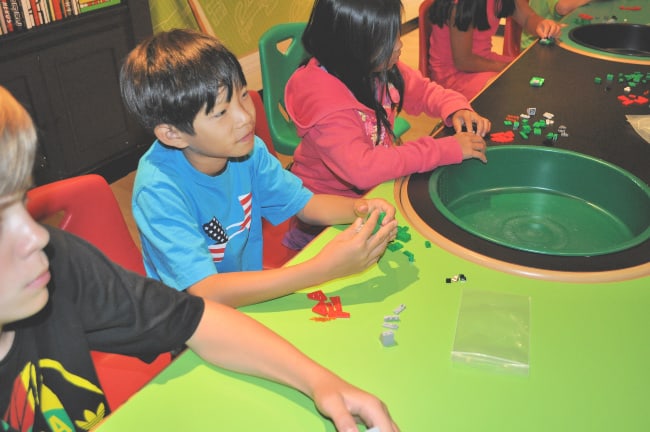 We could follow along on the large TV screen at the front of the room, and raise our hands for further instruction if we had any trouble. I think we could have done this all day- it was a lot of fun. (And for those that wanted to purchase their creation, you could do so for $5).
While some kids returned to the car racing area, I ventured off with my younger three to ride the Merlin's Apprentice Ride- we flew through the air on pedal cars in a wizard's library.
We spent some time building towers and testing them on the earthquake tables. There was a soft play structure for younger kids (be sure to bring along socks if your kids are wearing crocs or flip flops that day!) and a large cafe that was filled with kids from local day camps during our visit.
Legoland Westchester- Ninjago Laser Training!
Next we decided to stop by the Ninjago Laser Training area where the kids had to dash under and around laser beams as they crossed from one side of the tunnel to the other. They loved this!
Finally, we went into the 4D theatre to view a short (10-15 min) Lego movie. My kids cheered during the film and loved it when it actually snowed and sprayed water in the theatre!
It was hard to believe that we spent almost 4 hours inside Legoland Westchester with kids ranging from 8 to 13 years old, and everyone had a great time! We all give this a big two-thumbs up rating!
Looking for some more great New York road trip ideas?
Check out these posts:
*Disclosure: My family was invited to visit and review Legoland Westchester this summer with free admission. As always, all opinions expressed here are my own (and that of my very enthusiastic kiddos!)