One activity that I am trying to inspire my kids to love is hiking. Getting out on a trail that winds through the woods, offers distant sweeping views of treetops or mountains, and includes a lake, river, or waterfall- makes me feel connected to nature and just "feeds my soul". And getting some exercise while all enjoying all of this natural goodness is just a fantastic side benefit! One of our favorite places to visit every summer is Minnewaska State Park, located in New Paltz, NY. It's a great place to visit on one of our family road trips!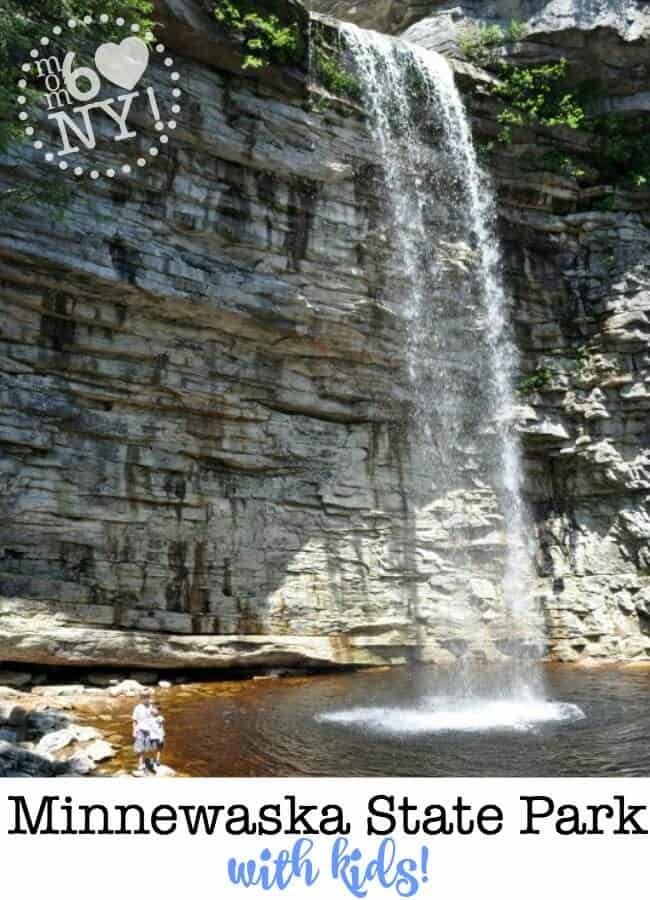 "Located in Ulster County, NY Minnewaska State Park Preserve is situated on the dramatic Shawangunk Mountain ridge, which rises more than 2,000 feet above sea level and is surrounded by rugged, rocky terrain. The park features numerous waterfalls, three crystalline sky lakes, dense hardwood forests, incising sheer cliffs and ledges opening to beautiful views, clear streams cut into valleys, 35 miles of carriage roads and 50 miles of footpaths on which to bike, walk, hike and simply enjoy. And, all this within an hour and a half drive from New York City."  Parks.NY.gov
Hiking at Minnewaska
Our hike always starts with a visit to the Awosting Falls which is just a short walk from the main parking area. The start of this trail brings you to the top of the falls where you can come close to the edge and peer over, and then the trail winds down the hillside to the base of the falls.
This is a fun place to climb on the rocks for a while! And edge your way out to feel the mist of the falling waterfall.
From here there are several trails you can take- but we prefer to follow this hike mapped out by a fellow hiker that is about 6 miles long and takes 3-4 hours depending on how often you stop. You can skip some sections and even drive to an upper parking lot if you want to make it easier on the kids. (Since cell service can be wonky while hiking in the woods- I suggest printing out the directions and carrying them with you!)
The views from the ledges along the trail are gorgeous!
The trail takes you around Lake Minnewaska (here we are across from the swimming beach- which is a great place to stop to cool off after the hike!)
Sometimes you'll find some cute little critters on the trail- this is a newt that my husband picked up to show us. Minnewaska is also home to plenty of squirrels, chipmunks, whitetail deer, coyote, and even the Timber rattlesnake (who won't be at all interested in seeing you).
Minnewaska was once part of Mohawk Mountain House's property, and at one point there were two large hotels on the property that have both since burned to the ground. The preserve was purchased by NY State in 1987, and has been expanded since then with the acquisition of additional acreage to be the preserve that we enjoy today (via Wikipedia).
Planning Your Visit to Minnewaska
You can find a complete Minnewaska trail map here. But be sure to check their website before you plan your visit, as there were wildfires in the area in 2016 that have closed some of the trails.
*Minnewaska State Park with Kids is part of the "MomOf6 Loves NY!" series that highlights some of our family's favorite places to visit during a New York road trip!
Looking for some more great New York road trip ideas?
Check out these posts: