My kids love to watch the show "How It's Made" on the Discovery Channel- so trying finding a factory tour to take with the kids sounded like a great idea. And when I learned that you can learn all about how glass is made at the Corning Museum of Glass, I was intrigued! But a glass museum- for kids? How can I be sure they won't break anything? And will it be interesting enough for them to have fun? In spite of my hesitations, we ventured to the city of Corning, NY to check out it all out- and I can happily report that visiting the Corning Museum of Glass with kids makes for a fantastic family road trip!
*image credit: The Corning Museum of Glass
Visiting the Corning Museum of Glass with Kids
When you first walk into the museum you are brought into this amazing Gallery space. There are so many exhibits to explore- perfect for kids with lots of questions!
There are museum galleries where you can take in the incredible presentations of glass as art. And then there are live demonstrations! That's the first place we headed!
The glass blowing demonstration was fascinating. The artisan removed a molten glob of hot glass from the kiln and began to shape the glass.
First, he blew through the tube to put some air into the glass.
After he achieved the shape and size he was looking for (and look at how the glass is clear now), the other artisan helped him out by "drizzling" some additional hot glass on top of his work in order to create a dimensional effect.
He returned the piece to the kiln again to heat it, and then by using the forces of gravity to shape the bowl, he spun it into a platter-shape and then it turned it upside down to create this fluttery-edged bowl. It was so cool!
My kids were hooked- and wanted to see another glass demonstration right away!
So we attended a flameworking demonstration to see how an artist took glass tubes, melted them, and shaped them into small glass figures. This particular demonstration was a "You Design It, We Build It" session, where the museum selects one design that a guest drew and then create it in glass to match what the guest envisioned.
Today's guest had drawn a picture of a brown cat with blue polka dots, and we were amazed at what a great job this artist did in creating this figure.
We spent several hours walking around and viewing the glass on exhibit and learning about how glass is mass-produced in so many forms- light bulbs, glass bottles, Pyrex, and more.
Don't Miss the Chance to Participate!
The absolute highlight of our trip came at the end when I surprised the kids by signing each of us up to work with an artist to make our own glass ornament!
First, she removed a nice glob of molten glass from the kiln-
You then get to select the colors and the shape of the ornament you wish to make, and the artist picks up the colored pieces of glass that adhere to what she has on the end of the tube, and she starts to shape it. Then it is your turn to get involved by blowing into the tube to create the ornament.
Using a tweezer-type of a tool, she pulled the end of the glass to achieve a teardrop shape (as my son requested).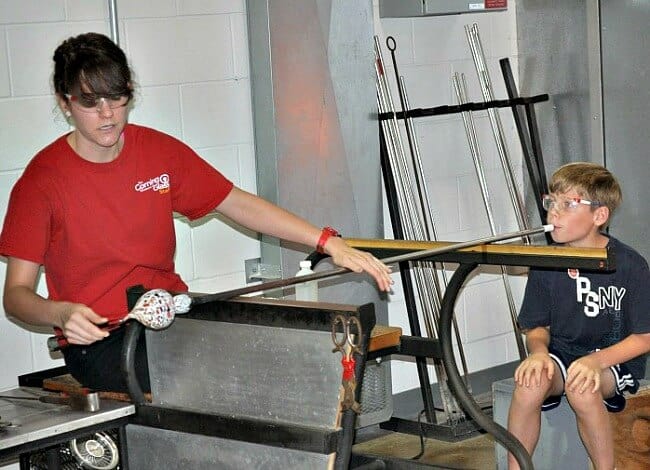 After she finished the ornament by constructing the glass hook, she showed Kyle his finished ornament briefly, and from a distance (it is still over 900 degrees!).
The ornament was placed in a cooling oven, where it will slowly the cool the glass to room temperature over a 12-hour period so the glass stabilizes properly.
The glass studio shipped our ornaments to us the next day, and they are still one of my favorite "souvenirs" from any trip we have ever taken!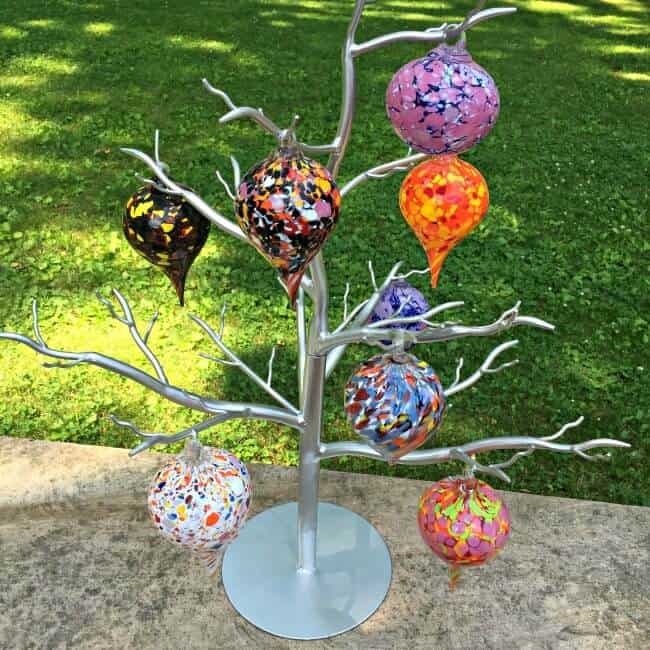 Looking for some more New York road trip ideas?
Check out these posts:
*Corning Museum of Glass with Kids is part of a "MomOf6 Loves NY!" series that highlights some of our family's favorite places to visit during a New York road trip!