One of the best kinds of family road trips to take is one where you get to play "tourist" in your own home state! It gives us the opportunity to learn something new about the place we love, and explore attractions that perhaps we've not ever made the time to do! Recently my husband and I took our younger three children into the city for the day to enjoy some things that had been on our bucket list for a long time! Here are 8 great things to do in New York City with tweens– that you can do in just one day!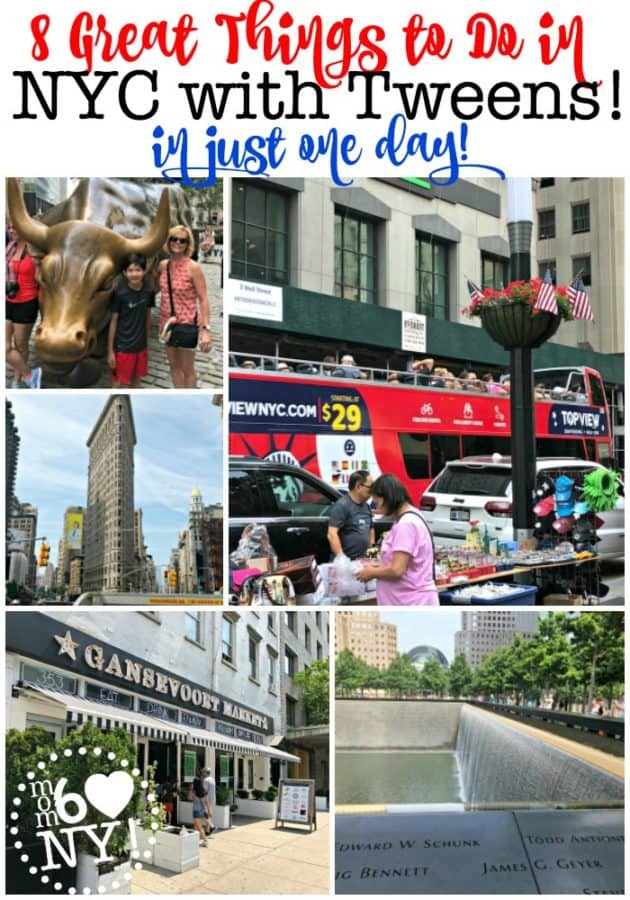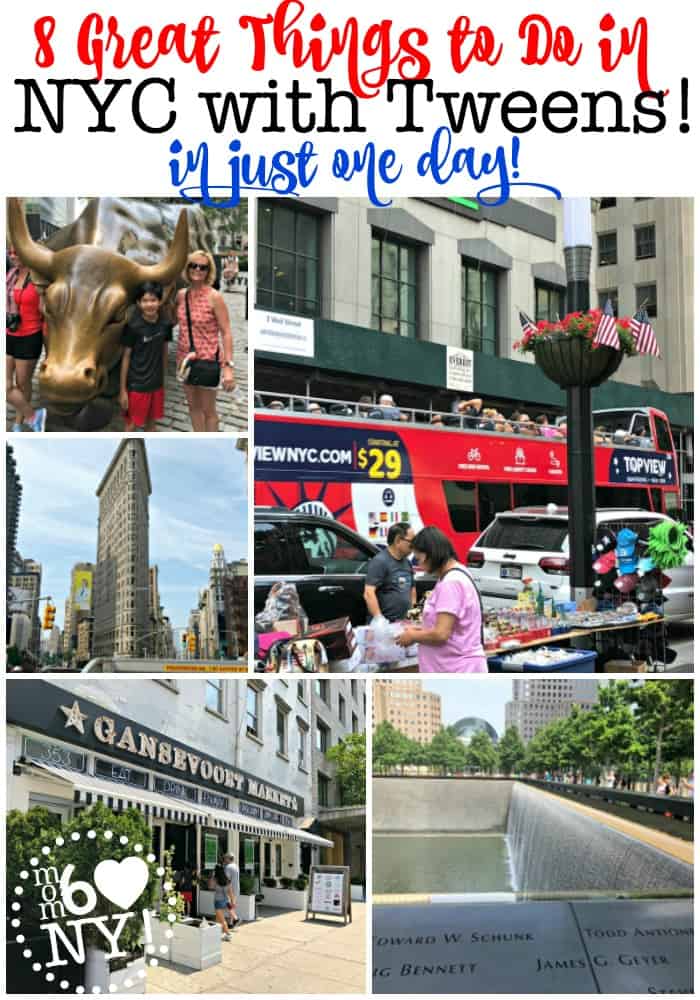 I would like to thank Top View Sightseeing for providing bus tour tickets and for inspiring this day-cation with my family!

#1 Walk Through Times Square
There really is "something electric" about being in Times Square with your kids! The flurry of activity from the tourists, from the street vendors, and even from the billboards- it's a feast for the eyes! And my kids are always thrilled to see the New Year's Eve ball- it's the first thing we look for when we approach!
#2 Take a Double-Decker Bus Tour!
When my husband and I traveled to London (way back before we had kids!), we took a multi-day hop-on-hop-off double-decker bus tour around the city and learned so much about the history of London. It gave us an appreciation of what we were seeing- far beyond anything we would have gleaned from a guidebook and sightseeing on our own.
And throughout all of the years that I worked in NYC- I would always see the double-decker buses go by outside of my office window and I would wonder about all of the things the passengers were learning about this city that I called home!
So I was very excited to board the Top View Sightseeing bus to take the Downtown Loop tour with my family! We started our tour in Times Square (although you could truly start anywhere along the route).
When we boarded we were handed a pair of red earphones to plug in next to our seats to hear the narration of what we would be passing along the way. When the bus was between points of interest, New York-themed music would play until the narration started up again.
I definitely learned a lot about the different neighborhoods in Manhattan and the history of many of the landmark buildings that we passed that I never knew. The kids were fascinated by how close we came to the traffic lights as we (just barely) passed beneath them- and they vied to snag the front row seats on top of the bus each time we re-boarded after getting off at a stop!
This really is a fantastic way to get around the city and to make sure that you see so many things in one day!
#3 See the Iconic Landmarks and Buildings
I was surprised at how much my kids knew about what to look for in NYC based on TV shows and movies they had seen. They spotted famous buildings like the Empire State Building, the Chrysler Building, and the Flatiron Building right away.
They loved seeing the button sculpture in the garment district, and of course we had to get photos with the Wall Street Charging Bull (I wish I had realized that Fearless Girl had been relocated- we would have seen her too!)
For my kids- the biggest thing on their bucket list was to take photos with these landmarks to share on Instagram!
#4 Try Some Street Food
We started our day by purchasing a couple of small bags of honey roasted peanuts from a "Nuts 4 Nuts" cart- and they were oh so good! And we couldn't resist stopping for bubble tea when we hopped off the bus in the financial district!
We rounded out our day at an ice cream cart in midtown for root beer floats to cool us off before heading home!
There are so many carts selling street food- snacks and even fruit- be sure to sample some on your day in the city!
#5 See the Reflecting Pools at Ground Zero
My husband and I were both in the city on September 11th, 2001 and we each have deep and personal memories of our experiences on that day. But we know that our kids' connection to the events of 9/11 is very different- and as tweens, they aren't yet ready to fully comprehend the horrors of that day.
So we did not take them to see the National 9/11 Museum but instead spent some quiet time at the reflecting pools. (If you'd like to read a great post on where or not to take your kids to the 9/11 Museum- check out this article over on TravelingMom).
#6 Shop at the Oculus
This amazing building is actually a transit hub, replacing the one that was destroyed on Sept 11th. But the Oculus is also an incredible place to see- the architecture is incredible- and there are tons of stores and places to grab a bite to eat! We could easily have spent hours here just shopping! (Because shopping often tops the list of fun things to do in NYC with tweens!)
#7 Visit Gansevoort Market for lunch
We hopped back on the bus after our visit to the Oculus and took it one stop further to Chelsea, hopping off to walk through the Chelsea Market (more shopping!) and then moved to have lunch at the Gansevoort Market. We all chose to get bowls from Gotham Poke and they were delicious! This is a great food market with lots of options for everyone in the family!
#8 Walk on the High Line
We walked off our lunch by walking along the High Line– a public park that is built on the elevated site of a former rail line in the city. It is amazing to see such lush plantings thriving in the middle of a city on a concrete walkway! It was a lovely and breezy walk on a hot summer day!
We were starting to lose steam at this point in the day- but I look forward to returning when the weather is a bit cooler to walk the entire length and do some more exploring in their neighborhood!
I loved this sign that we passed on our way back to our car at the end of our day in the city… "When you stop doing things for fun, you might as well be dead." Well said Ernest! I would say that nicely sums up our day!
*8 Things to Do in New York City with Tweens is part of a "MomOf6 Loves NY!" series that highlights some our family's favorite places to visit during a New York road trip!
Looking for some more New York road trip ideas?
Check out these posts: