Generally speaking, a laundry room just isn't a fun place is it? I mean- the main purpose of the room is a place for you to do more housework, right? Never ending loads and loads of housework. But that doesn't mean that the space shouldn't be pretty to look at. And organized. It should definitely be organized! So today I gathered together 10 laundry room ideas to inspire both of us to get organized in our laundry rooms! (And make it pretty too!)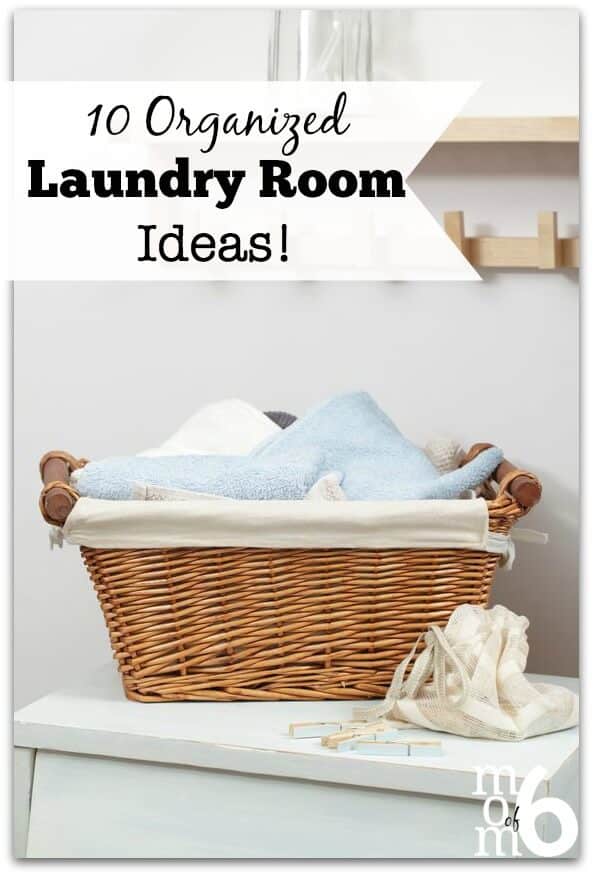 Hanging Laundry Baskets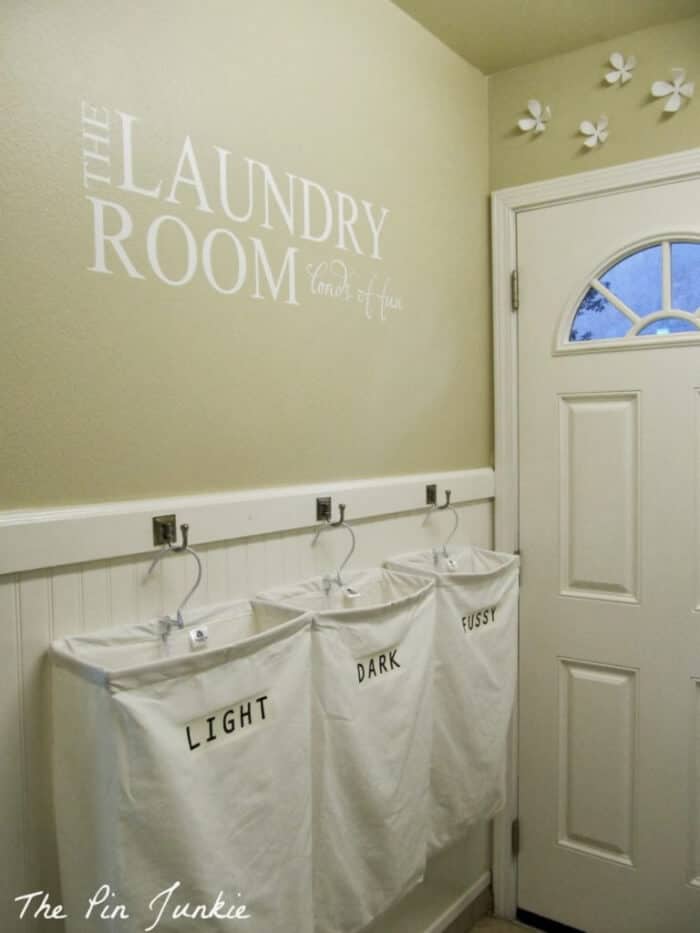 How often do your kids just toss their dirty socks/sweatshirts/soccer uniforms onto the floor of the laundry room? Like every.single.day? Yep- here too. I love the idea of creating sorting bins on the wall and insisting that I will only wash what has been properly sorted into a bin! Created by The Pin Junkie and featured on Remodelaholic. You can find these laundry bags here).
A Place for the Lost Socks
This is a cute idea to hold all of the items that are missing their mates! You'll find the tutorial on how to make your own over on Katie Brown Home Workshop. (You can create something similar by mounting command spring clips to your laundry room wall!)
Where Do You Put the Lint?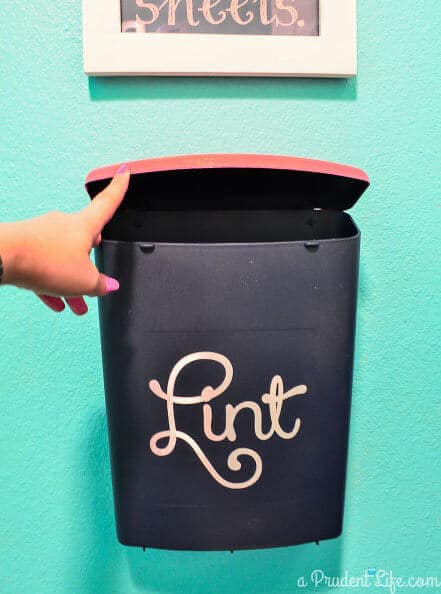 I am kind of tired of taking the lint out of the laundry room to the bathroom garbage can with every single load. I love this idea of hanging a small container on the wall to toss it into and just emptying the container weekly! Created by Polished Habitat. (And if you don't have time to make one yourself, you can purchase this small wall mounted trash can as a simple buy-it-now solution!)
A Drop Down Drying Rack
This is such a fantastic idea for a drying rack! It drops down and allows you to hang items that you don't want to shrink in the dryer, and then folds up and out of the way when you are done! Created by Centsational Girl. (You can purchase a wall mounted laundry drying rack here if you don't have time to make one yourself!)
Laundry Baskets on Shelves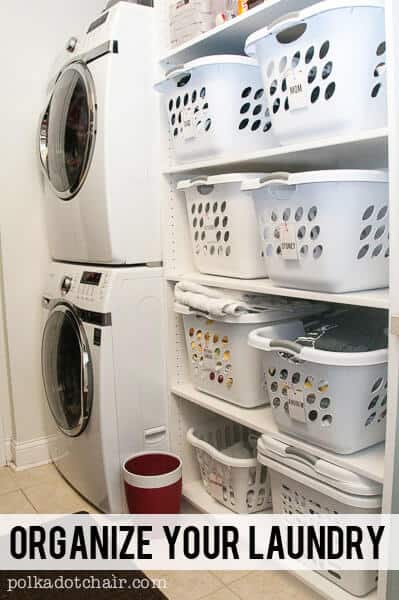 I am in love with this idea…. in principal. The very notion that I could have a bin for each of the kids' laundry baskets so I can then just fold items directly from the dryer and put them into the bins sounds awesome! But what I always wonder about- is that when those laundry baskets are on the shelves, is there enough clearance at the top of the basket to allow you to put the laundry inside without having to first slide each basket out a little to access it? I think if I had to slide each basket out in order to put something in it- that would make it take twice as long to fold and sort. What do you think? Created by Melissa from Polka Dot Chair.
Jotting Down a Reminder
Under the category of "why didn't I ever think of this?" is this idea for using a dry erase marker to write a note on the top of the washer to remind yourself to seek out those one or two items you plan to line dry when you are grabbing everything out of the washing machine and popping it all into the dryer! This is a fantastic idea from Mother's Niche! (And you can use these dry erase markers that have magnets in the caps so they can hang from the front of your dryer!)
A Place to Hang Towels
Here is an idea from my own laundry room that I featured over on OrgJunkie. In our house the laundry room is also the place where we hang all of our beach towels and swimsuits in the summer. If they are soaked- they are only dripping on our laminate laundry room floors, and it makes it super easy for me to toss them all into the washer and dryer each week to return them to their soft and fluffy status! (Does your laundry room serve multiple purposes like mine? Mine is also a place for storing cleaning supplies.) You can create a similar hanging towel rack with this wall mounted 6-hook board).
And Speaking of Laminate Floors
As I mentioned earlier, I think a laundry room should be both organized AND pretty. But what do you do if you want to improve those laminate floors but not spend a lot of money? Well check out this amazing laminate floor makeover from Designer Trapped in a Lawyer's Body! In fact, she made over her entire laundry rom for $71!
Something Pretty for the Walls
The Shabby Creek Cottage has a fantastic collection of free printable laundry art that you can download and print at home, pop into an inexpensive set of picture frames and "pretty up" your laundry room! I love these!
A System That Works for You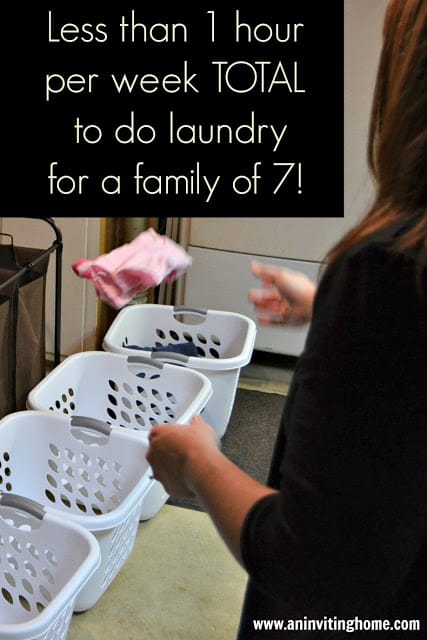 There is no better way to have an organized laundry room than to have a system of doing the laundry that work for you. A few years ago I heard from tons of MomOf6 readers when I asked, "Am I Doing Laundry All Wrong?". (In fact many of you said "Yes"!).
So I love to read about how other families (especially large families like mine) tackle the laundry chore! Sarah from An Inviting Home shares how she manages laundry for her family of 7 in less than an hour's work a week (not counting the time that the clothes are spinning in the machines!). I know I can learn something here!
Would you like to get organized this year?
Here are some more posts to inspire you:
*Please note that some of the links in this post are affiliate links, which means I will make a small commission if you purchase through these links. It's a great way to support a blogger!
Of all of these ideas- which one inspires you to want to make a change in your laundry room right now?