I have been using this magnetic menu planning board for years now. I love how it makes the actual menu planning process so simple- all I have to do to pick and choose family dinners from my list and just move them into a daily spot. If you'd like to get organized this year – here's how to create your own "What's for Dinner?" menu planning board!
One of the best parts about using this board is that I don't have to rack my brain to think of things that my kids will actually eat- it's all there for me to choose from. Even the kids can take on this task themselves and tell me what they would like for me to cook this week.
And the section for dinners that are "Fast & Easy" really helps me when I am facing down an evening where the kids have a late sports practice, a Science Fair, or if I have a cabi party that evening.
*Please note that some of the links in this post are affiliate links, which means I will make a small commission if you purchase through these links. 
What You'll Need for the Magnetic Menu Planning Board:
The first thing is the board itself! I purchased mine a long time ago from the Pottery Barn catalog, but you can find similar ones here and here on Amazon. (As a reference-mine measures 22″ square).
To create the magnets, I used a Xyron crafting machine (which can create laminated stickers, magnets, and so many other things just based on the cartridge you use). I used the magnetic cartridge for this project. You can also purchase magnetic sheets that you can run through your home printer to create the magnets. Just be sure to let the ink dry fully before cutting them out (and they won't be quite as durable as the ones made with the Xyron machine because the front of the magnet won't be laminated).
I used my Fiskars paper trimmer to get nice straight edges on my magnets. But of course, anything I did with the paper trimmer can be done using scissors.
Download the "What's for Dinner?" Board Labels
Once you have your tools, you can download a copy of the menu planning board labels here. Simply sign up below to join the MomOf6 community, and you'll be directed to a thank you page for access instruction.
*You can view our Privacy Policy here. To access the printable without subscribing to our newsletter, click here to send an email requesting access.
Print them out and cut them to size (no more than 5″ wide) to run through the Xyron machine.
Simply feed the list through the machine which will laminate the front and add a magnet to the back.
Use the cutter to trim each label to size. You now have your label magnets!
Create Your Own Menu Items
Spend some time with your family compiling a list of all of the dinner items that they like to eat. It helps to brainstorm by category- chicken, beef, pasta, etc. And be sure to think of a list of items that you can throw together quickly on a busy night- like soup & sandwiches or quesadillas. You can see my list of menu items here (a Word document, so you can modify it to fit what works for your family.)
Print out your finished list and then cut into a size to run through the Xryon to turn them into magnets.
Assemble the Board
From here it is as simple as organizing your board so that the top section displays the days of the week and the bottom of the board lists all of your menu options.
I love how it looks in my kitchen right next to my wall command center!
See How to Start Menu Planning in Action!
Check out my YouTube tutorial:
Would you like to get organized?
Here are some more posts to inspire you:
Are you ready to get your life organized? Register for Busy Moms Boot Camp!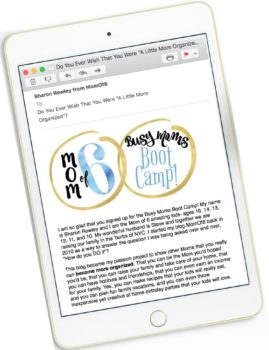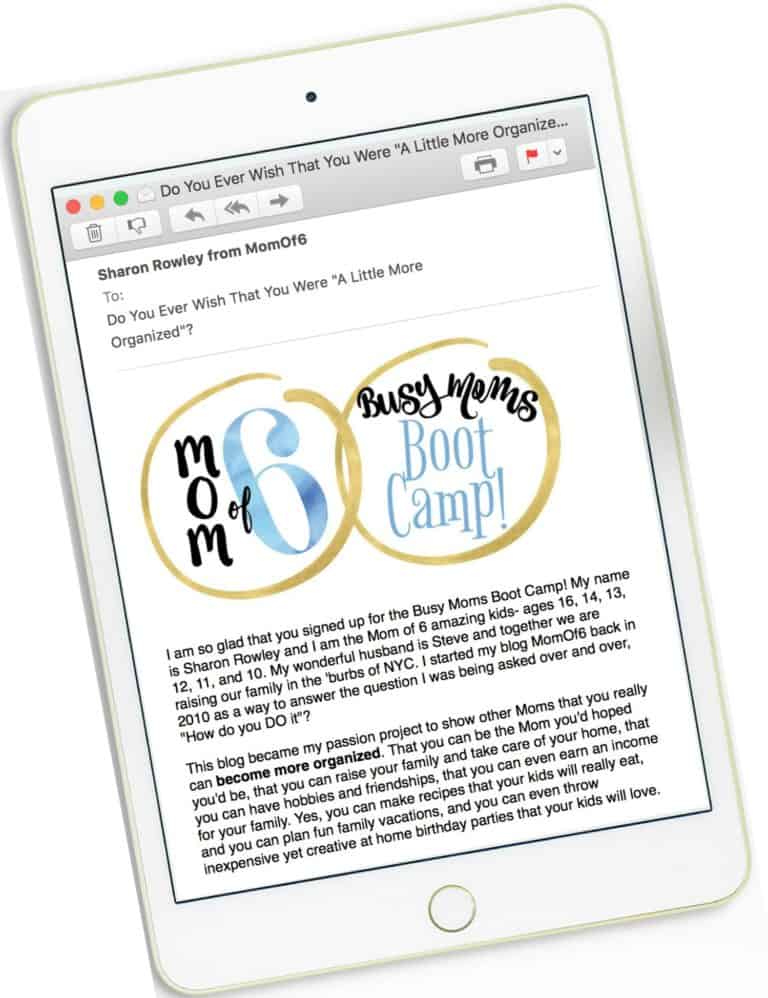 It's a free series of 10 weekly emails that can help you put some organization back in your life and help you to create room for all of those things that you'd like to be doing- whether that's making time to celebrate the little things with your family or carving out some space for yourself. Busy Moms Boot Camp can help you to move from chaos to organized! Simply sign up below to get started!

Tell me- are you menu planning right now? Do you think this system would work for you?