We all walk into our homes every day with our arms full of things- our handbags, keys, coats, shoes, packages, mail, the dog's leash- you get the idea. And when we get inside, we want to put it all DOWN! Our spouses and kids do the same thing- which is why keeping the entryways into our homes decluttered, neat, and presentable is tough! So to help you to get organized– today I am sharing 12 ideas for entryway and mudroom organization!
*Please note that some of the links in this post are affiliate links, which means I will make a small commission if you purchase through these links.
Where to Drop Your Keys
Sometimes it's best to go with the obvious choice! You can't miss this wall mounted key rack that is so clearly marked. The only possible improvement is if it contained a giant magnet that would suck the keys right out of my hand and adhere them to the hooks!
Personally, I prefer to throw my keys in a container that we keep in a drawer near our door. But it often helps to have a visual reminder of where to drop your keys right when you walk in- and inside of a drawer doesn't do that for you. So I suggest a pretty bowl as a key basket, like the one above. Or even one that you already own- but avoid glass or porcelain that can crack if keys are too casually tossed inside!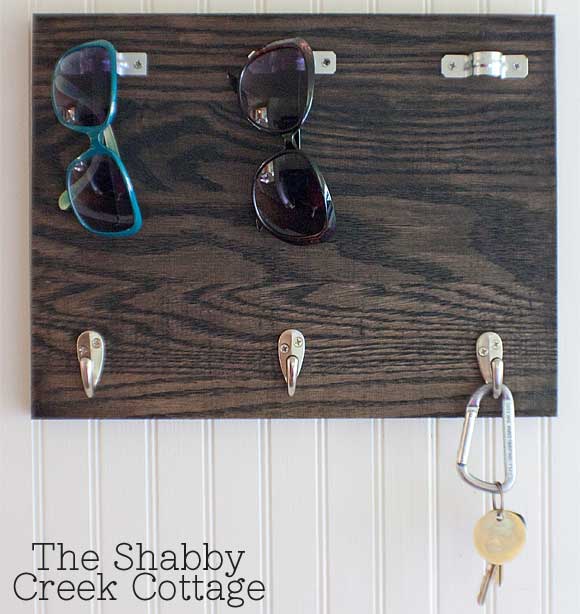 And another thing we often have in our hands when we walk in the door are our sunglasses. So how great is this idea from The Shabby Chic Cottage to create a board to hold both your keys and your sunglasses? I love it! (full tutorial on her blog!)
Where to Hang Your Handbag
When it comes to where to place your handbag- I think there are only a few options. You can hang it on a hook, place it on a table (but that kind of detracts from your entryway decor) or you can place it on a shelf. And since I am a huge fan of re-purposing things you already own- I love how Ursula from Homemade by Carmona took the unused upper section of her daughter's dresser and turned them into shelves with cubbies for her entryway! (See her tutorial on how to do this yourself here!)
And this is an awesome idea- hang these old-style doorknob hooks in your entryway- you can hang your handbag over the knobs as well as your coats!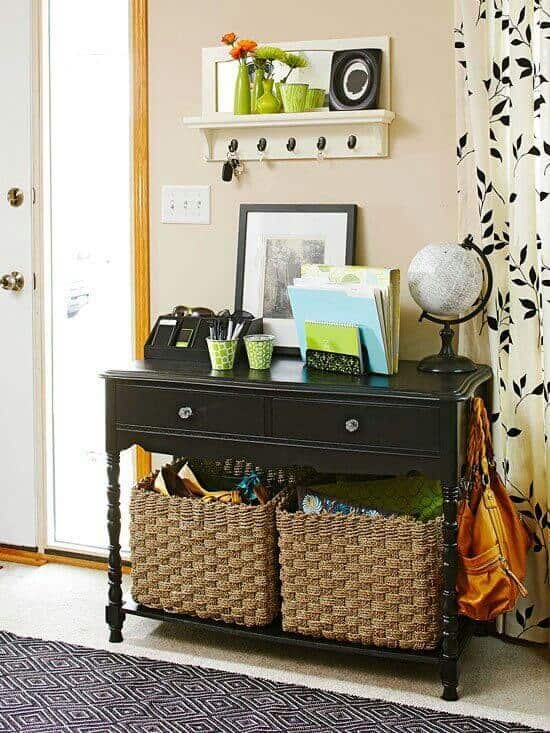 And I love this idea that was pinned from Remodelaholic to simply add a hook to the side of your entryway table. I like to use a large command hook for this- that way it can easily be removed later without damaging the table.
Where to Store Your Shoes
This could be the thing that drives me the most batty- all of the shoes left right in front of the door! So I love the idea of having a cute way to store them that is also functional as a bench- like this one designed by Her Tool Belt (you'll find customizable plans and her tutorial here). It is beautiful!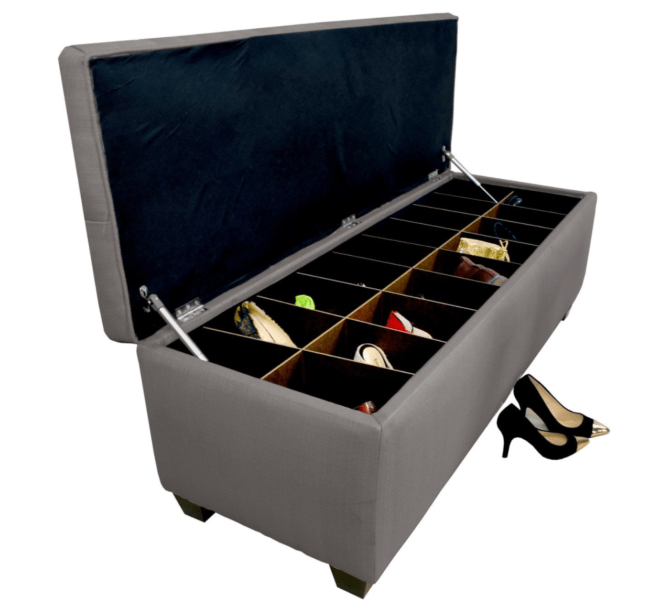 And I am kind of obsessed with the idea of using this ottoman near the front entryway as a bench to sit on while you take off your shoes- and then you just lift the top and store them inside! So pretty!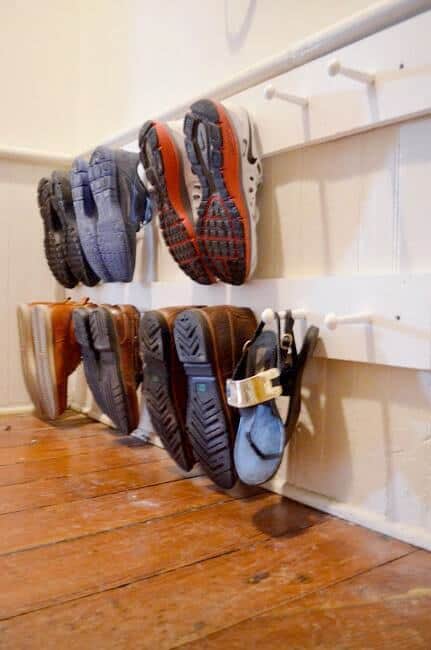 This is another very clever way to keep shoes up off of the floor and out of the way- install two rows of pegs on the wall! The full tutorial can be found over on Rose Tinted Home.
Cubbies for the Kids
I have long been a fan of traditional mudroom cubbies when it comes to storing kids coats, backpacks, shoes, and gear. But I had never considered this brilliant idea of taking the coat closet located near the main entryway and turning it into a mudroom nook! You can see exactly how this blogger did it over at 11 Magnolia Lane!
If you aren't feeling up for the DIY-approach- you could always purchase this floating shelf and bench to install inside of your front closet or alongside an open wall near your entryway. This could easily support the belongings of three kids!
But if you are looking for a more traditional "locker style" concept for your entryway- I love these that would work beautifully for two kids!
Looking for some more great ideas on how to organize your home?
Are you ready to get your life organized? Register for Busy Moms Boot Camp!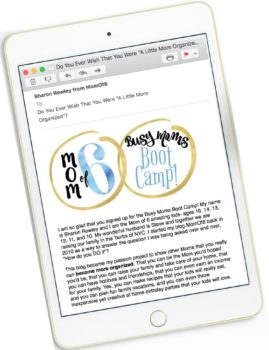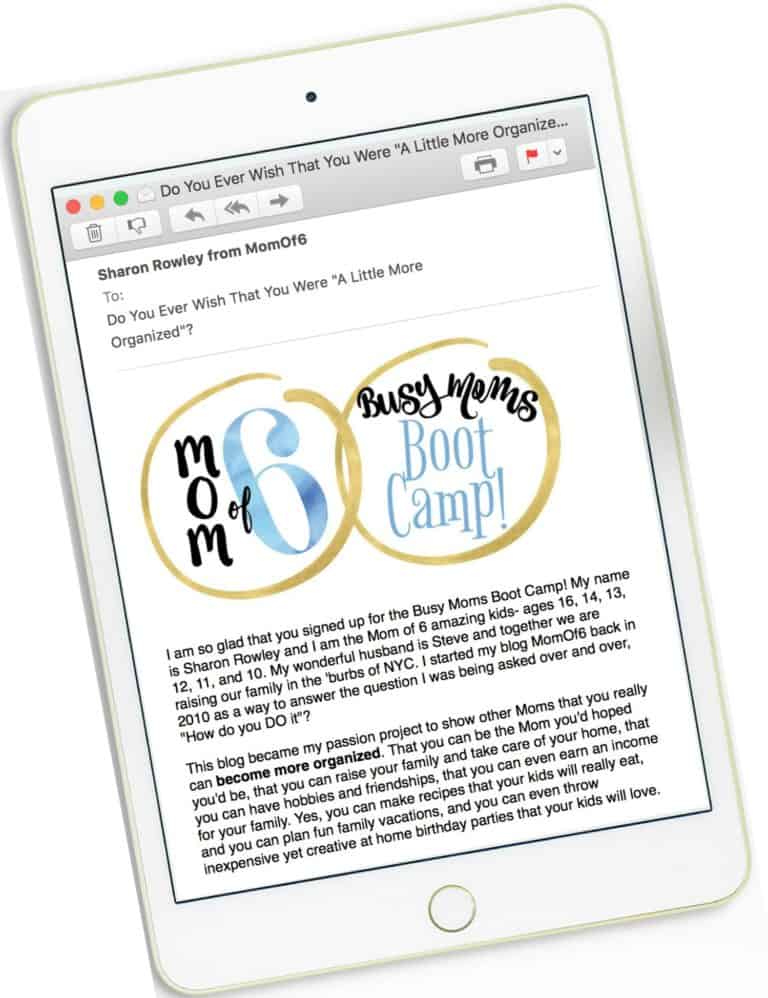 It's a free series of 10 weekly emails that can help you put some organization back in your life and help you to create room for all of those things that you'd like to be doing- whether that's making time to celebrate the little things with your family or carving out some space for yourself. Busy Moms Boot Camp can help you to move from chaos to organized! Simply sign up below to get started!
Join the MomOf6 community!
You'll receive our twice-weekly newsletter via email filled with ideas and resources for busy Moms! *You can view our Privacy Policy here. To access the printable without subscribing to our newsletter, click here to send an email requesting access.