Menu planning is truly one of the best tools you can use in your quest to get organized! When you know what you plan to serve for dinner each night of the coming week, you can make sure that you buy what you need during your weekly trip to the grocery store. Menu planning allows you to know if you need to take something out of the freezer ahead of time to defrost or do some dinner prep during the day.
And the best part of all is that the 5 pm hour seems a heck of a lot calmer because you are just executing a prepared plan vs trying to think of one!
How to Start Menu Planning
Make a list of all of the dinners that your family enjoys
Think of everything that you have made for dinner in the past few weeks and write it down. Make sure that you include all of the family basics that you normally serve- chicken nuggets, mac and cheese, pizza, etc.
Dig through your recipe books /Pinterest boards and pick out a few "special" meals- ones that most of your kids will eat or ones where you can easily make a slightly modified version to appeal to everyone (such as pasta with homemade meatballs and sauce for the main meal, but also can serve as plain pasta for the pickier eaters). And don't forget to add traditional "Sunday night dinners" to your meal list — roasted chicken, turkey, beef stew- meals that might take too long to prepare to serve during the week, but are great for the weekends.
After brainstorming and digging through my cookbooks, I was able to list more than 35 entrees that my family will actually eat!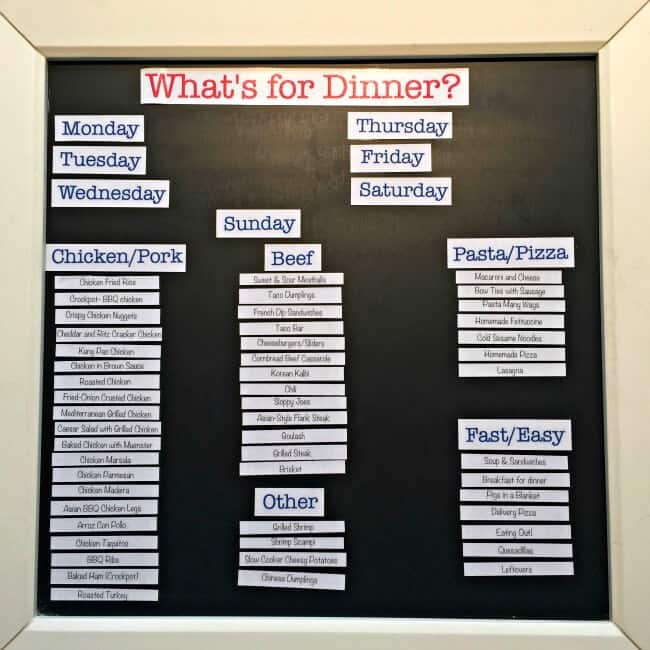 Create a menu board
I purchased a framed magnetic chalkboard a long time ago from the Pottery Barn catalog that looked nice in my kitchen and found a place to hang it where everyone could see it. (Mine is no longer available but you can find similar ones here This is an affiliate link: MomOf6 earns a commission if you purchase, at no additional cost to you. and here This is an affiliate link: MomOf6 earns a commission if you purchase, at no additional cost to you.  on Amazon.)
Next, I created laminated magnets- making headers for each day of the week and one for each of my listed menu items. (Note: I used a small Xyron crafting machine This is an affiliate link: MomOf6 earns a commission if you purchase, at no additional cost to you.  to do this, but you might be able to have these made at your local FedEx/Kinko's). I set my board up with the days of the week at the top and all of our meal possibilities listed below, grouped by entree type.
You can see my full tutorial on How to Create a Magnetic Menu Planning Board here!
Plan your menu once a week
On Sundays, I select the dinners that I plan to make for the week and move the magnets around so the item is listed next to the correct day of the week. I then refer to my board as I create my grocery shopping list for the week.
Each morning I take a quick glance at my menu board to see what I planned for the day and it allows me to remove meat from the freezer or do any meal prep while the kids are still in school which makes the 5 p.m. pre-dinner hour so much easier to manage!
And as an added bonus…no one asks me "Mom, what's for dinner?" anymore! They know that they can check the menu board for themselves!
See How to Start Menu Planning in Action!
Check out my YouTube tutorial:
Would you like to get organized?
Here are some more posts to inspire you:
Are you ready to get your life organized? Register for Busy Moms Boot Camp!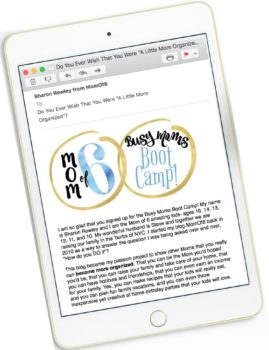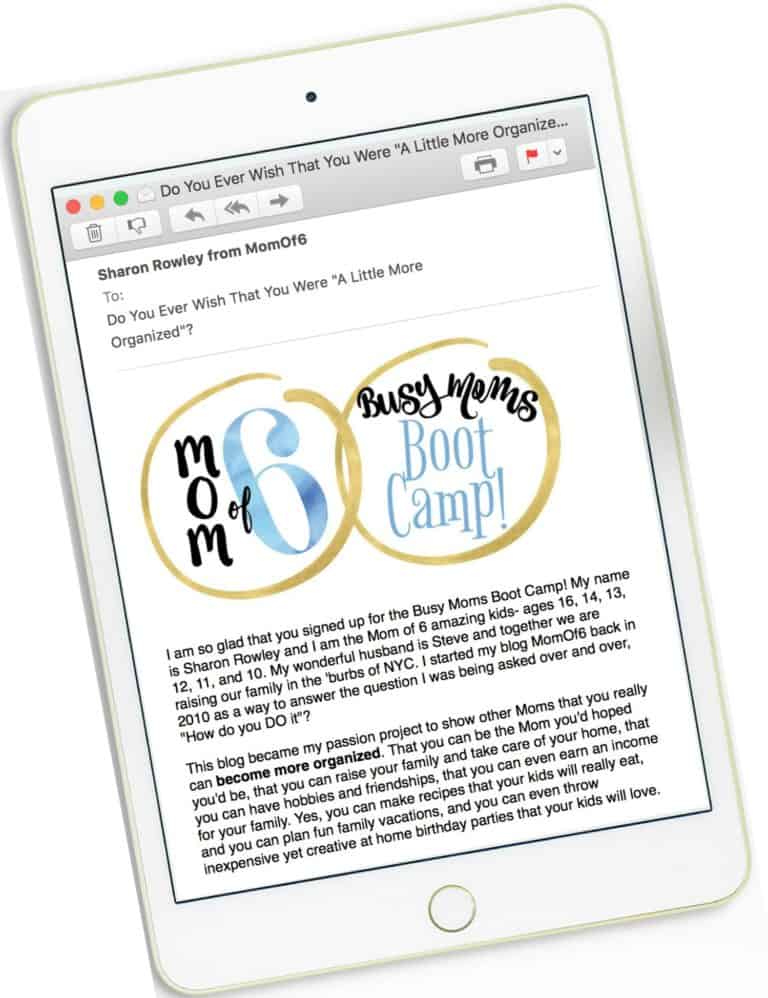 It's a free series of 10 weekly emails that can help you put some organization back in your life and help you to create room for all of those things that you'd like to be doing- whether that's making time to celebrate the little things with your family or carving out some space for yourself. Busy Moms Boot Camp can help you to move from chaos to organized! Simply sign up below to get started!
Do you menu plan at your house? Please let us know!