I think that so many households have an Amazon Alexa these days- in fact, many of us have received Amazon Echos or Dots as gifts, and have them in more than one room. But are we using this amazing technology to its full potential? I bet not! Here are some great ideas on ways Amazon Alexa can help Moms!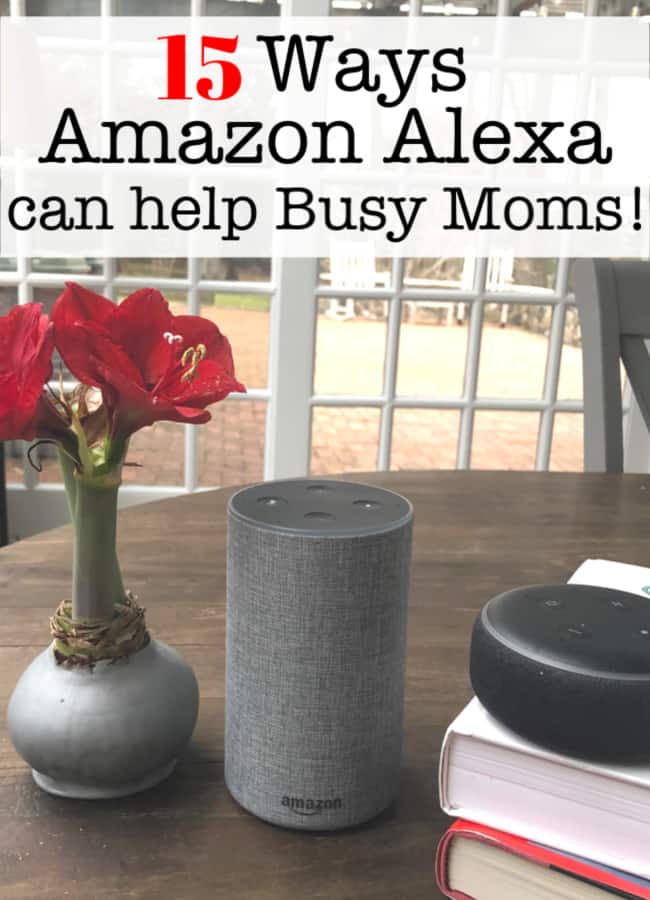 If you have an Alexa smart device, chances are you know how to do some of the basic things, like ask Alexa to tell you the weather forecast, get news events of the day, to play music, and to set a timer. But Alexa can do so much more to help you live your life as a busy Mom! Think of her as your new personal assistant!
Here are some things to try:
1. Have Alexa Manage Your Calendar
While I am making the kids breakfast and unloading the dishwasher, I'll ask, "Alexa, What's on my calendar today?", and she will read off the first 4 events on my calendar, and offer to read the remaining events as well. That really helps me to get my mind in the right place for the day.
But even better, I can ask Alexa to add events to my calendar- and they'll go right to my Apple Calendar. I can also ask her to set a reminder or a timer to go off at a certain time to nudge me to leave on time for my appointments!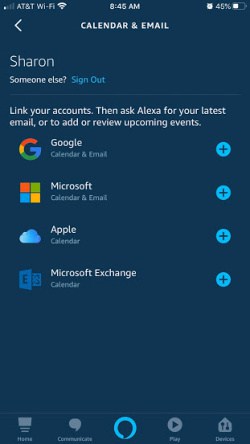 To sync your calendar to Alexa, go into the Alexa app, click the 3 lines in the bottom right of the app, and choose Settings. Scroll down to Calendar. You can sync Alexa to your Gmail, Exchange, Outlook, or Apple calendars. Simply link your accounts- and start using Alexa to add events to your calendar!
Pro Tip: If you use multiple color-coded calendars in your calendar system (as I do), you'll need to tell Alexa in your calendar settings which calendar is the default calendar she should add new events to.
2. Create a Morning or an Evening Routine- For You and For the Kids
The Alexa app has an area where you can create specific routines for the morning, evening, or really any time of day. I use one every morning by asking Alexa to "start my day" where she turns on the lamp in my room, tells me what's on my calendar, and gives me the weather report for the day.
And when I say "Alexa, goodnight"- she is set up to respond and then begin playing Sleep Sounds to help me drift off to slumberland!
To create a new routine in the Alex app, select the 3 lines on the bottom right of the screen and select "Routines". Then click on the Gallery tab to get started. You can stick with the suggested routines, or add your own actions and skills. Then enable the routine so you can use it whenever you want!
3. Amazon Alexa Can Help Moms to Manage To-Do Lists and Shopping Lists
I keep a running grocery list in my kitchen, and have trained my kids to add to it as they use things up- so I really didn't think I would have a use for the Lists feature in Alexa.
But I was wrong!
I created a list called "Errands" and then as I think of things during the week I just tell Alexa to add that stop to my errands list. I have a list called "Target" for all of the things that I need from my local Tar-jay. And of course, I use the To-Do list feature so I can have Alexa help me to remember all that I need to get done!
And I love that I can also just use the middle Voice button in the Alexa app on my phone while I am at a stoplight to add things that come to mind while I am driving the kids around!
4. Set Alarms- For You and For the Kids
This is my absolute new favorite thing to do with my Alexa app- set alarms for the kids on the Echo Dots in their rooms! I have reminded them to set their own alarms for what seems like forever- and their compliance has been pretty hit or miss (okay, mostly a miss!).
Now I just go into my Alexa app, add an alarm and assign it to their device! And when I get that 5 am call saying there is a snow day, I don't even have to get out of bed to turn off all of their alarms for them- I just go to the app, and turn off their alarms!
5. Use Alexa as an Intercom
And this is my second most favorite thing to do with Alexa right now- I use each of the Alexa devices in my house as an intercom system! So I can "drop in" on each of their rooms, and make sure that they really are getting out of bed and starting their day!
I can also use the "announcements" feature to send out a message to all of the devices in our house at once- such as telling everyone that dinner is ready! No more shouting up the stairs!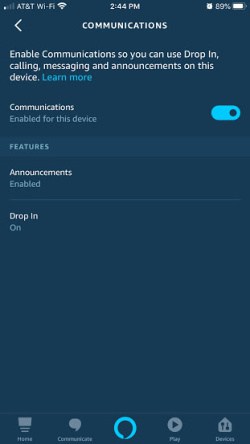 To set up your devices to allow announcements and drop ins, Click on the 3 lines in the bottom right and select Settings. Then choose Device Settings, and go into each of your devices one at a time, scroll down to find "Communications", and make sure it is set to Enabled.
Then you can ask Alexa to "drop in on (the name of that device)", and in the room, the ring around the device will turn green, and you can hear what is happening in that room, and they can hear you!
To make an announcement, just say "Alexa, announce that (dinner is ready)" and then she will send a chime to each device and your voice saying "dinner is ready" will project on every device. (Try it- Alexa even adds a cool dinner bell ring when you ask her to announce dinner!)
6. Get a More Detailed Weather Forecast
I don't know about you, but I find the default weather forecast in Alexa to be a little lacking. If it's going to rain or snow- I want to know when it's going to start, how long it will last, and how much rain or snow we are going to get.
I added Alexa's Big Sky skill which gives me a much more detailed weather report. I simply say, "Alexa, open Blue Sky".
7. Create a Chore Chart for Your Kids
Alexa has an entire category of skills called "Skill Blueprints" where you can create custom, personalized skills that your Alexa can then execute for you. And creating chore charts is an excellent example of this!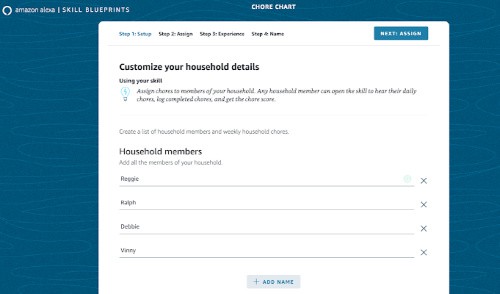 To start, you'll need to go to blueprints.amazon.com, and make sure that you are signed into your Amazon account. Select the Skill for Chore Chart, and click on: Make Your Own".
From here you can add family members' names and all of the shores that you plan to assign. On the next screen, you can assign the chores and set up a schedule for when they need to be completed, and add reminders to be alerted at a specific time of the day! No more nagging by you- Alexa can take care of it!
Kids can ask Alexa to read the list of chores that they are assigned each day, and they can log their chores as they complete them. Alexa automatically keeps score so kids can complete with family members to see who finishes their chores first. Or last! The chore tracker automatically resets on Sunday each week.
8. Amazon Alexa Can Help Moms To Fall Asleep
One of my favorite skills to use with Alexa is the Sleep Sounds skill. I actually included it in my evening routine (see #2 above) so that Alexa automatically plays "fireplace sounds" for me at bedtime. You can let Alexa know when to turn it off by saying,  "Alexa, stop in 3 hours" or any other amount of time.
9. Set Multiple Timers on Different Alexas
I use Alexa to set timers as I am cooking, timers to remind me to get the laundry out of the dryer, timers for my twice-daily meditation, etc. And sometimes I set a timer in one room, and then leave that room and forget that the timer was on… and once it goes off- I've even forgotten what the timer was for! (I know I can't be the only one).
So now when I set a timer- I tell Alex what the timer is for- and which Echo to sound the timer on. From my desk I might say, "Alexa, set a 30-minute timer for the dryer on the Kitchen Echo", and she will sound the timer in the kitchen at the right time. But what if I am in the bedroom when I hear that timer going on? No problem- I can tell my Bedroom Echo to cancel the timer on the Kitchen Echo.
Brilliant for busy moms who are all over the house all of the time!
11. Create Background Music for Work
Aside from having Alexa play music from Prime Music (the service that is included in your Prime Membership), you can also enable relaxing music skills inside of the skills area on the Alexa app.
Personally I love to work with music on, but it needs to be without lyrics or I can't write! Some of my favorite Amazon music playlists include "Classical for Focus", and "Relaxing Acoustic Instrumental Music", and my favorite skills for music while working are "Relaxing Piano Music" and "Sleep Sounds: Relaxing Piano". There are tons of options in Prime Playlists (on amazon), and in the Skills area of the Alexa app- you just have to search for something that works for you!
11. Have Alexa Settle Your Kids' Disputes
Are the siblings squabbling over some matter and you are tired of playing referee? Send them to Alexa, and ask her to open the "Kids Court" skill!
This is a fun skill where Alexa serves as "Judge Lexy" who will interview the kids to determine what happened and will render a verdict and a sentence!
12. Amazon Alexa Can Help Moms to Listen to a Podcast while Cooking or Cleaning
When taking road trips in the car, I often listen to podcasts- but I hadn't thought of listening while I make dinner or clean up the kitchen until I came across the Apple Podcast skill in Alexa. Now my hands can be elbow-deep in flour, and I can just tell Alexa to play the "Sherri and Nancy show on Apple podcasts" and Alexa will pick right up where I last left off.
One more tip: There are times when I can't find a piece of music I want to listen to on Amazon Music, but I can find it on YouTube. To hear the video through my Alexa speaker. I simply pair my phone with my Echo and then play the video. It sounds so much better!
13. Expand Your Mind- Listen to a TED Talk
Once you enable the TED Talk skill in the Alexa app, you can ask Alexa to find TED Talks on any topic, like nature, the environment, raising kids, or finding your true purpose. You can also ask Alexa to search for TED Talks by a specific speaker. There are so many inspirational presentations!
14. Amazon Alexa Can Help Moms to Find Her Phone, Her Wallet, or Her Keys!
As an organized Mom, I know how important it is to have a designated spot for your car keys, your handbag, your wallet, your phone and anything else you carry when you walk into the house. I know that if you always put it down in the same spot- it will become a habit over time- and it makes it much easier to find the things you need because they are always in the same spot.
So why is it so difficult for me to follow my own advice?
Tired of the time I spend every week looking for things, I decided to invest in a 4-pack of Tile Mates This is an affiliate link: MomOf6 earns a commission if you purchase, at no additional cost to you. , attach them to my keys, handbag, and my phone (I tucked it into a credit card holder I have on the back of my phone) and enabled the Tile skill within Alexa.
Now when I realize that I can't find my keys- I just ask Alexa to find my keys- and she sends a signal to the Tile Mate so the little alarm goes off and I can find what I am looking for! (Why were they in the laundry room anyway?)
15. Have Alexa Guide You Through Meditation
Once the kids are out the door in the morning, I try to set aside 20 minutes for meditation before I dive into my own work. And while most of the time I just ask Alexa to set a 20-minute timer for me- I also plan to try using one of the guided meditation skills available in the app. When I can't quiet my brain on my own- using a guided sequence really helps!
I hope that you learned a few new ways Amazon Alexa can help moms just like you!
Looking for some more tools to help you be a more organized Mom?
Are you ready to get your life organized? Register for Busy Moms Boot Camp!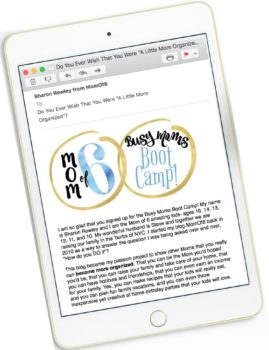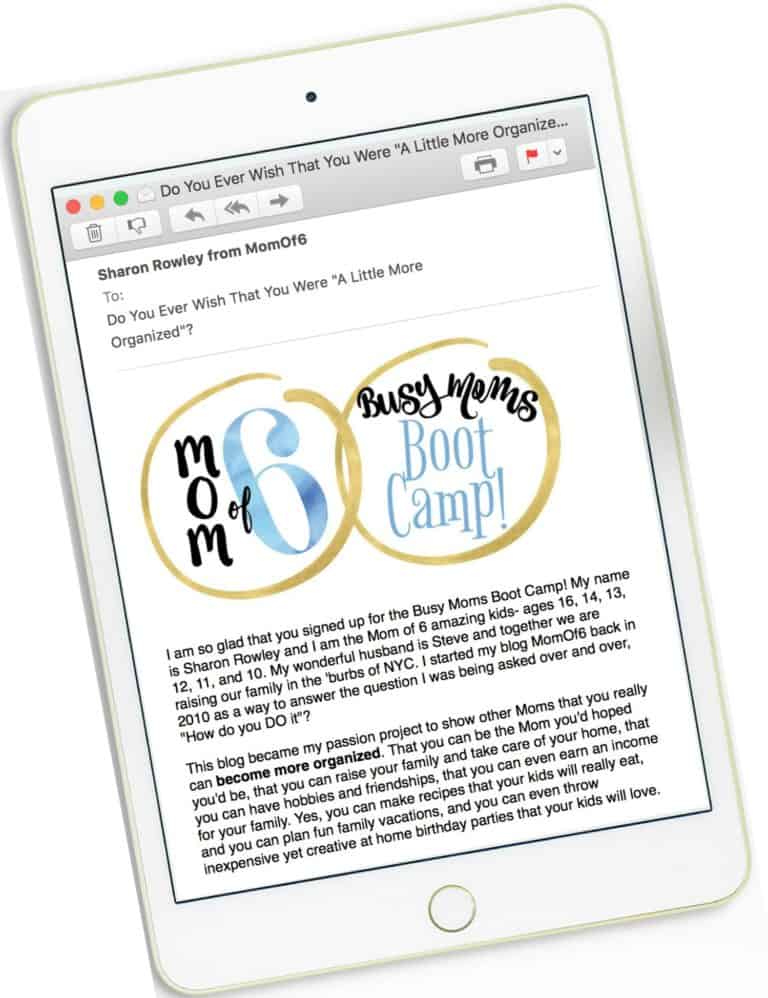 It's a free series of 10 weekly emails that can help you put some organization back in your life and help you to create room for all of those things that you'd like to be doing- whether that's making time to celebrate the little things with your family or carving out some space for yourself. Busy Moms Boot Camp can help you to move from chaos to organized! Simply sign up below to get started!