Friends of mine will often ask me how I help kids with homework– when I have such a large family. "Do the kids work independently?" "Do you check everyone's assignment before it is handed in?" "How do you make sure that they don't forget anything and that they get things done on time?"
Want to help kids with homework? Consider these things first:
I think the first thing to know about homework, is that the amount of homework and the amount of parental involvement varies by grade. I think that grades 2-5 seem to require the most help from Mom (at least it did at our house) regarding follow-up, checking answers, and reminding the kids about what needs to get done.
I know that I need to be nearby- if I walk away to fold laundry in another room, they will stay focused. I also need to be available to answer questions, work through problems, etc. But I find that it is a great way to stay connected to what they are learning in school, and how they are doing.  And I check their assignments (fairly) completely at this age too.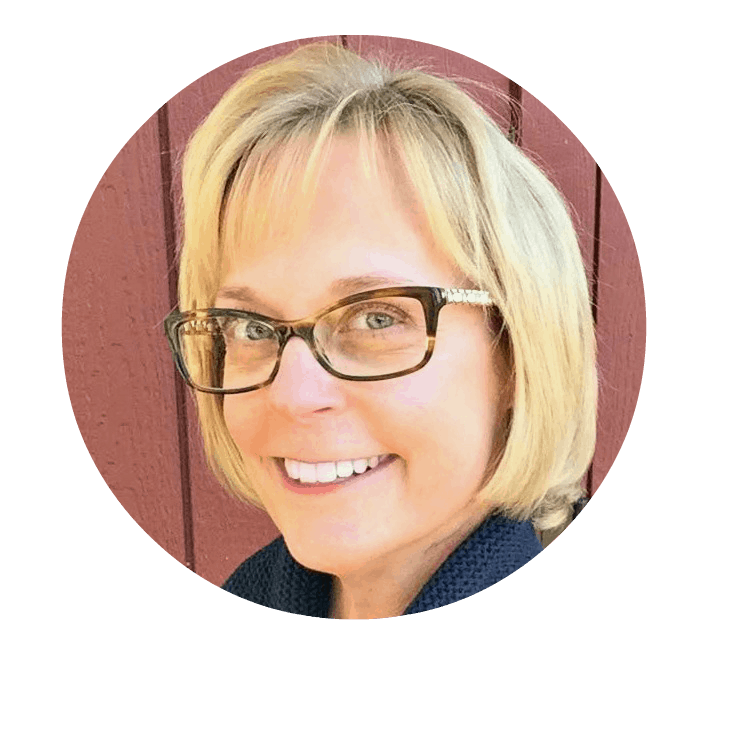 Are you a busy Mom who could use some support?
It helps if you have "the right tools for the job"! Busy Moms need a great calendar or planning system (you can find my favs here This is an affiliate link: MomOf6 earns a commission if you purchase, at no additional cost to you. ) and an efficient command center This is an affiliate link: MomOf6 earns a commission if you purchase, at no additional cost to you. to keep things running smoothly for the whole family! You can find more great resources for busy Moms over on my Amazon influencer page This is an affiliate link: MomOf6 earns a commission if you purchase, at no additional cost to you. !
Before 2nd grade, homework is relatively simple- maybe a worksheet or two, and the kids are still kind of excited about the idea of homework- so getting them to sit down and do it isn't too hard. And it is usually a quick process to check their work, and re-direct any errors. (Because let's face it… we Moms can generally handle first and second-grade math, writing, and spelling!)
After the 6th grade, the kids are starting to take ownership of their agenda, and know that all of their assignments are listed there (as directed by the teachers during the school day), and they can check the agenda page to see what still needs to be done.
At this age, they really do not want Mom & Dad to proof-read their work (I've noticed some serious eye-rolling when I do), and they can work in another room independently, as long as I manage the sibling distraction.
The main times that I need to be involved with 6th-grade work is when she is conducting some online research (which I prefer to sit with her and monitor) or when she is gearing up for a big writing assignment or project- then I might ask her to walk me through what she intends to do.
Here are my tips on how I help kids with homework:
1. Have the kids unpack the backpacks, find the homework folders and/or agendas, and get a handle on what needs to be done
When my kids get home, they are racing to grab a snack- they act as if they haven't eaten all day (but based on the empty lunch bags and snack bags that return home with them, I know this not to be the case!).
After they have had a chance to eat their snack and fill me in a bit on whatever big news they have to share for the day- I ask them to unpack their backpacks and gather together their homework as well as any papers that they need to hand over to Mom.
2. Have a routine for when homework will be worked on
This routine for homework doesn't have to be the same every day; in our house it flexes to accommodate various after-school activities scheduled on different days of the week. But generally speaking, my kids know that they can watch a little TV or play outside for a while before we tackle homework.
My middle schoolers prefer to work on homework right when they get home from school. The older kids prefer to wait until after dinner (which works well since they are barely home in time for dinner after sports practices).
3. Have the right place to work and the right tools
I think it is important to create some rules around where it is acceptable for the kids to do their homework.
At our house it is the kitchen table, the dining room table, at the desk when they are using the computer to do an assignment, and at their desks in their rooms.
At the elementary/middle school age, I do not think it is acceptable to do homework in front of the TV or while listening to music (they have their high school years ahead of them to master that special kind of multi-tasking).
I have created a homework caddy that I can pull out of the cabinet and put onto the kitchen table that contains everything that they should need to complete their homework- pencils, pens, markers, crayons, colored pencils, ruler, scissors, glue sticks, and a stapler.
This means that homework time is more focused and we don't waste time searching for supplies.
4. Don't forget to make time for reading
One of the most important things that kids can do is to read every single day (or at least five nights per week) for 20-30 minutes. But I will admit it can be hard to do this with multiple kids when they still need to read aloud to you- so I would recommend breaking it up when possible. Have one read to you right after school, one while you are making dinner, and one right at bedtime.
5. Offer suggestions, don't edit for them, and don't do their homework!
Sometimes it can be a tricky thing to balance. You want your child to put forth their best work, so you encourage them to edit their writing, to take a second look at the worksheet they've completed to check for spelling and grammar. You double-check their math homework to see if they got the correct answers.
But on the other hand- it doesn't help the teacher to assess what they know and what they need to work on if they turn in a perfectly completed assignment, yet you helped them get through the whole thing!
To be honest, I've taken different approaches for each child based on their own abilities and personalities. I have some kids that prefer to do everything on their own, and I have others who are mortified by the thought of not handing in perfectly completed homework.
So in cases when I feel that I have been overly-involved in making corrections and edits, I will send the teacher a quick email to let them know that my son or daughter struggled with completing their homework on their own, but couldn't bear to hand it in unfinished- and let them know specifically the areas that I feel need to be reviewed.
More Posts You Might Enjoy On Parenting
Are you ready to get your life organized? Register for Busy Moms Boot Camp!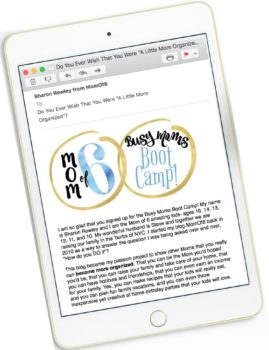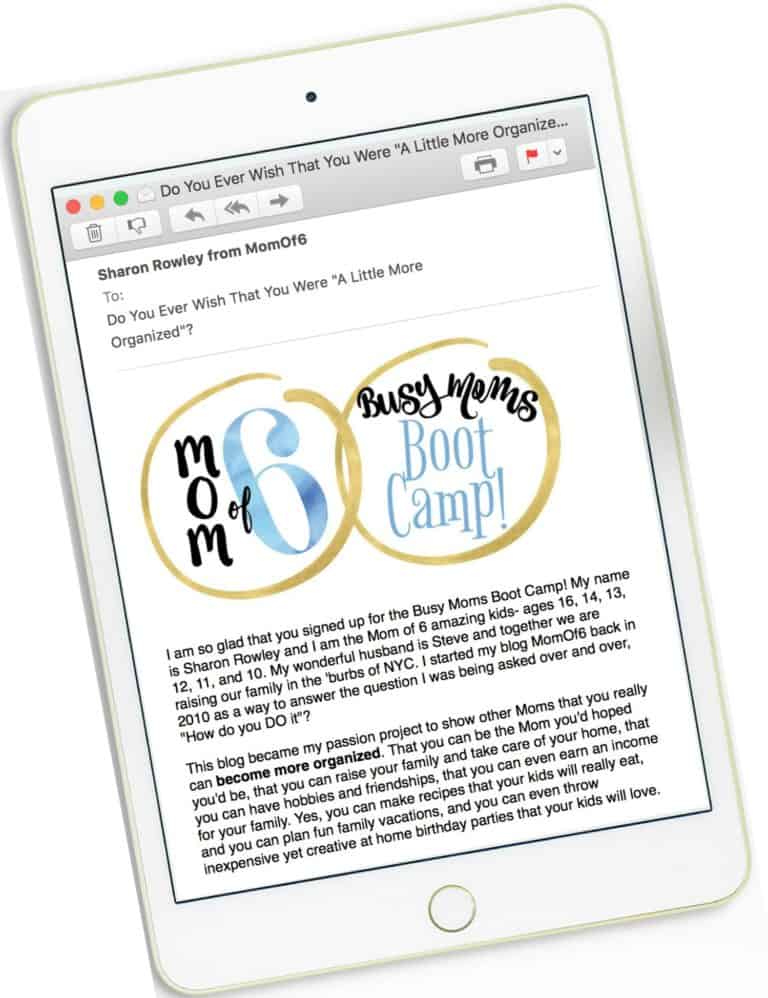 It's a free series of 10 weekly emails that can help you put some organization back in your life and help you to create room for all of those things that you'd like to be doing- whether that's making time to celebrate the little things with your family or carving out some space for yourself. Busy Moms Boot Camp can help you to move from chaos to organized! Simply sign up below to get started!
[convertkit form=4947869]
How do you help kids with homework in your family?