I am looking forward to spending a great summer with my kids enjoying our DIY Summer Camp at home. But one of the things that I don't want to see happen is for my kids to take their eyes off of academics for two solid months and then head back to school in the fall having forgotten half of what they learned during this school year. So how can Moms help their tweens to avoid the summer slide? Here's my 4 step-plan!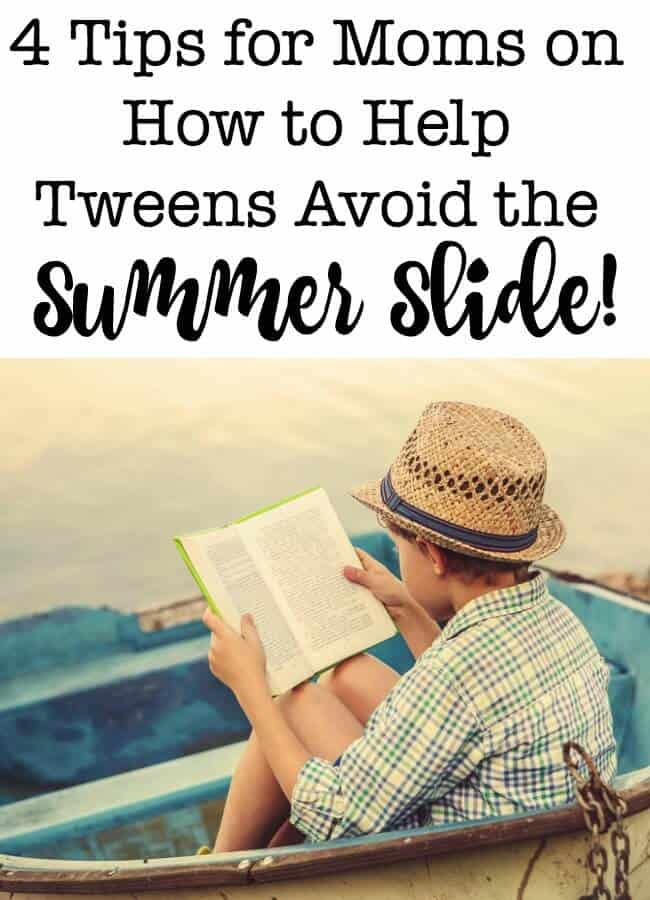 *Please note that some of the links in this post are affiliate links, which means I will make a small commission if you purchase through these links.
#1- Avoid the Sumer Slide: Spend 15 minutes on math review daily
If their teachers send home a review packet for the summer- then, by all means, go with that! But if they don't (or if your child conveniently "forgets it" at school) then here are a couple of good options for you to look into:
The best workbook for math review is one that briefly summarizes the key concepts and then offers some practice questions. Since our school district has adopted the Common Core standards- I prefer to use Common Core workbooks like these.
But I allow for the fact that even within the Common Core curriculum there will be differences from what my children were taught and what they may see in the workbook so I might have to jump around a bit in the book when I assign the kids pages to complete.
However, if I really want to get my kids to cooperate and want to review math over the summer- using an app is the best way to get them to engage!
My kids are used to practicing math skills using the IXL app- and they receive access via their school accounts and use this tool throughout the year.
But even as a parent you can register for the monthly program which runs $9.95/month for one subject or up to $19.95 for all subject areas, and then simply cancel your membership at the end of the summer.
Each day you and your child can select a math activity from a list of topics.
Or they can use the "Recommendations" section to work on some practice questions and then get some suggestions based on areas they need to work on.
#2- Make family reading time a daily activity
I would love for every member of our family to dedicate 30 minutes to reading daily- and so to make sure this happens we are going to pick our reading time each morning based on whatever we have going on that day- and then I am going to set the alarm on my phone to remind us to do it!
We'll mix it up as to where we'll read- maybe outside in the hammock, or we'll take our books on the road and the kids can read in the car on the way to/from another activity while I stream a book on the Audible app. (You can try Audible and get two free audiobooks from this link!
)
We'll also make plans to visit our local library every few weeks to make sure that everyone has something engaging to read!
#3- Keep a journal
I would love to inspire my kids to work on their writing over the summer- but I know that assigning topics for exploration just isn't going to fly.
So I plan to purchase some beautiful writing journals like these and just ask them to write in them at least once a week- on any topic they'd like.
Or if you are feeling crafty- you could create your own journals like these cool jeans pocket writing journals that we made a few summers ago!
#4- Develop a reward system to avoid the Summer Slide!
Look- no matter how you package it- you are asking your kids to spend time in the summer doing things they'd rather just avoid! Offering some motivation is the best way to inspire them to cooperate- without you having to nag them! If that means a weekly trip to the ice cream parlor for those that completed their work- so be it!
In past summers we offered the kids a chance to earn souvenir money for upcoming trips or the chance to do a special activity while on vacation that only those who did their work each week got to enjoy!
You can call it a reward system, or a bribe, or an incentive plan! Just make sure it is something that appeals to your tween!
Looking for some great ideas for summer?