Today we are going to tackle a Declutter Your Life Mini Project…something that can be done in only an hour or two, but will leave you feel energized for days! You'll feel happy that you accomplished a decluttering project and every time you get something from or put an item away into the closet- you'll be SO happy that it is so clean and organized! So here it is…. the Momof6 tips on how to clean our your closet!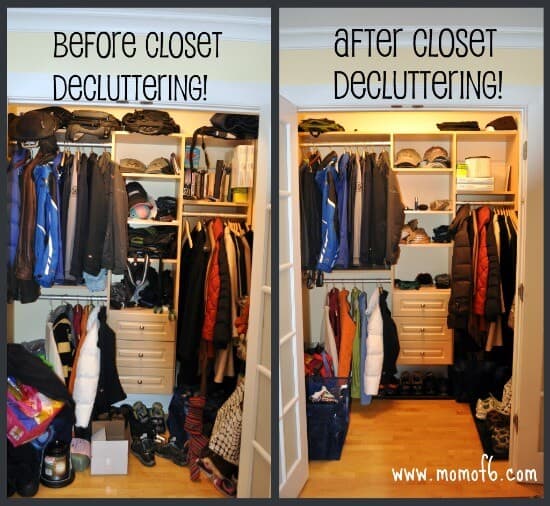 Empty Out One Section At A Time
I know that some folks swear by the rule that to properly clean a closet, you need to empty the entire thing first, sort through the contents and then put back only the things that you intend to keep. The problem with that idea… is that was developed with the paid professional organizer in mind… the kind of person who is going to start the closet, and then not walk away until the darn thing is perfectly done. But Moms live with a different reality- the one that says that at any given moment the phone could ring with a call from the school nurse asking you to come and collect your child with strep throat. And since that child will have already infected every other member of the household…. it could be weeks before you get back to finishing up that closet decluttering project. So my advice is to work on a small section at at time. I prefer to begin any project in the furthest left hand corner, and then work my away around clockwise.
After You Empty the Section… Sort into Piles Based on Destination
Every item that you touch as you are removing it from that section of the closet should be sorted into piles:
Keep (because I love it, use it, need it, want it, AND have room for it)
Sell it for $– Craigslist and Ebay are great opportunities to make a little money by getting rid of things you no longer need.
Donate to charity– and know where you intend to donate it and make piles for each separate charity right now as you are sorting through your things, so you don't need to re-sort later based on what a charity will and won't accept
Trash– because it is worn out, useless, broken, and no one else will want it
Relocate it– if it is something that you need, but it doesn't belong in the coat closet, then return the item to its rightful home (and no- that doesn't mean the basement dumping ground!)
Clean the Emptied-Out Section
This is your big chance to get rid of all of the lurking dust bunnies that have been hiding in the corners of the closet! Hook up the vacuum attachments and suck up all of the yuck while it is empty!
Return the Streamlined and Decluttered Items to Their New (and Now Spacious) Home
Ahh.. doesn't that fell better? And now you can actually see what you own and find what you need! (What a revelation, huh?)
After I finished this closet clean-out, I gave away 6 kitchen-sized trash bags full of coats, shoes, boots, hats, and gloves to charity. I also threw away 2 bags of miscellaneous garbage that I can't believe we were keeping around. And I relocated about a dozen books, and quite a few deflated soccer balls to the places where they really belong!
If you enjoyed this decluttering your life mini project, please check out these other posts in the decluttering your life series:
It's In There Somewhere: The best book for inspiration on how to declutter your life
The Big Basement Project: My declutter your life 29 day challenge
If you enjoyed this post, please consider tweeting about it or posting a link to it on facebook! I'd sincerely appreciate it!