When you find that things are feeling out of control, that the house is a mess, that you can't get anywhere on time, and that you aren't getting anything done on your to-do list- you start to feel as if you'll never be able to get organized! So when you get to that point where you want to dig in and regain control over your home and family, follow these 6 steps to help you start to organize your life again!
Even if you are someone who considers yourself to be a "fairly organized person" we all have weeks when things just slide right out of our control and chaos reigns supreme. (I know that it happens to me all of the time!)
As an example, I received this email from a reader, Renae, who was feeling unorganized and stressed from all that she deals with in her busy life. Here's some of what Renae wrote:
"I am writing because there are so many areas that I need to tackle- it is most embarrassing yet at the same time confusing. I don't know where to start. I do have a clean and tidy home. Cluttered many times due to everyone not following chore times or helping out. My children are 14, 12, 9, and 4. I truly want to help them learn the disciplines of keeping a home, keeping organized and also keeping care of themselves. Any thoughts on where a organize misfit would begin to put order in her world so that these important challenges can be lived out? I would be so appreciative for any direction you could provide."
When it happens (and it always does!)– this is how to get started on the path to organizing your life again:
Step 1 to Organize Your Life: Sort It, Do It, Trash It, or List It!
When the clutter of paperwork, schoolwork, and unopened mail stacked all over the kitchen counter is threatening to bury me, I feel very out of control. So I start on the far left side of my kitchen counter and I begin going through the piles. I pick up each piece of paper once, quickly read it, and then decide what needs to happen next.
If it is something that can be done within a minute or two such as RSVP'ing to a birthday party and then adding it to my calendar, I do it immediately and then file the paper. If it is school work that I just needed to review, I read it and then toss it (recycling it when possible!), or if it something that is going to take me a little while- such as paying bills, making a lengthy follow-up phone call- then I write it down as a "to-do" item to get to later.
When I am done going through all of the papers- I should be left with one small pile which requires follow up. I put that in a folder on my desk and add an appointment on my calendar to deal with it.
Complete the To-Do List
Once you have tackled the piles on your kitchen counter, take your to-do list and walk through your house, writing down all of those things that you see every day and think "I really should do this", or "When am I ever going to get this (closet, bookshelf, desk drawer) cleaned up?". Even write down the things that are holding you back from a more organized life such a "re-vamp the kids chore chart" and "set up a family calendar that we can all sync to."
Now you have a clear picture of what you'd like to get done. Sometimes I feel better just from this step alone- what's it's on a list, it is off of my mind!
Don't Forget About eMail!
And don't forget your email inboxes when battling back the clutter! The same rules apply- do it, delete it, or add it to the to-do list.
Does This Step Feel Too Overwhelming?
If sorting it, doing it, trashing it, or listing it on paper seems in itself to be a monumental task- break it up. Set a timer for 30 minutes and see how much you can get done in that time. Or tell yourself to work on just one countertop or area and work until you get through it. Then the next day, move on to the next area and so forth until it is sorted, done, trashed, or put on the to-do list.
I promise you- that your mind will start to relax a little once you have cleared the paper clutter and created one place where you have one big "to-do" list. You are starting to gain some control.
2. Use Bins to Deal With House Clutter
Kids aren't always going to put stuff away when they are done with it. Projects, books, and graded papers are going to come home from school that the kids will want to save. Keeping on top of finding a home for all of this "stuff" can make a Mom crazy- or certainly send her on 4000 trips up and down the stairs to put things away every day.
I suggest finding a few plastic bins This is an affiliate link: MomOf6 earns a commission if you purchase, at no additional cost to you. that you can label either with a location in the house or with each child's name. Then when you find an item in the kitchen that belongs in a kid's bedroom you toss it into the appropriate bin.
The kids are then responsible for cleaning out their bins on a regular basis- and failure to do so can result in bin-items being trashed (or at least that's what I tell them!)
3. Make Peace with "The To-Do List"
Now that everything that you need to or want to do is on your master to-do list, it is time to make peace with the list. If your list looks anything like mine- you could work 24/7 for the next year only on trying to complete the items on that list, and even then not make it to the bottom.
But that's not how we want to live our lives, is it? We're here to be with our families and create our own happiness too, not just get "stuff done". So the first thing you need to wrap your head around- is that the to-do list is never going to be finished. Never.
And you need to tell yourself that while it is very nice (and frees the mind) to have all of your "to-dos" listed in one place, so you aren't tripping over them all day long- you need to give yourself permission to leave things on this list for a very. long. time.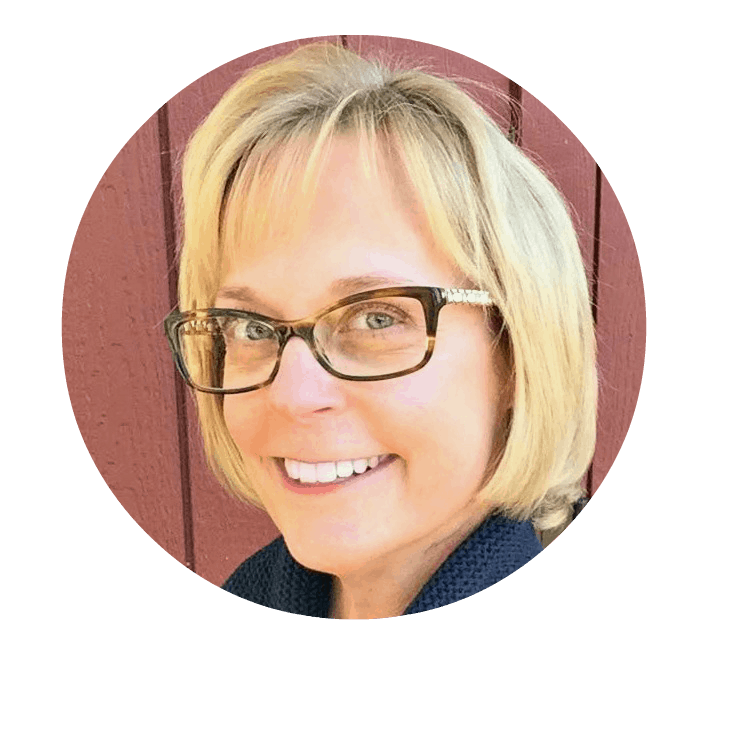 Looking for more great tools to organize your home?
Then be sure to check out these lists of my favorite Closet Organizing Tools This is an affiliate link: MomOf6 earns a commission if you purchase, at no additional cost to you. and Bathroom Organizing Tools This is an affiliate link: MomOf6 earns a commission if you purchase, at no additional cost to you. over on my Amazon influencer page This is an affiliate link: MomOf6 earns a commission if you purchase, at no additional cost to you. !
4. Give Each Item on the To-Do List a Priority and a Scope
Assign a Priority
Now that you have accepted that you cannot get it all done, it's time to start figuring out where to start with the things that are important to you. So let's start going through the list.
Look at each item and next to it, give it a priority rating A-D. "A"s are for things that you need to do right now- things with defined and immediate deadlines. "B"s are things that are important but can wait a week or two (or longer), "C"s are things you need to do (such as clean out the coat closet) but they are things you've needed to do for a while now, so if another month or two goes by, so be it. And "D"s are kind of wish-list things- like clean out the attic. Boy, I'd sure like to get to it, but since I don't walk by it every day, it can wait. For forever…  or until the kids all graduate from high school and we move again!
Assign a Scope
Once everything on the list has a priority assigned- it's time to go back through just the items with an A or a B next to them and assign a scope- which means a "guesstimate" of the amount of time needed to complete that task. Maybe one "A" item requires an hour of time to complete and another one 4 hours. Give your best guess next to each A or B item.
5. Examine Your Schedule and Determine When You Have Time to Work On Tasks
Now take a look at your busy schedule and decide for each day of the coming week when you can find an hour or two to start working on the A-list items, and keeping in mind the scope of time needed for each, start assigning A list tasks to days of the week.
Be careful not to over-schedule yourself by cramming three 20-minute projects on the list into a spot where you know you only have a half-an-hour to do them. You'll just be setting yourself up to fail!
Once you've got this week's items assigned, start working through them day by day as you've designated. Actually getting some things done will feel great!
6. Keep the Process Going!
Admittedly, this is the step that falls apart all of the time- you've battled back the piles, you've made your lists and assigned priorities and scopes, and are starting to work through items on your to-do list. So why is it that you turn around next Tuesday and there are piles of paper all over your counters again and you feel as if you've lost control?
It's because you did not keep the process going! At least once a week you need to go through incoming paperwork and emails and follow the do it, trash it, or list it routine. Throw the kids clutter into their bins and follow up with the kids to empty them. Review your to-do list often- because priorities change! Figure out what items you are going to tackle this week. It is hard- but if you keep the process going, you can organize your life!
Would you like to get more organized this year?
Are you ready to get your life organized? Register for Busy Moms Boot Camp!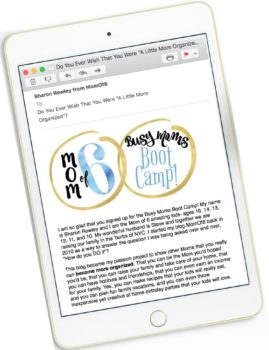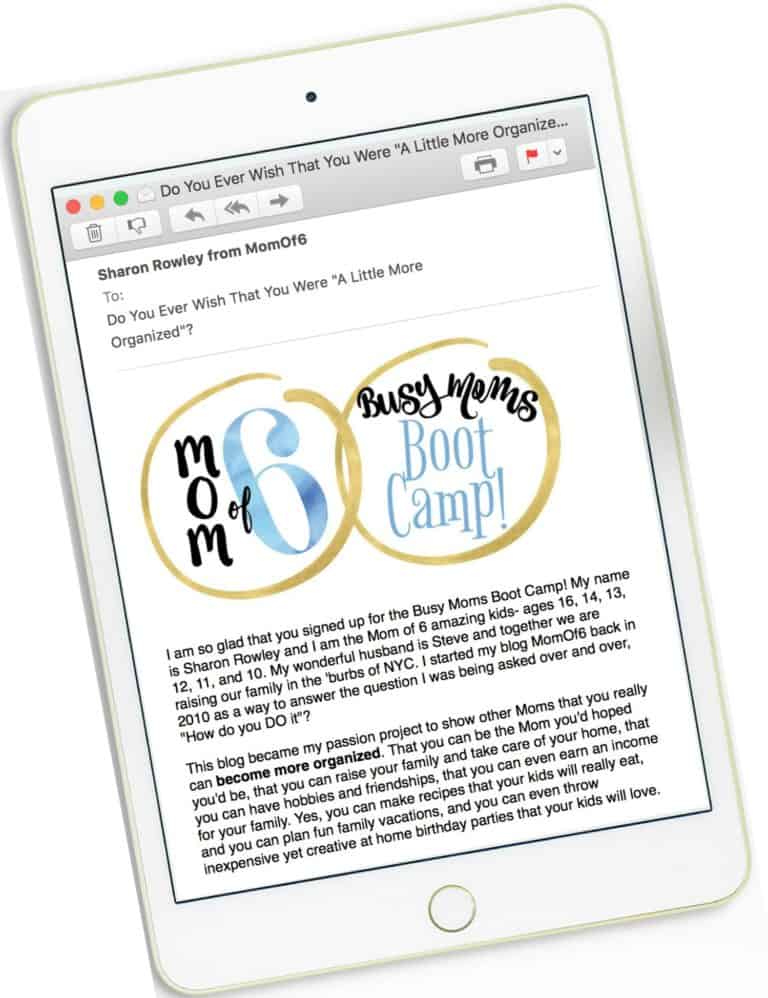 It's a free series of 10 weekly emails that can help you put some organization back in your life and help you to create room for all of those things that you'd like to be doing- whether that's making time to celebrate the little things with your family or carving out some space for yourself. Busy Moms Boot Camp can help you to move from chaos to organized! Simply sign up below to get started!

I hope these 6 steps will help you get started, and I would love for you to leave a comment and tell us if this will make you feel more in control. I wish you the best of luck!