One of the tools that I use to organize my life is to keep a running grocery list on a clipboard right in my command center, so that every time I use up a product around the house I can write it down on my list. That way I can make sure to replenish the item the next time that I go to the store. And since I also menu plan every Sunday night, I make sure to add to my grocery list all of the ingredients that I need to buy to prepare this week's dinners. The cool thing about using this printable grocery list is that I have it organized by aisle within the store, so as I am rolling my cart down the aisles I can quickly look at just that section of the grocery list and make sure that I picked up everything that I need.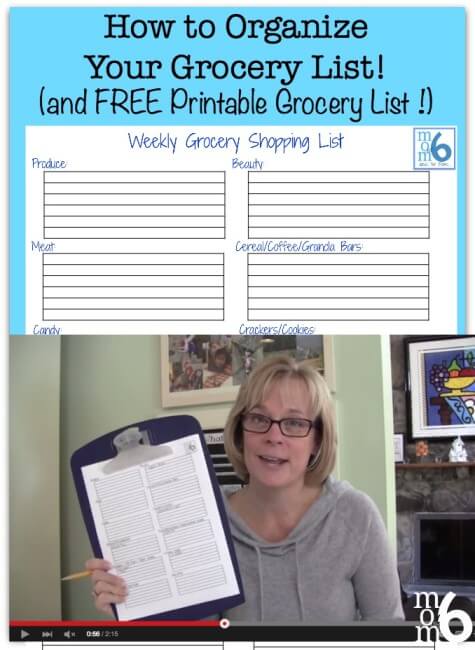 The Momof6 Printable Grocery List!
Now I realize that not all grocery stores are arranged in the same way…. so it is possible that your store doesn't put cereal in the same aisle as coffee and granola bars- which means that my list here isn't going to fit your needs. But you can create a similar list in Excel or in PicMonkey using groupings that match your local store. (And all I did was to write down the major categories of grocery products by aisle umber one Monday morning while I shopped, so that I could go home and create this customized list).
Just click on the above image to open a new window and print!
Check out my video tips on how to organize your grocery list:
Do you keep a running grocery list at your house and do you feel it helps you to stay organized? If so please leave a comment below and share!