If you're like me, you'll chase your kids "outside to play" about 4,927 times this summer! So why not make sure that they have some awesome backyard games just waiting to be played with? Perfect for inviting groups of friends over and for running your own DIY Summer Camp– your kids will have no reason to be bored! (And some of these are perfect for kids birthday parties too!)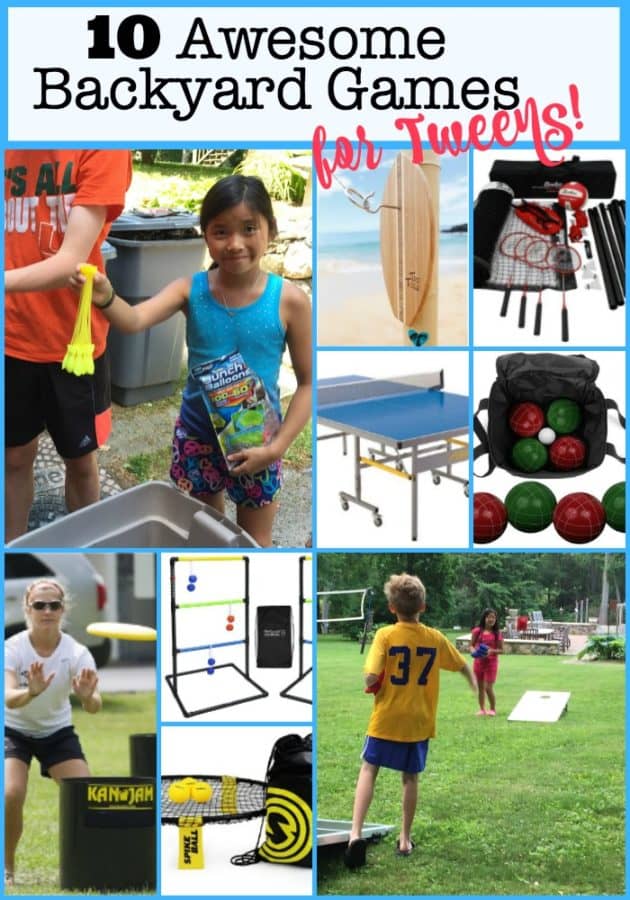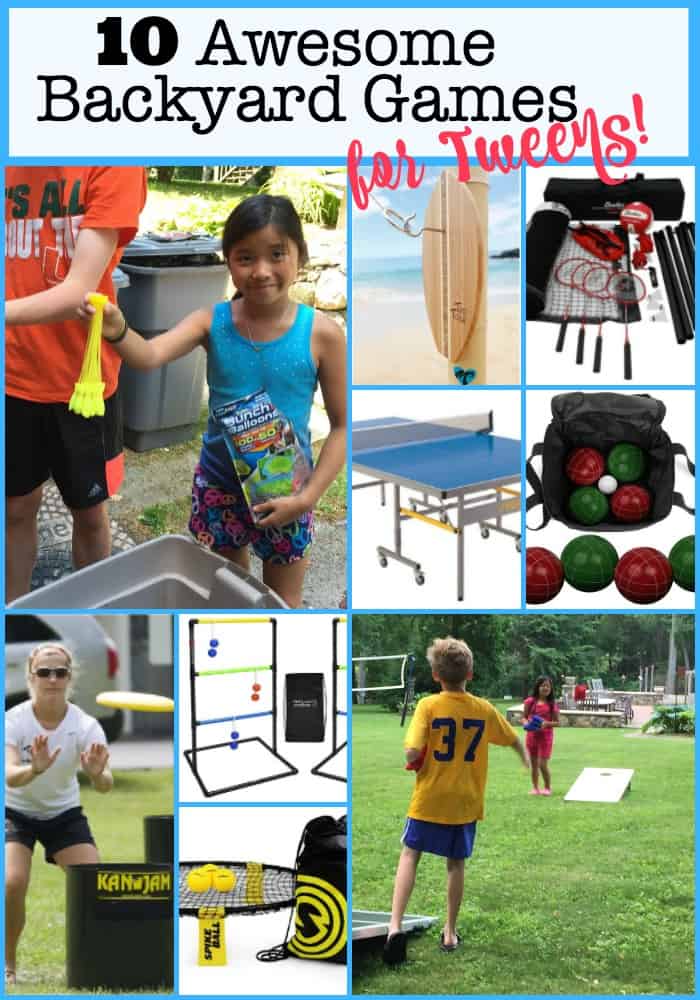 *Please note that some of the links in this post are affiliate links, which means I will make a small commission if you purchase through these links.
10 Must-Have Backyard Games for Tweens!

Spike Ball
This is probably my older kids very favorite backyard game right now- SpikeBall! Kind of a cross between volleyball and four square- a player starts by serving the ball down on the net so it ricochets up at his opponents. They have up to three hits between them to control the ball and bounce it back off the net. If they miss, you score!
I find that it takes some practice to get the hang of this game- and you can't be afraid to dive for the ball to keep it going- but it is a ton of fun!

CornHole
We first played cornhole at a friend's backyard BBQ, and we all were hooked! We wanted to buy our own tables that were weather-resistant (in case the kids left them out in the rain) and were portable so we could take them to picnics and the beach. This is the set we purchased three years ago, and we still play this game all of the time!

Kan Jam
This is a fun lawn game for the backyard or for the beach. Kan Jam is played with 2 teams of two players- one serves as the thrower (aiming for the can) and the other as the deflector who tries to knock the disc into the can.
I love that it is different from corn hole in that teammates have to work together to score points. The cans will fall over if it is windy- but according to the rules- that's just part of the game! (At the beach we bury the bottoms in a little bit of sand which helps to remedy that challenge!)

Slack Line
We put up a slack line between two trees back when we made our backyard America Ninja Warrior course for the kids- and this is one of their favorite elements!
I definitely suggest using the training line above the slack line, because it helps kids to get on at the start and to find their balance. These days my kids use it as the starting point as they are creating their own backyard obstacle courses!

Instant Water Balloons
It's summer and there's no denying your kids are going to want to have a few water balloon fights. But no one likes filling up balloons one by one for over an hour only to have them all destroyed in 2 minutes! That's why we buy these instant water balloons– 100 of them can be filled using your outdoor hose in about one minute! You attach the end to your nozzle, fill them up and they self-tie and drop off the filler tubes!
They actually last longer in a water balloon fight than they take to fill! It's awesome!

Badminton / Volleyball Set
Over the years we've owned both volleyball sets and badminton sets- but the truth is- we generally only want to set one of them up at a time in the backyard- and we would prefer if the net can stay in one place all summer long! Which is why we love this combo volleyball/badminton set.
Most days my kids play badminton- but we found that if we modify the game of volleyball so that the kids have to catch the call before sending it back over the net, then we can make a family game last a long time! I also highly recommend these light up birdies– because it is so much fun to play yard games in the dark!

Outdoor Ping Pong
Okay- admittedly this is an investment because an outdoor ping pong table is not cheap! But we have had ours for years now and the kids play table tennis on it nearly every day of summer and well into the fall when they get home from school. I definitely recommend that you store it upright when not in use (super simple to tilt up- the kids do it themselves) and put a cover over it.
In the winter we move it into the garage (I don't think it would last as long sitting in a pile of snow!), and we keep the paddles and balls in a bin with a lid so they don't get soaked- but if the kids forget and leave things out in a rain shower it's not a big deal. They love it and we found it was well worth the investment!

Hook and Ring Game
Our hook and ring game is set up right outside our back door near the grill- and every time we are grilling dinner (which in the summer is 3-5 nights a week!) I call one of the kids out to play with me! It could not be easier- you just pull back on the string with the ring and let it go to swing- aiming for the hook. First one on wins! (Crazy addictive!)

Ladderball
We've owned our ladderball game for several years now- and my kids love it! You simply toss the balls on strings (called bolas) to the other side's ladder. Each player tosses all 3 bolas, then the next player tosses all 3 bolas- trying to wrap them around the rungs. The top rung is worth 3 points, middle is 2 and bottom rung is 1 point.The first one to 21 without going over is the winner!

Bocce Ball
Bocce or "lawn bowling" is one of our favorite outdoor games for kids that is easy to learn. Usually played with 2 teams of two players each, one team throws out the "pallino" (white ball) and then teams take turns rolling the colored balls with the goal to get their balls closet to the pallino (even better if they are touching or "kissing the pallino" at the end of the round). Points are scored after each round, only awarded to the team whose ball came the closest. The game ends when a team reaches 12 points. This is a great starter set that kids can use and won't destroy- and we even take ours to the beach!
Looking for some great ideas for your DIY Summer Camp?
What is your family's favorite backyard game?