After you've enjoyed your Christmas dinner together, don't let everyone run off to watch football or play with their new toys! Instead, stay at the table and play these fun family Christmas games!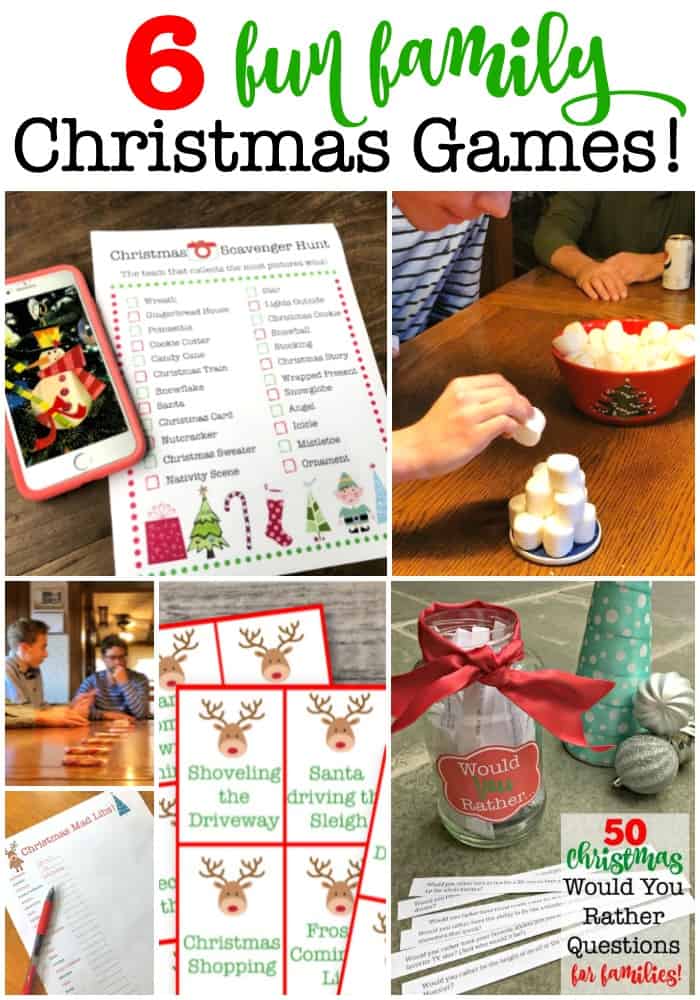 Assuming that you spent Christmas morning opening the gifts that the kids found under the tree, then you might be looking for a way to create some fun and excitement later in the day- after you've enjoyed your holiday dinner together!
So here are 6 fun family Christmas games that you can play at the table!
Christmas "Would You Rather?" Game
This set of 50 questions "Would you rather?" questions are Christmas-themed, such as "Would you rather be the one to see Santa come down the chimney or be the one to receive the most presents under the tree?" This game will have the whole family talking and laughing!
Head over to this Christmas Would You Rather Questions post to download the free printable game!
Stack the Marshmallows
Our cousin Amber brought this idea to the holiday table last year- and it was so much fun to play. All it takes is a small round circle (we used a drink coaster) and a bowl full of marshmallows.
Players take turns adding a marshmallow to the coaster, stacking them on top of or next to each other without causing any of the marshmallows to fall off of the coaster.
There are no rules as to how you can stack the marshmallows- so feel free to make challenging for your opponent by stacking them on their sides!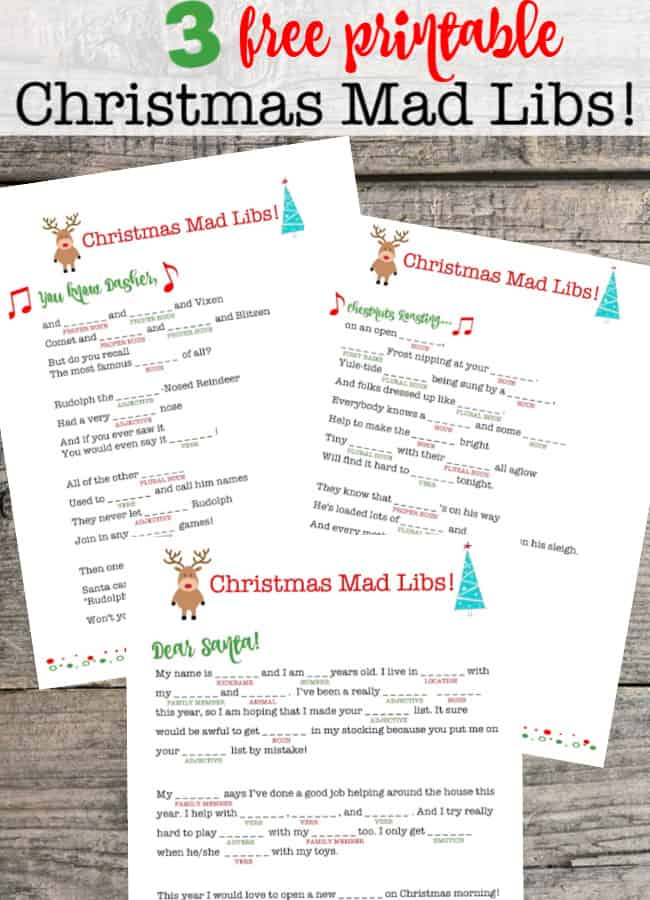 Christmas Mad Libs
Kids love to fill out Mad Libs and read the silly stories aloud! This set of three Christmas-themed Mad Libs stories has a separate page for each story where kids can fill out all of the word prompts.
One person can read the prompts out loud to the group and write down the responses (and be sure to do this without peeking at the story!). The sillier the response, the better!
Head over to this post to download your free printable Christmas Mad Libs stories!
Tabletopics Conversation Starter Cards
We've purchased several versions of these Tabletopics conversation starter cubes This is an affiliate link: MomOf6 earns a commission if you purchase, at no additional cost to you. – and they are always fun to break out at a holiday meal!
It comes with a set of 135 questions designed to get families talking- and they work for both younger and older members of the family. A really nice way to get to know your extended family better!
Candy Cane "Spoons" Game!
A fun card game to play is a group is "Spoons"- but instead of using spoons, use candy canes! Here's how to play:
The object is to collect four cards of one kind (four twos, four kings, and so on) and not to be the person left without a candy cane. To begin, place the candy canes (one fewer than the number of players) in the center of the table within grabbing reach of all players. Each player is dealt four cards. The dealer keeps the deck.
The dealer picks a card from the deck and then discards one card from his hand, sliding it facedown to the player to his left. That player takes it, then picks one card from his hand and passes it to his left.
Each player, in turn, does the same, as quickly as possible. Each person should have four cards in his hand at all times. The player to the right of the dealer places discarded cards in a pile to his left to be used by the dealer when the original deck is used up.
Play continues until one player has four of a kind, at which time he takes a candy cane from the table. He may steal the spoon surreptitiously, continuing to pass cards until someone else notices. Or he may grab his candy cane, creating a mad rush for all of the candy canes at the table.
The player left without a candy cane has lost the round. If you like to keep score, that player is given a C. As players spell C-A-N-E, they are out. (Or you can play instant elimination). The player left at the end is the winner.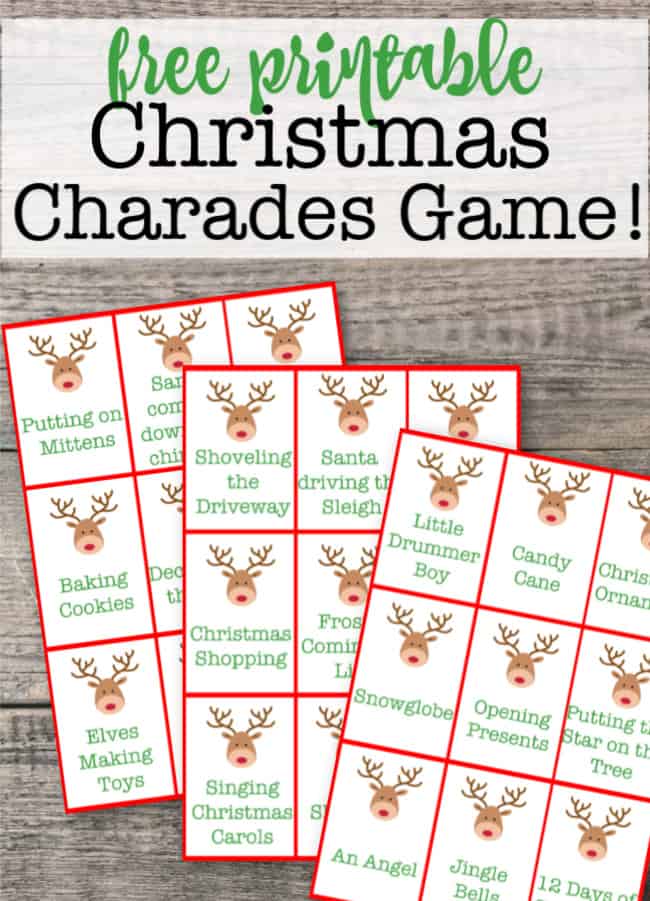 Christmas Charades
This set of free printable Christmas charades cards comes with 27 different Christmas-related objects or phases. After you print the cards and cut them out (I like to use my scrapbook paper cutter for this), you can play the game in one of several ways- charades style where you draw a card and then act out what's on the card, or Heads Up style where you wear the card and others have to give you hints so you can try to guess what's on it!
Chrismas Photo Scavenger Hunt
Okay- while this really can't be played at the dinner table, a great way to entertain tweens and teens while you are preparing your Christmas dinner is to send them off to do this Christmas Photo Scavenger Hunt!
Looking for Some More Christmas Ideas?
Does your family like to play family Christmas games?