My kids learned all about the original 13 colonies and the Revolutionary War in elementary school, and my son Alex is particularly fascinated by Thomas Jefferson. So when Spring Break rolled around we decided to take one of our family road trips and spend a few days exploring all of the many great things to do in Williamsburg VA. We were able to immerse ourselves in what the historic city had to offer, plus spend some additional time playing in a nearby indoor waterpark!
Before You Check Out the Things to Do in Williamsburg VA:
There are a few things that helped us in terms of advance planning before our trip- that I thought I would pass along to you! Go online and check out all of the possible events and tours on Colonial Williamsburg Visitor's Center website. You can even look over the Visitor's Guides for the days you will be there (you can preview it ahead of time here).
I suggest buying your tickets online in advance (you'll have to pick them up at the Visitor's Center, but the pickup lines are much shorter than the purchase lines!). I also suggest making reservations for lunch and dinner if you plan to dine in the colonial city (see my notes on this below!)
If you stay at a hotel nearby (we spent one night at the Comfort Suites Bypass hotel which has rooms that can accommodate our large family!), arrive early and park at the Visitor's Center. From there you can take a shuttle bus over to the historic city (which is great if you are traveling with young children) or even take the path and walk over (which is what we did).
#1. Participate in a "live event"
One of the first things you are going to want to do after you pick up your tickets is to look over the Visitor's guide for that day (you can preview it ahead of time here) and take note of any special "live events" going on in the historic city.
One of the best reasons to visit Colonial Williamsburg is to experience what it was like to live during this time period- and there is no better way to do that than to get caught up in a colonial "uprising", to march in a parade, or to watch muskets being fired in preparation for battle.
We joined in on the 10:15 am "Storming of the Palace" where we had the chance to watch the colonists protest the governor's removal of their gunpowder from the armory. We listened to the impassioned speeches by those who felt the time was right for confrontation and also to those who felt we should support the governor, and it was easy to get caught up in the speeches and want to help the colonists get their gunpowder back!
(The actors wear small microphones, and their words are broadcast over speakers hidden in the nearby trees, so it is easy to hear what they are saying.) My kids were completely fascinated by this.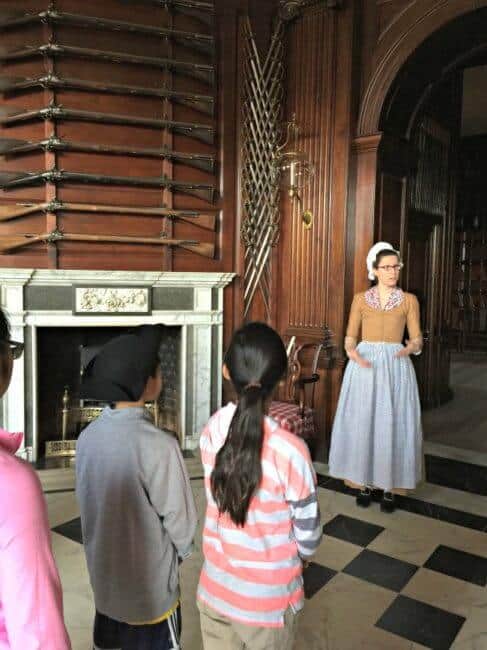 We also enjoyed taking a tour of the governor's home where we learned about how he and his family lived during this period, and loved walking through the gardens and maze behind the home after the tour.
#2. See (or even participate!) in a court case
Several times a day you can see what it was like to sit in a courtroom in colonial America, and learn the kinds of cases that the local justices presided over.
The best part- is that adults are invited to participate- either as a petitioner of the court or to sit in and decide on the rulings! The presentation runs about 25 minutes- and even my 10-year-olds found it to be interesting!
#3. Eat in an authentic restaurant
I wanted my kids to have a chance to dine like a colonist too- but had to balance that idea against the fact that several of them are picky eaters! We chose to eat at Shields Tavern for lunch because I felt it offered the best of both worlds! You can look through all of the menus online and even make your dining reservations in advance to fit your schedule!
My kids enjoyed the food, were entertained by the servers in authentic dress, and loved the musician who wandered through the restaurant and played for us. Of course, having the chance to sit down a bit was also very welcomed!
#4. Play like the colonists
You can start your day by literally dressing the part! Costumes are available for rent in the visitor's center gift shop for kids, and we saw a fair number of kids walking through the streets in full colonial dress. My kids opted out of that idea- but my youngest definitely wanted a tri-cornered hat!
During our visit, the Powell House was open for tours, and we learned about how families lived during this period, and the early age in which they started their apprenticeships for their future vocations (12!). We watched someone prepare a traditional family meal over an open fire, and we had the chance to play traditional games in the side yard.
And of course, you can't miss the photo ops!
We visited the armory, the jail (where Blackbeard's fellow pirates were once kept), and we couldn't resist the photo op in the stocks! And there were many chances just to see and interact with colonists as they "went about their day"- such as this esteemed gentleman on horseback!
#5. Talk to the shopkeepers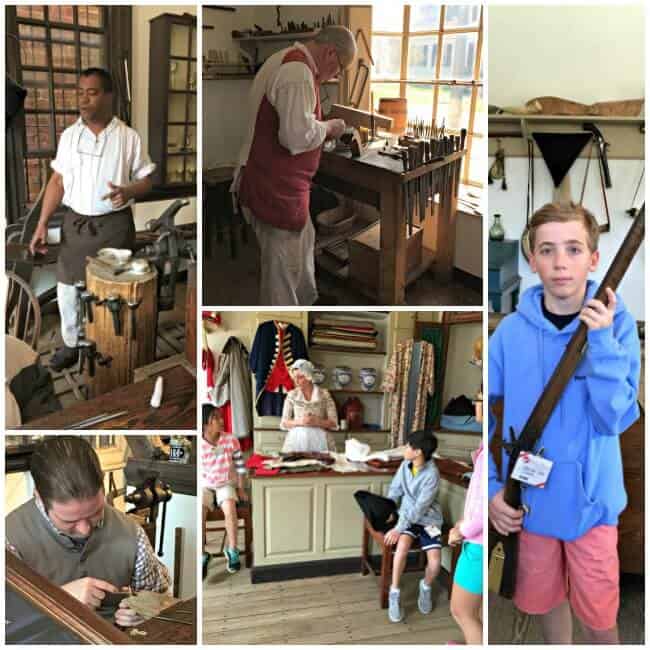 We spent the majority of our time wandering in and out of the shops, and listening to the shopkeepers explain what life was like and why their trades were important in the Revolutionary days.
We started at the blacksmith's shop, moved on the silversmith's shop, the milliner's, and wrapped up at the gunsmith's shop. It is impressive to watch the tradesmen create items using the same methods as were originally used. And yes- the guns do fire!
Then be sure to check out this list of the Best Travel Games This is an affiliate link: MomOf6 earns a commission if you purchase, at no additional cost to you. for kids over on my Amazon influencer page This is an affiliate link: MomOf6 earns a commission if you purchase, at no additional cost to you. !
#6. Experience historic Williamsburg at night!
Depending on when you travel, there can be many evening options for tours and experiences. One that runs year-round are the ghost tours. My oldest son would have loved to go, but since we were traveling with just one adult, he was unable to take the tour alone, so we will have to enjoy that on our next visit!
We had dinner nearby at Huzzah's Eatery (you have to try their salted buttermilk-brined fried chicken!) the night before we toured Colonial Williamsburg, so we decided to walk over to the historic area and have a look around.
It was a quiet and beautiful at night, and if you head to the west side of town, you'll find Merchants Square which is filled with restaurants and shops that are open in the evening. We spent some time picking out a sweet treat at the Wythe Candy and & Gourmet shop!
#7. Play in the waterpark
We decided to balance the educational aspect of a day in Colonial Williamsburg with another day spent indulging in pure fun at the nearby Great Wolf Lodge in Williamsburg. You can access the park as early as 1 pm on the day of check-in, and the kids spent the rest of the day riding the waterslides over and over!
My older kids also worked hard to master the wave surfing ride. I loved hanging out with the kids, riding the slides, and sitting in the hot tub.
We also enjoyed taking a break from the waterpark and having the buffet dinner in the main restaurant.
One of the best parts of Great Wolf Lodge is their themed rooms. We stayed in a Wolf Den Suite that had a bunk bed on one side and a twin on the other. And the kids loved that it had its own TV!
Of course, they were all so wiped out from playing in the waterpark all day that they didn't watch it for very long!
We brought in goodies from home for breakfast (rooms come with a tall mini fridge, so I highly suggest bringing beverages and snacks from home to stretch your budget!)
#8. Tackle the climbing tower
I hate it when attractions/hotels charge you extra for every little thing you want to do when you've already paid for a very expensive room, but this climbing tower was definitely worth it!
You strap on your harness and you are attached by a bungee cord from your harness to a track that runs above you in every section of the tower. Based on where you align your bungee cord- you can easily transition from section to section without waiting to be attached or spotted by an employee. You could explore it for as long as you wanted!
We loved our 3-day getaway to the Williamsburg! Have you ever been there as a family?
Want to Check Out More Great Road Trip Destinations?
Need Some Help Planning or Packing for Your Family Road Trip?