We love to take family road trips down to New Smyrna Beach on Florida's east coast- about an hour outside of Orlando and just south of Daytona. This is a town with a beautiful wide beach that is not packed with high rise hotels. In fact- I can only think of one beach-front hotel- The Best Western. New Smyrna is a place where people live, not just vacation. And this lack of large hotels helps to keep the beaches uncrowded, the streets easy to get around, and restaurants, activities, and shopping accessible. Here's a list of some fun things to do in New Smyrna Beach as a family!
We are fortunate because my brother lives in Orlando, but also owns a 3-bedroom condo on New Smyrna Beach. With incredible views like these: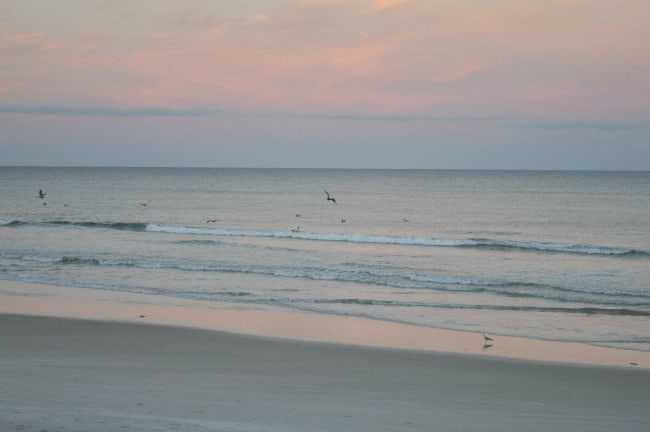 And it provides the perfect opportunity to gather with aunts, uncles, cousins, and grandparents!
The way to stay in NSB (if you don't have a family member with a condo!) is to rent a home or a condo using a site such as VRBO. You can search based on the # in your party, dates you wish to visit, and search based on amenities such as beachfront location and access to a pool.
Be sure that you understand exactly where on New Smyrna Beach the condo or home is located. The northern end of NSB allows cars to drive on the beach-a feature you might want to avoid if you want the kids to be able to play on the beach right in front of your unit.
One of the great surprises about New Smyrna Beach is the fantastic restaurants! While you certainly can find some terrific fresh-caught seafood here- it's not all about fried shrimp and fish and chips!
Our favorites are The Garlic, Tiano's, So Nappa, C's Waffles (for breakfast), McKenna's, JBs Fish Camp, and Lost Lagoon. All of these places offer the standard kids menu fare too, so even your picky eaters will be pleased!
1. New Smyrna Beach Activities
The beach in New Smyrna is wide, especially when the tide is out, which creates a huge play area to ride bikes, fly a kite, play sand volleyball or bocce ball, or just build sandcastles.
The water changes "personality" based on the weather. In cooler months at high tide, you might see some serious wave action- along with surfers, boogie boarders, and kite surfers taking full advantage of the waves. In warmer months there are times that the water is as smooth as glass- making it easy for beginner stand-up paddleboarders, kayakers, and swimmers to do their thing.
Be aware that there are areas of New Smyrna Beach that allow for driving on the beach with your car (here's a map with full details)- a totally fun long-standing tradition- but you might not want this to be the area where you take the kids to play in the sand!
And while you may have heard that New Smyrna has the reputation for being "the shark capital of the US", please note that in 2012, there were 8 shark bites in NSB- and most of them have occurred near the Ponce Inlet, where the churning waters of the Intercoastal Waterway spill into the ocean, creating a dream situation for surfers. According to the Orlando Sentinel:
The dynamic of the inlet is unique and unlike any other area," said Dave Byron, a Volusia County government spokesman. "With the jetty on the north side, the narrow inlet is traversed daily by pleasure and commercial fishing where bait fish are being deposited." 
So bait fish + surfers = shark bites that are a bit like dog bites. Still- it might not be the best place for families to hang out! Stick to the areas of the beach south of Ponce Inlet for your ocean adventures.
2. Climb to the top of a lighthouse
The Ponce de Leon Inlet Lighthouse is the tallest lighthouse in Florida- and you can climb the spiral staircase inside of the lighthouse up 203 steps to the top of the 175-foot tall tower for amazing views of Daytona, the Ponce Inlet, and New Smyrna Beach. The fee is $5 for adults and $1.50 for kids under 12.
Then be sure to check out this list of the Best Travel Games This is an affiliate link: MomOf6 earns a commission if you purchase, at no additional cost to you. for kids over on my Amazon influencer page This is an affiliate link: MomOf6 earns a commission if you purchase, at no additional cost to you. !
3. Check out the wildlife
If you are staying in an oceanfront location you should be able to catch a glimpse of dolphins jumping and feeding in the shallow surf, or if you take the opportunity to do a little paddling in the protected bays- you should be able to see manatees, dolphin, pelicans, herons, osprey, egrets, and maybe even a Florida alligator.
May-November is turtle nesting season. If you spot a Mama turtle making her way up the beach- give her plenty of room and don't interfere, and if you are lucky enough to come across a clutch of eggs, be sure to leave them alone.
New Smyrna Beach has dozens of volunteers who monitor the egg nests and keep track of when the hatchlings should emerge. And if you are truly fortunate- maybe you'll get to see some hatchlings make the trek into the sea!
If you are staying in a beachfront condo during turtle nesting season, you must draw the window blinds from sunset to sunrise to prohibit man-made light shining on the beach- which confuses the turtles. They are counting on the moonlight to guide their way!
If you are visiting during the winter months- you may get to spot a manatee or two taking refuge in the warmer shallow waters off of the ocean. For a better chance of seeing these gentle sea cows- make the 45-minute drive over to Blue Springs State Park, where hundreds of manatees congregate in the warm spring waters.
4. Mini Golf, Ice Cream, and Shopping
No trip to a Florida beach town is complete without taking the kids to play mini-golf, enjoying a hand-dipped cone, and doing a little shopping! Our favorite links courses are in Daytona Beach- Pirates Island Adventure Golf, and Congo River Golf.
And you have to spend some time walking along Flagler Avenue in New Smyrna for shopping, ice cream, and quite often- a street fair too.
5. Visit the Kennedy Space Center!
Back when the space shuttle was still flying, watching a shuttle launch from the beach was a spectacular sight- and one that you felt privileged to see. These days you can still catch a Space X or other NASA rocket launch from along the beach- my kids and I had the chance to see one this past February during our visit- a night launch which is truly amazing.
Visit Space Coast Launches to see if any rocket launches are planned during your visit!
6. Check Out Nation's Oldest City- St. Augustine!
Located a little over an hour north of New Smyrna Beach is the historic city of St. Augustine. It is fun to check out the USA's oldest fort- Castillo de San Marcos, walk the streets of the old city, and visit the oldest wooden schoolhouse. There's plenty of opportunities for shopping, ice cream, and a nice lunch too!
And should all of that not be quite enough to entertain your family- Orlando is just a little over an hour away with all of its theme park attractions and water parks!
Want to Check Out More Great Road Trip Destinations?
Need Some Help Planning or Packing for Your Family Road Trip?