There are lots of different types of car coolers on the market, and picking the one that works for your family road trips is key! Here is a look at some of the best car coolers on the market; we own them, we've used them- and we know which ones work best for different kinds of road trips!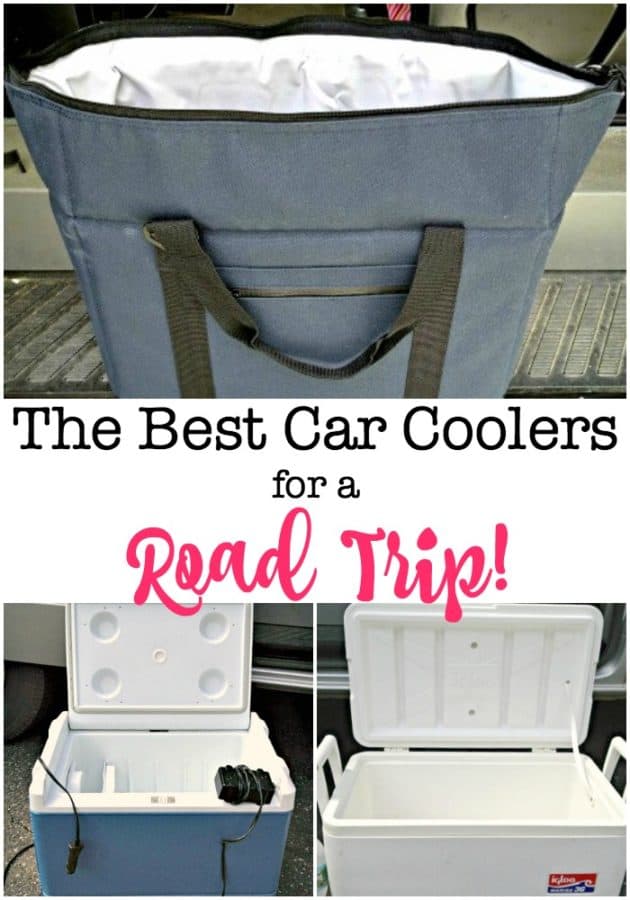 *Please note that some of the links in this post are affiliate links, which means I will make a small commission if you purchase through these links.
Best Car Cooler for a Camping Trip:
The tried-and-true white Igloo cooler is your basic, traditional car cooler that you fill with ice and then layer in your food. While we have the marine version from a few years ago, this Quick & Cool Igloo Cooler can keep ice frozen for up to 5 days and hold almost a week's worth of food!
Because of its size- this is a cooler that will need to go into the luggage area of your car- it's not one you can reach into and grab a cold can of soda as you are cruising down the road!
Make sure that your cooler has a drain plug (as this one does) so that you can easily drain the water that results from the melting ice. This cooler is ideal for camping trips and places when you don't have access to electricity.
The Perfect Car Cooler for a Point-to-Point Road Trip:
This plug-in car cooler is great because it plugs into your car's outlet and it uses the electricity generated by your car's battery to keep your food cold. The other nice thing about this cooler is that if you are staying in a hotel that does not have a mini fridge, you can carry the cooler into your hotel room, and using the adapter plug it into a regular wall outlet, you have a hotel room mini fridge!
The advantage to using a plug-in car cooler is that you don't have to take up valuable cooler space with ice- not do you have to drain off the water as the ice melts over time.
But be aware- if you're going to be spending a long part of your day with your car parked in the hot sun in a parking lot, you're not going want to be draining your car's battery to keep the food cold. Nor will this cooler do a good job of keeping food cold when faced with a 90°+ temperature inside of a hot car.
Our Pick for a Road Trip: Soft-Sided Car Coolers
For most of our road trips, we take along this Polar Bear soft-sided cooler. It keeps food cold for 1 to 2 days, and it has enough room inside for breakfast on the road or a picnic lunch.
Instead of filling it with ice which will melt and turn into puddles of water, we instead freeze water bottles (we drain the first inch or two of water out of the water bottle and then freeze it) to use as ice packs.
We also purchased these freezable ice sheets- they are very lightweight, and they wrap around bottles and other things we are trying to keep cold, so we can fit them in between items in the cooler, and we keep everything nice and cold. At night I can take the cooler into our hotel, refreeze the water bottles and the ice cube trays and use them over and over again- keeping the cooler clean and dry.
Want to See Road Trip Organization in Action?
I created this YouTube video that shares these car coolers that can be used on a family road trip…. check it out:
Packing for a road trip?
You might want to check out these other posts that offer tips and advice on planning and packing for road trips:
And if you are looking for some cool family road trip destinations: