A while back, our family spent a weekend camping next to a creek bed, and the kids and I found so many beautiful tumbled smooth flat stones that we couldn't help but collect them! I knew they would make the perfect surface to create these awesome stamped rocks and decoupage rocks– which was a craft I had been wanting to do during our DIY summer camp at home!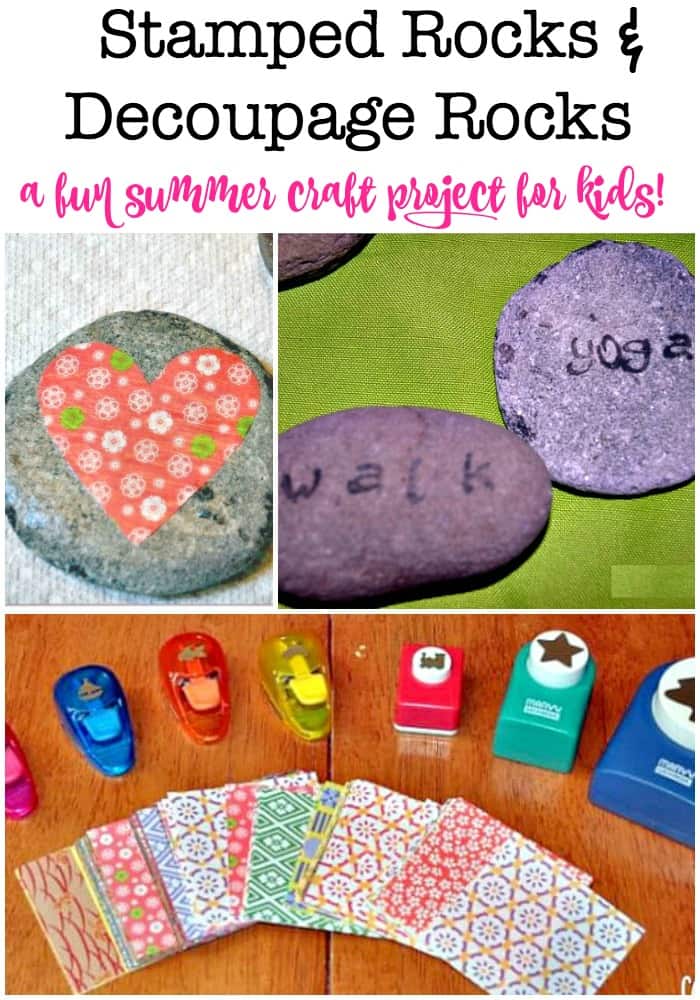 *Please note that some of the links in this post are affiliate links, which means I will make a small commission if you purchase through these links.
We started by gathering together some beautiful origami paper that we had leftover from my daughter's tea and craft birthday party (we decoupaged picture frames) and dug through my scrapbook supplies to find some cool craft punches in shapes that the kids liked- a star, fish, sailboat, walking bare feet, and a few more.
We started by punching some shapes in our favorite patterned papers and then used ModPodge to affix the shapes to one side of the rock. After about 20 minutes we applied a coat of ModPodge to the entire side of the rock.
We waited another 20-30 minutes and applied a second coat, and then allowed them to fully dry.
While the kids got a little carried away with the decorating- I preferred a more simplistic design for my rocks (you didn't think the crafts were just for the kids, did you?)
Once the decorated sides were dry, we turned the rocks over and stamped our names or various phrases on the back of the rock using alphabet stamps and permanent ink (don't use the washable ink that comes with the stamp set- it will rub right off).
I hope that my stamped rocks will serve as inspiration this summer to stick with my exercise plan of walking and practicing yoga!
Looking for some more great ideas for your DIY Summer Camp?