Last Thursday our oldest daughter celebrated her 7th birthday, which really seems nearly impossible to me. I was invited into her 1st grade class to read a treasured story (we chose "Lost in the Woods") and share homemade cupcakes. My sweet little girl loved having her Mom in her classroom and proudly stood up tall on a chair in front of the class while everyone sang "Happy Birthday" to her. Later that day, we went out to dinner as a family at a local Japanese hibachi restaurant, the kind where the chef prepares your dinner in front of you at the table. My proud 7-year old sweetie giggled with the chef and loved playing the game where he tries to toss a morsel of food into her mouth. And when we got home and it was time to open presents, she was so excited about each gift that she opened, and gleefully thanked Steve and I over and over for the little makeup bag (filled with glittery powders and brightly colored nail polish), and for her new Justin Beiber and Selena Gomez CDs! Her birthday wasn't just magical for her, but for me too.
On Saturday it was time to celebrate this 7-year milestone with Charlotte's close friends… and she asked for a tea and craft party themed event. I was delighted to deliver!
The Tea and Craft Party Stationery
The invitation :
and the thank you notes:
*you are welcome to print these invites and thank you notes for your own personal use
The Tea and Craft Party Order of Events:
As the guests arrived, we invited them into our kitchen where we set up two tables for our first craft…… decoupaging wood picture frames.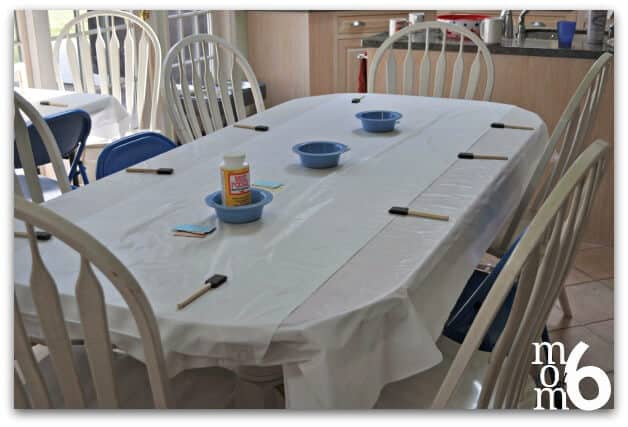 I created this example to show the girls what we were trying to achieve…. a lovely little patchwork design created from origami paper.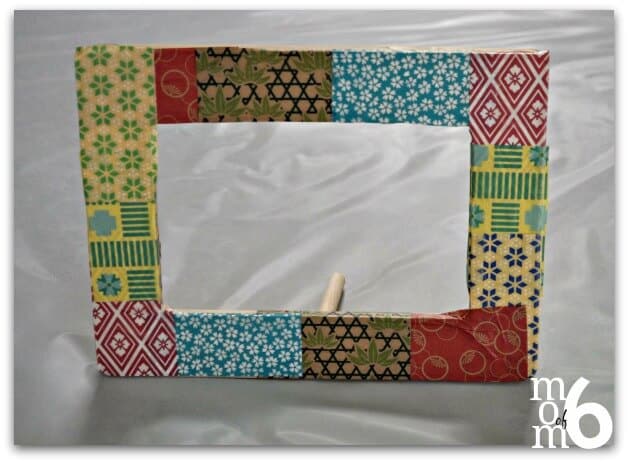 The girls enjoyed painting the frames with Mod Podge… and selecting their favorite paper patterns.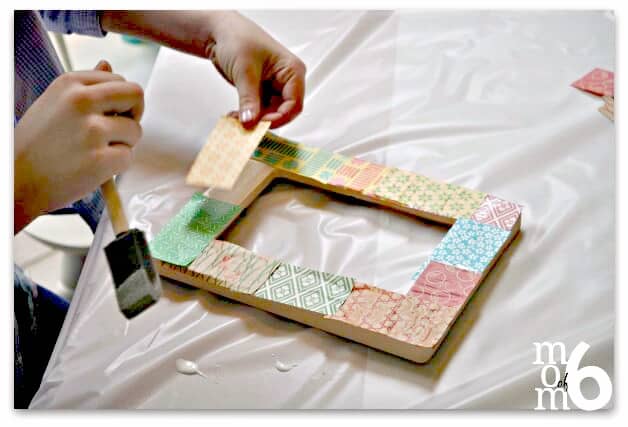 We had the girls pose together in groups for some fun pictures- which I quickly printed while the girls were freeze-dancing, and inserted into their newly decorated frames. (I sped up the drying process for the Mod Podge by setting up the frames in front of two small fans.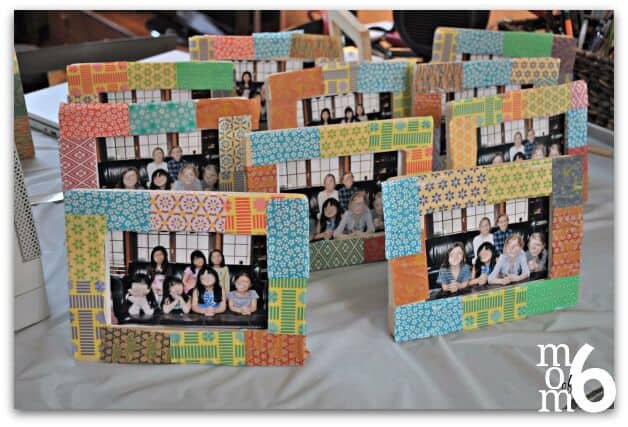 The Tea and Craft Party Lunch:
After the girls finished the decoupage project, they moved into the dining room for lunch. Since Charlotte requested a tea party theme, each girl's place was set with a miniature tea cup and saucer and a small plate. I served small sandwiches that I cut into flower shapes, along with bowls of strawberries, raspberries, and melon. I scattered pastel colored candy corn (in stores now for Easter) all over the table to look like confetti, and the girls loved "sneaking" little bites of candy while eating lunch!
And then a little more crafting…
After lunch, and freeze dancing, we moved the party back into the kitchen for some more craft time. The first thing we created were these adorable beaded charm bracelets (purchased from Oriental Trading Company). To help the girls get started, I knotted each stretchy cord, and began the beading pattern ahead of time. On the tables, I printed out the order of the beading pattern for the girls to use as a reference (if they wanted to), and guided them through completing the bracelet.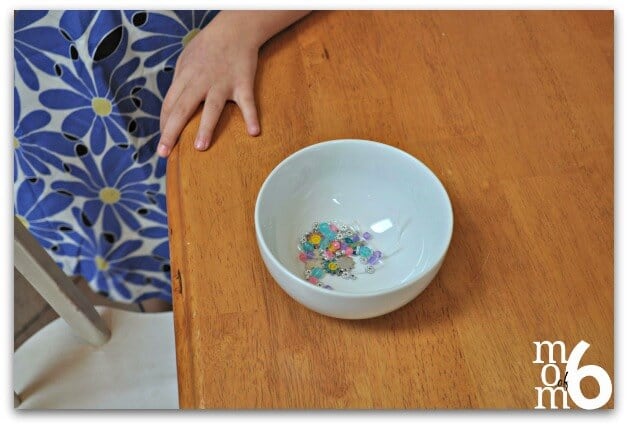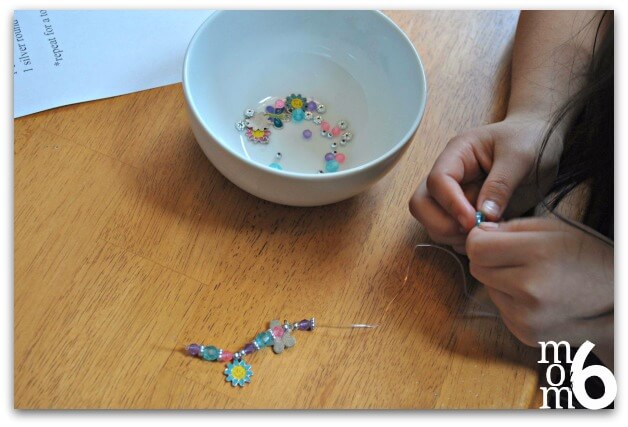 Don't they look cute?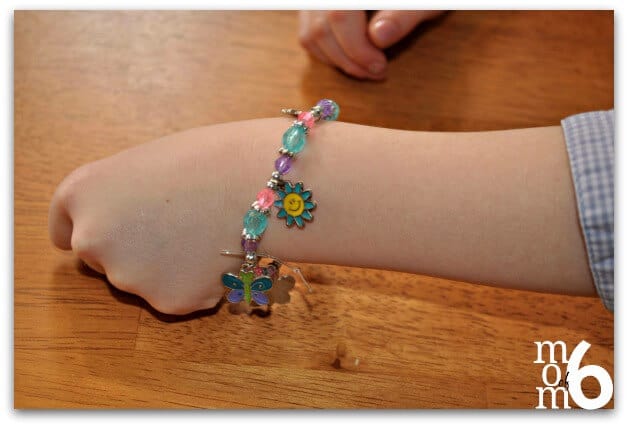 Our final craft project was conducted by Steve- and he led the girls through the steps to create these sweet origami hearts!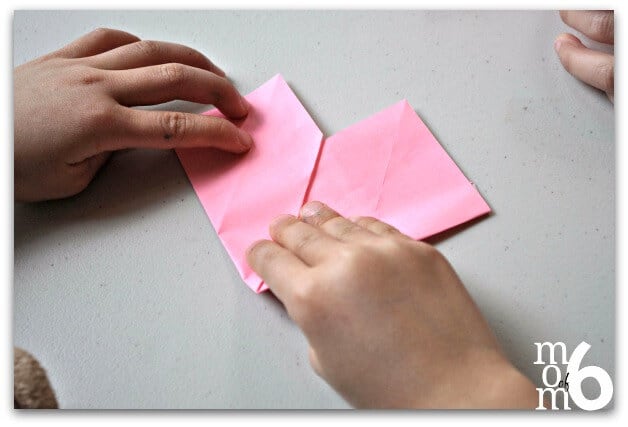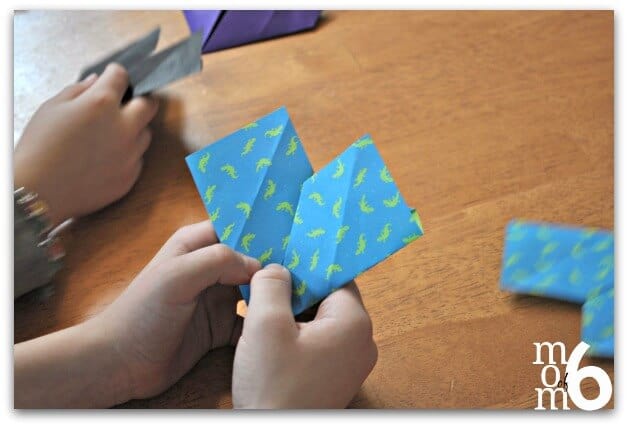 The Tea and Craft Party Birthday Cake:
We wrapped up the party by returning to the dining room for birthday cake….. I created this teapot cake with four matching teacups.
My proud sweet girl! 7 years old!
If you liked this party idea, you might also enjoy these other at-home birthday parties we've thrown for our kids:
At Home Birthday Parties YOU Can DO!
Do you have any great birthday party theme ideas for young girls? If so, I would LOVE to hear about them here! Please leave a comment!