How I manage the kids after school schedule is something that has evolved over the years, especially as the kids have grown older and I can leave some of them home alone (or with an older sibling) while I shuttle one of the other kids to /from an activity. But when you have a large family like ours- it's something that you have to become good at!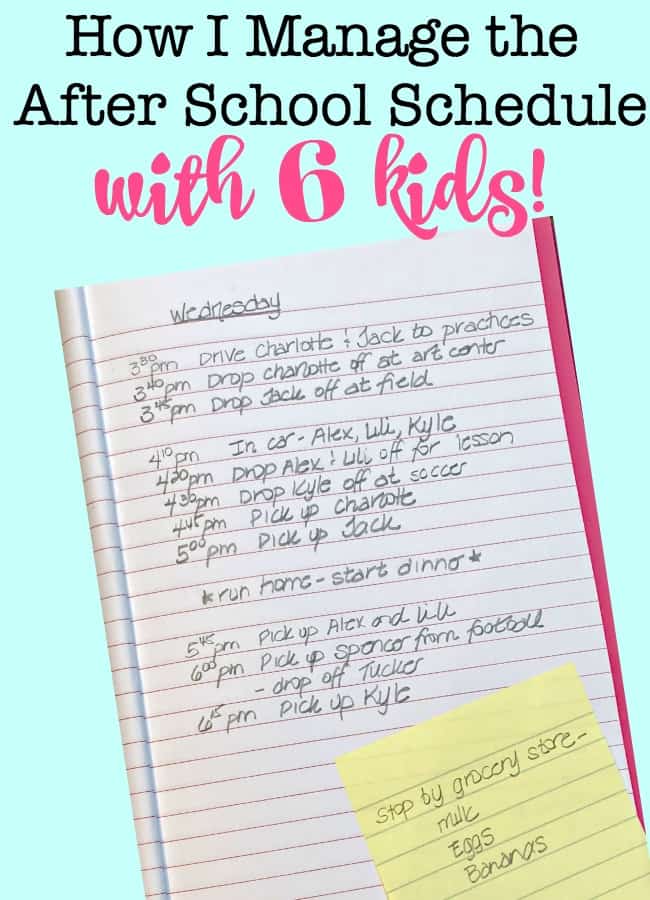 One of the reasons I started MomOf6.com was to specifically answer the question, "How do you DO it?" Because every time I was out with the kids, at the grocery store, at gymnastics practice, at a soccer field, as soon as people figured out that I was the Mom driving that huge car and had 6 kids in tow- that's what they would want to know…
"How EXACTLY do you DO it?"

"Umm, I do it like you do it, I take one day at a time. No, scratch that- one minute at a time! But I definitely use lots of lists, and a very detailed calendar."

At which point the commenter usually says; "You must be SUPER organized!"

"Hmmm, most of the time, yes, because you've got to be! But I promise you- every day something happens to prove to me that I still can do better!"
And that is true- I will work out a system such as the one I use to manage the kids after school schedule, and then something changes and the system will no longer work, and I have to figure it out again. But I have found that these guidelines have worked very well for our family.
Guidelines for How I Manage the Kids After School Schedule
1. During a season, each child can only sign up for one activity
When I talk to other Moms, I often learn that if you count the number of total classes/activities her 2 or 3 child family attends in a 7-day period- it is almost always higher than mine. Last week I met a Mom whose daughter takes dance, horseback riding, and ice skating- and those classes meet a total of 5 times a week. Her son takes karate, plays basketball, and also ice skates- for a total of 7 times a week.
She was pretty surprised to find out that at the moment, my total activity count this winter season is only 7 lessons/sports for all 6 kids. Kyle plays soccer twice a week, Spencer plays basketball twice a week, Jack plays indoor soccer once a week, the girls each take horseback riding lessons once a week (at the same time!), and Alex isn't doing any activities right now.
Kids need downtime.
Kids need time to tackle homework- especially once they are in their middle and high school years and the amount and complexity increases.
Kids don't have to try every single class or sport offered, and kids shouldn't feel over scheduled.
I think it comes down to whether or not the child feels balanced or pulled in too many directions. And what the cumulative effect is for all of that activity on the family (especially Mom!)
2. Think twice about advanced "travel teams" for sports
Four of my six kids have played on "higher level" travel teams for sports- because in each case- it was something that they very much wanted to do. We have had both positive and negative experiences on travel teams- and I am most certainly not condemning them at all! But you really need to consider the level of commitment required.
Where we live- travel teams for sports are often three-season commitments. So there is a fall season, winter season, and spring season- and if you sign up to play on the travel team, you are agreeing to play for all nine months. Which can make it very difficult to also "try out" another sport during the same season- both from a scheduling perspective as well as having the time for it!
Travel teams by their very nature often require you to travel further distances to games, and even to practices- which greatly increases your parental time commitment. We can spend more than 5 hours on a Sunday just driving to/from and watching a soccer game for just one of our children. We've had seasons when 4 of our kids followed this schedule- and it was definitely hard.
And then there's the fact that once you start playing at this level, there is pressure to continue playing at this level.
Just make sure you know what you are getting into, and define for yourself what your boundaries are when it comes to that commitment interfering with your family time.
Then be sure to check out this list of the Best Things to Keep in Your Car This is an affiliate link: MomOf6 earns a commission if you purchase, at no additional cost to you. When Your Kids Play Sports over on my Amazon influencer page This is an affiliate link: MomOf6 earns a commission if you purchase, at no additional cost to you. !
3. Carpooling with other parents is an awesome thing!
I wouldn't be able to juggle my schedule if I didn't have parents of teammates who love a good carpool as much as I do! But I do have several "personal rules" about carpools.
Everyone needs to be able to pull their weight- and specifically, I mean me! Just because I have six kids doesn't mean that I should expect to drive less often than every other family in the carpool!
And I don't ever sign my child up for an activity knowing that there is NO WAY I can ever get them there on my own. That's not fair to the other parents I am relying upon, and it's not fair to my kids either.
4. Get it all into a calendar and make sure it is synced up to your phone
It is nearly impossible for me to make any sort of appointment for one of the kids without knowing what else we have going on, on any given day. So having my calendar on hand at all times is key! (You can see the calendars that I think are the best for families here!)
I am sure to keep my family calendar updated with schedule changes- which is synced to all of my devices as well as to my husband's calendar so he is in the loop.
And when I load in a game schedule into my calendar- ALL of the information goes in- date, time, location, opposing team, etc. More than once I have found this to be invaluable when I am driving around looking for a field!
Make sure you have the cell phone #s of coaches, as well as other parents of players on the team in case you get into a bind and need some help retrieving someone from their activity.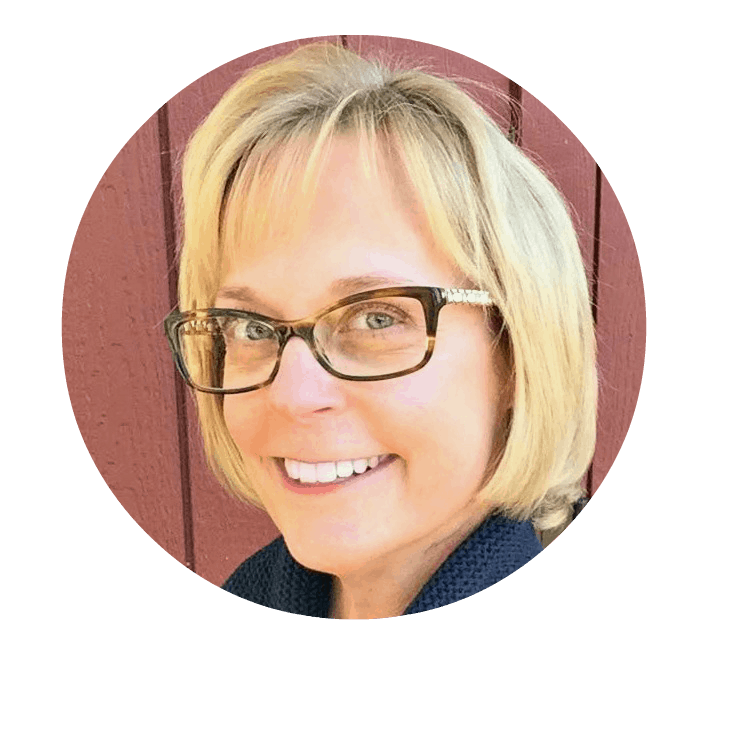 Looking for some ideas on how to help the kids get organized to tackle homework? Check out this post on How to Create an Organized Homework Space (it even includes a free printable after school checklist!)
5. Take advantage of school sports
One of the best things about my kids reaching middle school age is the wide array of sports offered right at school!
The kids stay after for a study period first (because for "student-athletes", being a "student" comes first!), and then they have their sports practice, and then they ride the bus home! Their teams are made up of friends from school, and other friends can also stay after school and watch their games-which they love!
And don't think that middle school (or even high school!) means your child is too old to try something new. I know our middle school specifically encourages kids to try out for new sports and activities- and in most cases, they don't cut kids from teams. I have had sons run with the track team for the first time in middle school, having never run before!
Oh- and did I mention that in most cases, these school-based sports and activities are free? Bonus!
6. We take our summers OFF!
For me, in the height of the spring sports season when I spend so many hours driving to/from soccer fields, it really helps to remember that I can look forward to an activity-free summer.
And by activity-free I don't mean that we don't do anything- I mean that we don't sign up for anything structured- no lessons, no classes, no sports, no camps. Instead, we plan our own schedule that meets our own demands- with plenty of downtime to hang out by the pool, ride bikes in the neighborhood, walk the dog, and go on day trips in the Northeast.
Knowing that the "crazy" will soon come to an end- helps!
Looking for some more Parenting Posts from this Mom of 6 kids?
I know my approach to after-school activities with my large family might be a little different than what other families do, but it works for us. What do you think?