Whether school for your kids ends in May or continues all the way through June (as it does for us) lots of families have special ways they like to celebrate the last day of school and the start of summer vacation (which can also serve as the kick-off to your own DIY Summer Camp!) Here are some great last day of school ideas to celebrate the start of summer!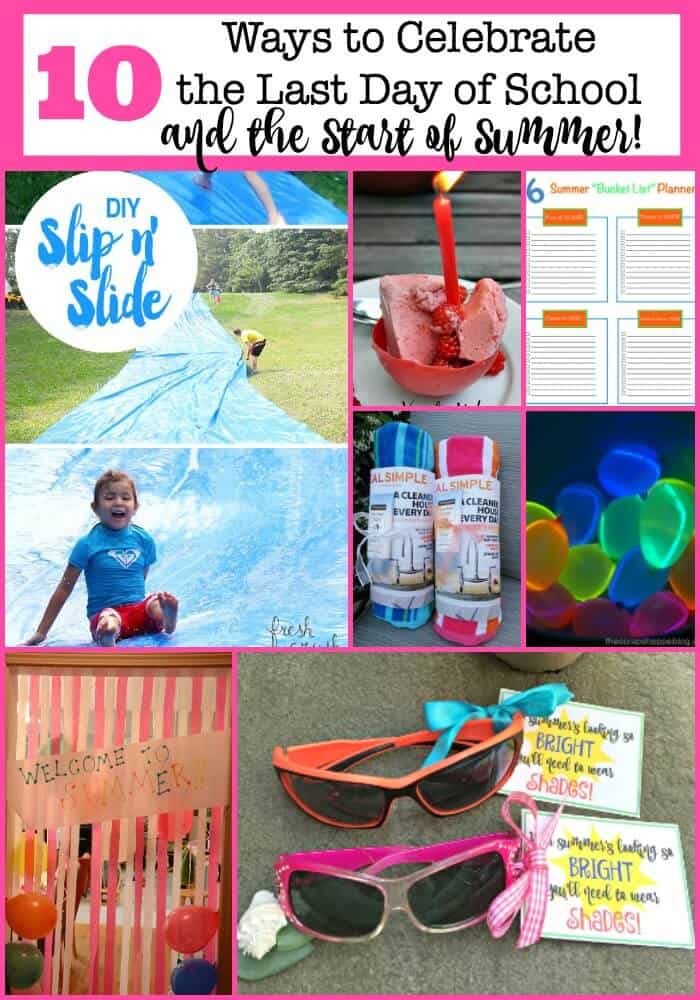 *Please note that some of the links above are affiliate links, which means I will make a small commission if you purchase through these links.
#1 Last Day of School Ideas: Plan a Special Breakfast!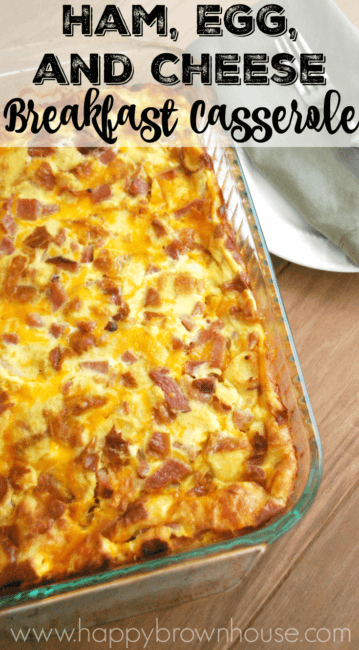 Whether you do something totally unexpected and silly- like serving cake for breakfast- or you go the route of preparing a yummy breakfast casserole the night before that you can pop in the oven before you start waking up the kids (like this one from Happy Brown House), it's nice to do something different to get this special day started right!
#2 Take a Last Day of School Picture
Certainly, you took a "First day of School" picture, right? Why not take one on the last day of school and hang them side-by-side on the fridge? You won't believe how much they've grown up in just one school year! Head on over to ChickABug to download these free printable signs.
#3 Be Sure to Thank the Teachers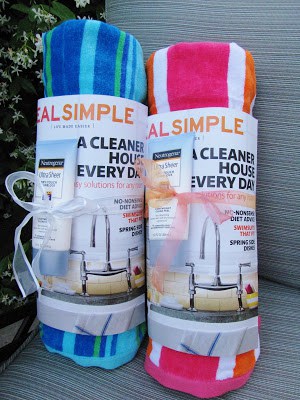 This is an awesome idea to thank your child's teacher and help them get their summer started off right too! If you've already contributed to the class gift or have dozens of teachers in your kids' lives (like I do!), then at least have your child construct a thoughtful thank you note for each teacher, and you can write a line or two at the bottom about how much you appreciate all of their hard work this year!
#4 Create a Banner or Finish Line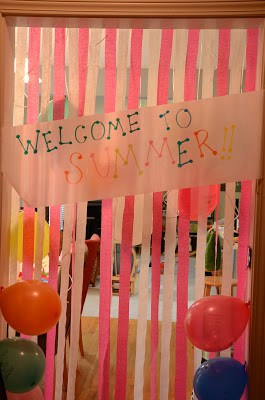 There's going to be that moment when they hop off of the bus or walk through the front door for the first time this summer- make it memorable! It can be as simple as a strand of crepe paper stretched across the driveway, or I love this idea for a streamer-filled doorway for the kids to walk through from RedHeads Plus One!
#5 Add Some Water Balloons!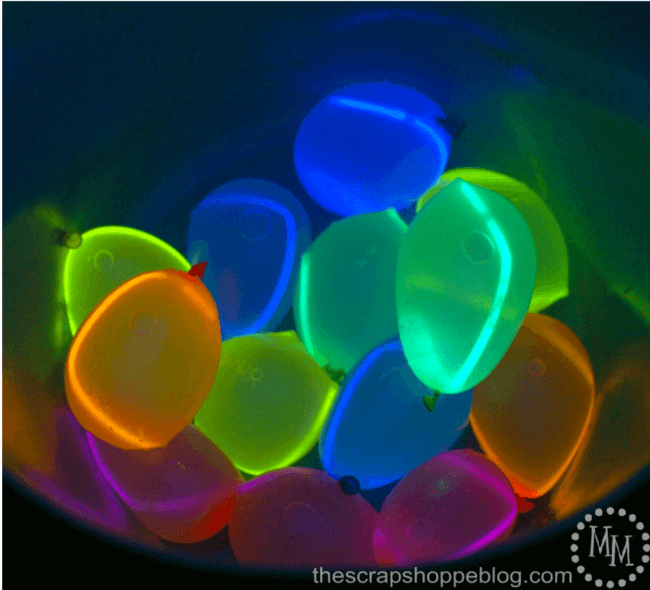 A certain awesome Mom-friend of mine greets her kids right off of the bus by pelting them with water balloons every year! But it's also fun to just pre-fill a big bunch of balloons and let the kids have a water balloon fight right when they get home! Our favorites are these self tie-ing water balloons– that you fill in big bunches at once! I also love this idea from Design Dazzle on creating glow in the dark water balloons for a nighttime fight!
#6 Get Them Some Stylish New Shades!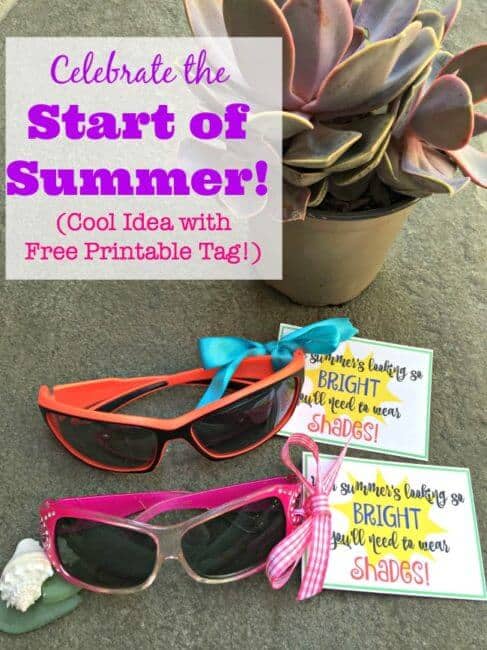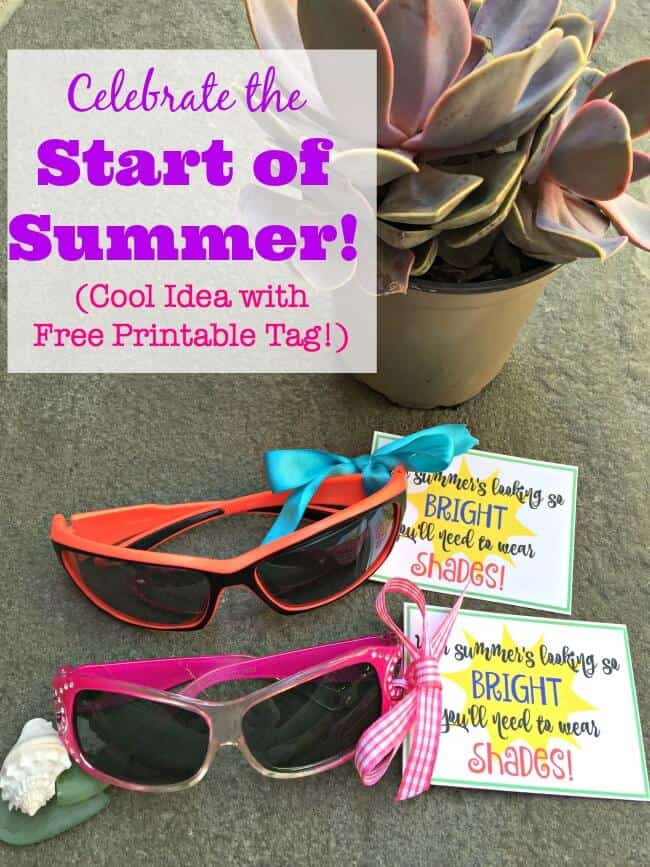 I shared this post earlier in the week for these adorable free printable tags for sunglasses that welcome in the start of summer! I found cool polarized kids sunglasses that have rubber arms and are flexible (perfect for kids who will leave them just about everywhere this summer!). And for my teens, I am buying these polarized sunglasses that are perfect for an active summer, and come with a lifetime breakage warranty for the frame and lenses (let's hope we won't need to use it!)
#7 Build Your Own Slip 'N Slide
Now that summer has officially started- bring on the water play! I love this DIY slip and slide idea! Simple to make and set up- and your kids will have a blast! Check out how they did it over on Fresh Crush!
#8 Serve Ice Cream and Cupcakes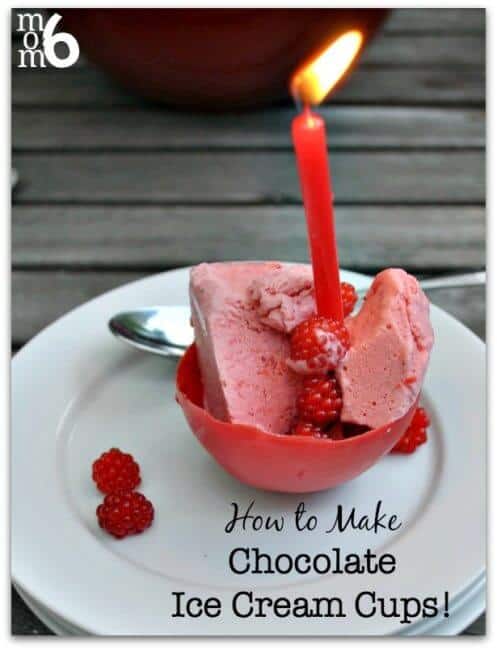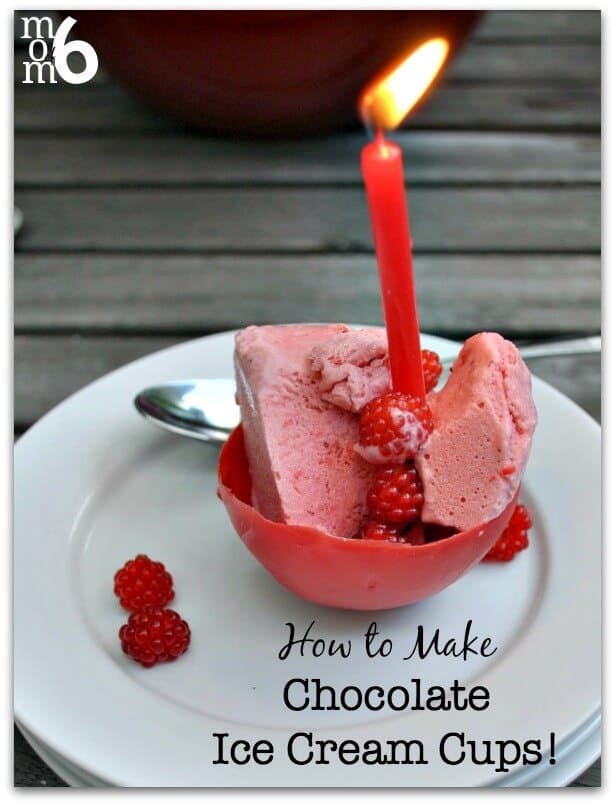 Make a project out of creating your own chocolate cups, make homemade rainbow ice cream, and then serve it alongside these adorable sunshine cupcakes– a special afternoon treat will keep the smiles going!
#9 Create Your Summer Bucket List

If you haven't had a chance yet to brainstorm a list of places you want to visit, things you want to do, and things you want to make together- then let this free bucket list printable help to get you started!
#10 Camp Out in the Backyard and Make S'Mores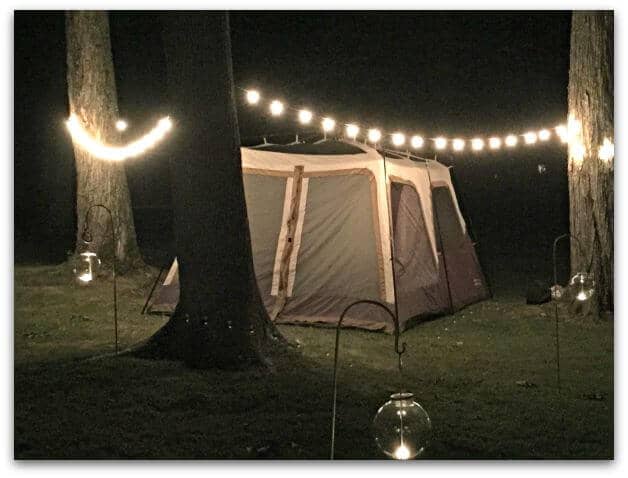 You don't have to go on vacation to enjoy some family together time- pitch your tent in your own backyard, string up some lights and allow the kids to drag out their sleeping bags, pillows, and board games. Build a campfire and have the fixins for s'mores ready to go!
So tell us- what are your favorite last day of school ideas to kick off the start of summer?
Looking for some great ideas for your DIY Summer Camp?