Does your tween want to invite some friends over for a birthday celebration- possibly even a sleepover party (most of our kids birthday parties end up being sleepovers!)- and you are wondering how you are going to entertain all of these kids? Here are 10 awesome birthday party crafts for tweens!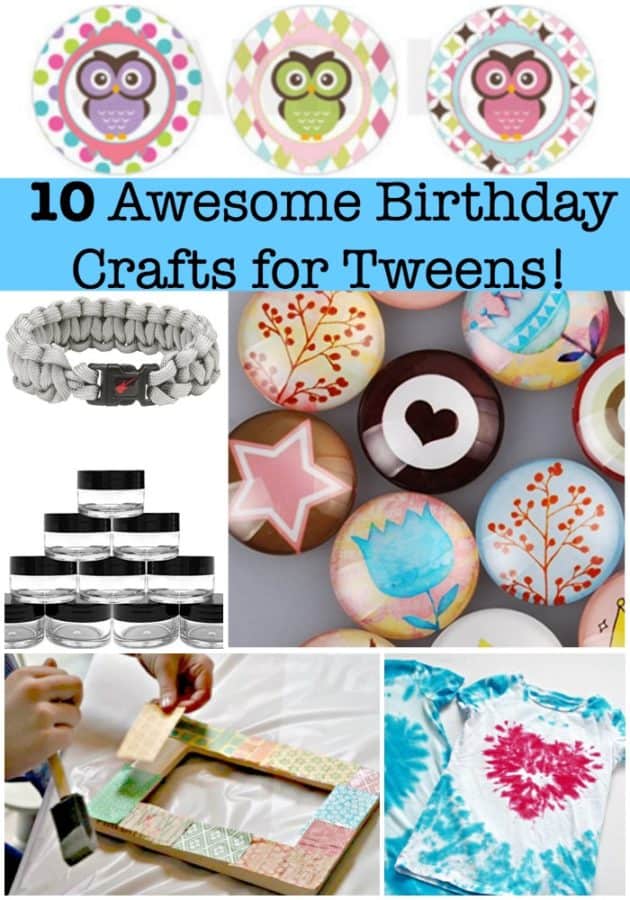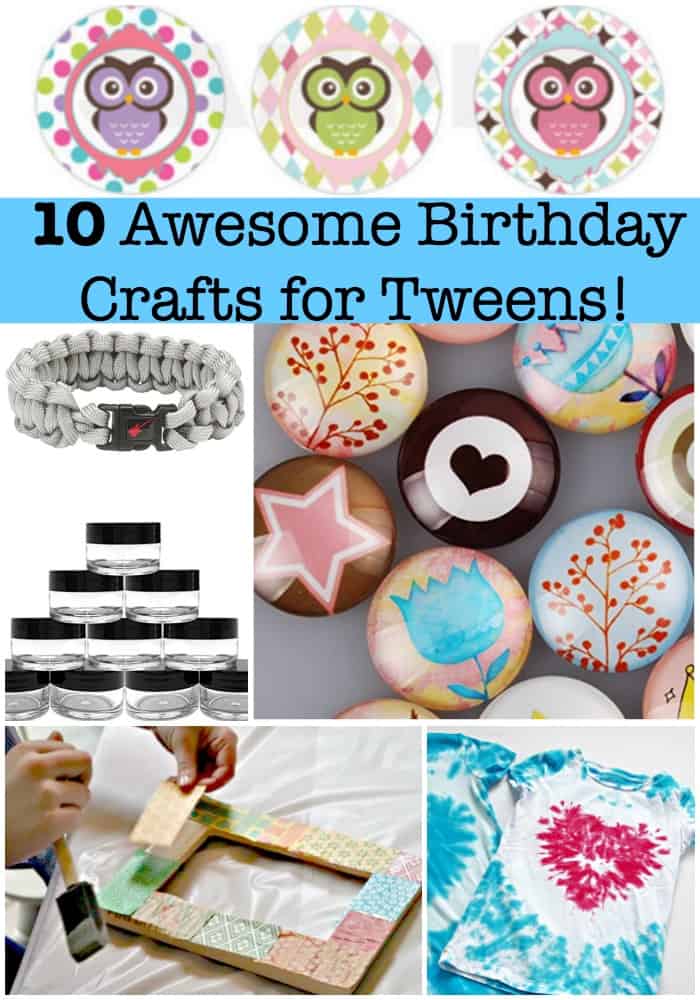 *Please note that some of the links in this post are affiliate links, which means I will make a small commission if you purchase through these links.
Birthday Party Crafts: Glass Art Necklaces

These beautiful 25mm glass cabochon pieces can be glued to a blank pendant and strung onto a colorful wax cord with a clasp to create stunning necklaces easily! The pieces can also be attached to a keyring which kids love to hang from backpack zippers!
Quote Pillows
One of my favorite birthday craft ideas is to create personalized pillows! You can do this directly on the pillow itself, or you can buy pillowcases that the guests can place over their existing pillows. Just be sure to place a piece of cardboard inside of the pillowcase before using the tie-dye spray paint over your stick on letters so it won't bleed through with backward letting on the other side!
The "Cali Girl" pillow above can be found over on Brit+Co for full step-by-step instructions!
Paracord Bracelets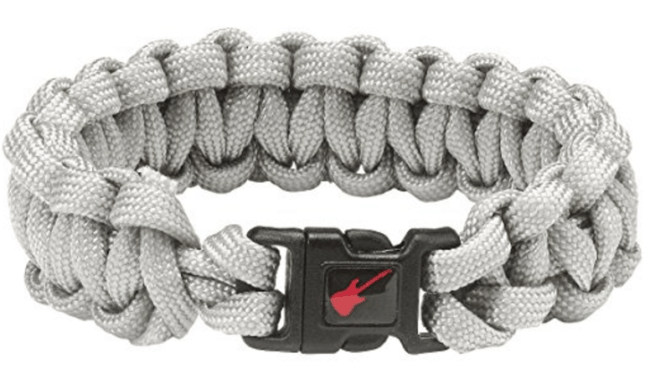 Tweens will love making these paracord bracelets as much as they love wearing them! And it's so easy to create birthday party crafts when everything you need comes in a kit!
Birthday Craft Ideas: Bottlecap Locker Magnets
Once tweens hit the middle school years- chances are they have lockers. Lockers they like to decorate! Here's a fun craft for bottlecap locker magnets- check out the step-by-step instructions over at fizzypops! DigiPrintz over on Etsy has an amazing selection of bottle cap images that you can download for $1 each!
Earbud Holder
Tweens tend to make a tangled mess of their earbuds all of the time- and this fun craft idea from Penny Pinchin' Mom turns a recycled mint container into the perfect earbud case!
Lip Gloss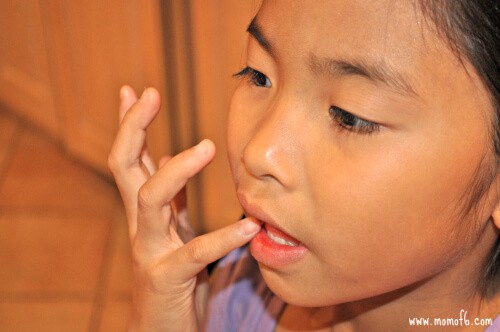 We threw a Spa Party for our daughter a few years back where we had guests make their own lip gloss and foot scrub! For the lip gloss, use craft sticks to place a dollop of Vaseline into a small cup (disposable bathroom cups work great for this), add a 1/2 teaspoon of a sugar-free Kool-Aid mix (allow them to choose from cherry, grape, strawberry, etc.). Mix well and apply to lips. It tastes yummy and provides a light color. You can use small acrylic jars
for the girls to take home their lip gloss as a party favor.
Birthday Crafts: Decoupage Picture Frames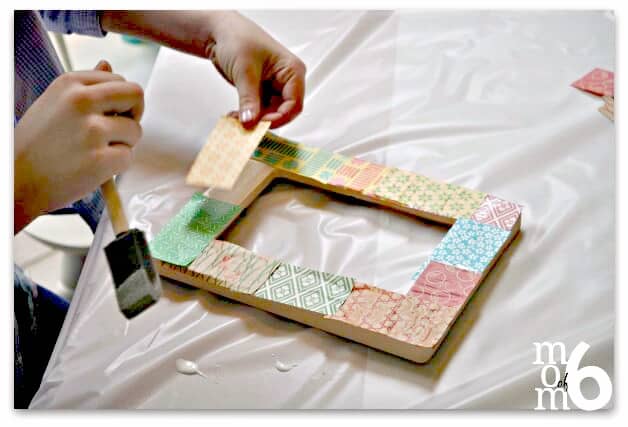 We also held a Tea and Crafts Party one year where we created these sweet decoupage picture frames! I had pre-cut squares of patterned scrapbook paper, and the kids glued them using Mod Podge onto wooden picture frames, wrapping the paper around the edges of the frame. We then gave a final coat of ModPodge to the entire covered frame, allowing it to dry before adding a picture of the party guests that I took when they party began and printed on my home printer as we worked on the frames. It served as the perfect craft and party favor!
Tie Dye Tees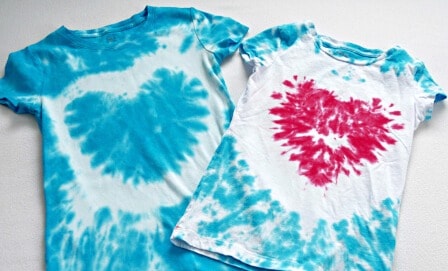 Another awesome birthday party craft idea is to make tie-dye t-shirts, which we did at one of our Tie-Dye Birthday Parties! I know the idea of tie-dye can be intimidating- but it truly is easy- and this video can show you exactly how to create a heart tie-dye tee!
Birthday Party Craft Ideas: Soap Scrub Bars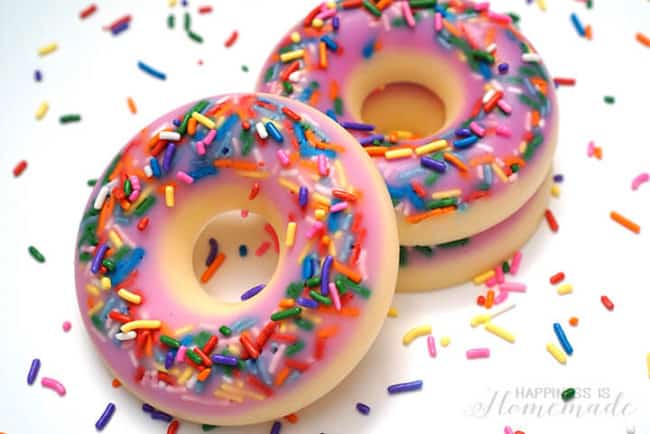 Soap making is another one of our fun birthday craft ideas! And this bar soap contains just a hint of an exfoliating pumice stone powder- making it a unique party craft and favor! Inspired by the adorable donut scented soap from Happiness is Homemade!
Be careful when melting your goat's milk soap base– I do it in the microwave in 30-second intervals- stirring in between until it melts. Then I simply add a few drops of fragrance oil, a 1/2 teaspoon of ground pumice stone, and stir until well mixed. Pour it into the individual soap molds and allow to cool before removing from the molds.
Perler Bead Bowls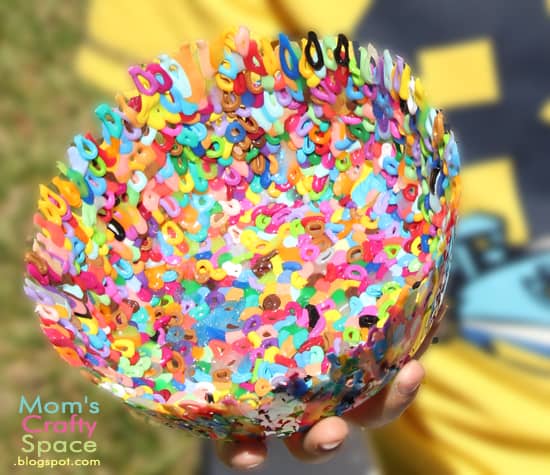 Okay- I might be saving the best idea for last here…. I think these melty bead bowls are just so awesome! This idea also comes from Happiness is Homemade. It's as easy as spraying a pyrex bowl with cooking spray, adding the Perler beads, and melting them in the oven! Kids will love watching the beads transform through the oven door!
Join the MomOf6 Community!
Each week I send out a fantastic newsletter with ideas to help you get organized, have fun as a family, and celebrate the season! Perfect for busy Moms just like you!
Plus- sign up now and you'll get free instant access to my entire Printables Library- filled with printable party games and more!
Join the MomOf6 community!
You'll receive our twice-weekly newsletter via email filled with ideas and resources for busy Moms! *You can view our Privacy Policy here. To access the printable without subscribing to our newsletter, click here to send an email requesting access.
Looking for Some More Great Party Games, Crafts, & Activities for Kids?
Shop for These Awesome Party Games!
Check out all of our Kids Birthday Parties here: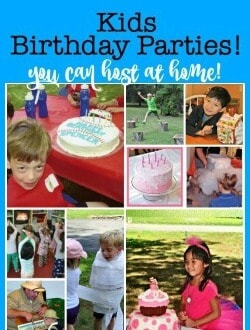 How to Throw Your Own Kids Birthday Parties at Home!