*Please note: I am just a parent who is a fan of the TV show "Cupcake Wars" and created a Cupcake Wars birthday party theme that celebrates the fun of the show. This post is in no way affiliated with or endorsed by The Food Network. All ideas and opinions expressed here as part of my kids birthday parties posts are my own.
My family and I are huge fans of many shows on the Food Network- "Diners, Drive-Ins, and Dives", "Chopped", "Iron Chef" to name just a few- but we especially love "Cupcake Wars", which inspired us to create a Cupcake Wars birthday party for my daughter. And the kids absolutely loved it!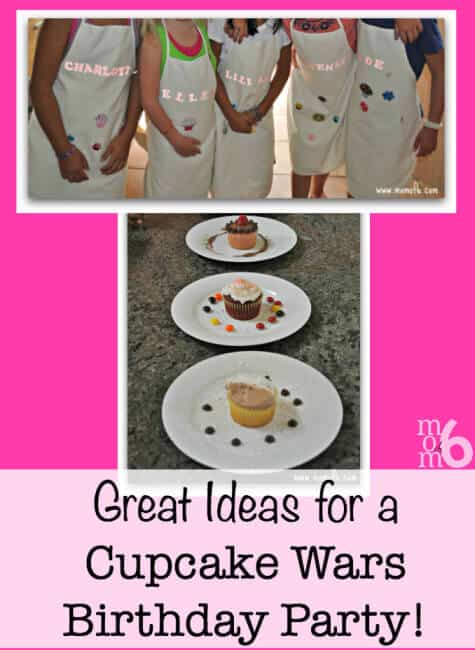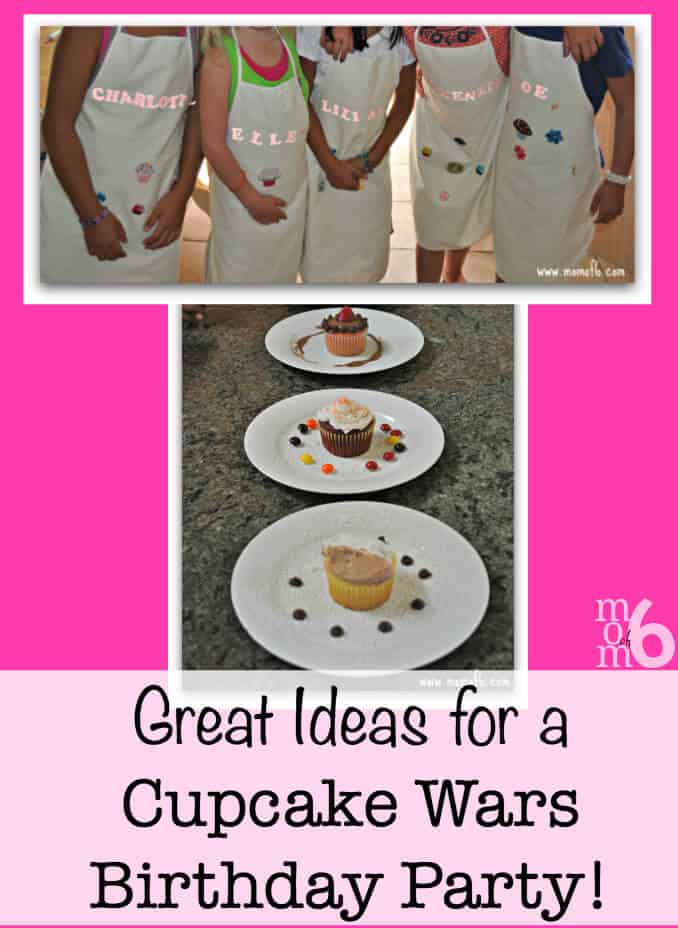 If you haven't seen the show, it consists of a series of challenges pitting four bakeries against one another. Each team has a head baker and an assistant, and the teams are challenged to come up with tasty and beautifully decorated cupcakes to please the panel of judges.
In some of the challenges they are required to use specific ingredients, and in other challenges, they are expected to develop cupcakes that fit a particular theme. The show always ends with the "Final Challenge" between the top two bakeries, where they need to prepare 1000 cupcakes to fit a specific theme for the client's event.
It is so fun to watch what the bakeries come up with- so we took the concept of the show, and changed it up a bit to make it a great birthday party idea for an 8-year old girl! Here's what we did:
Cupcake Wars Birthday Party Invitation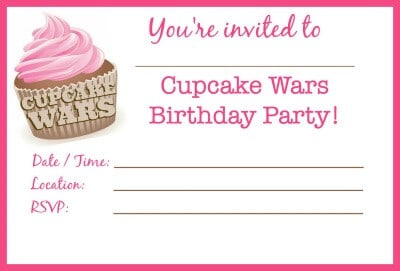 You'll find a download link to the free printable invite as well as a free printable thank you note at the end of this post. You can either fill in the party information by hand or upload the image to PicMonkey to add text. (Check out my tutorial on how to use PicMonkey to create birthday party invitations!)
Cupcake Wars Birthday Party Setup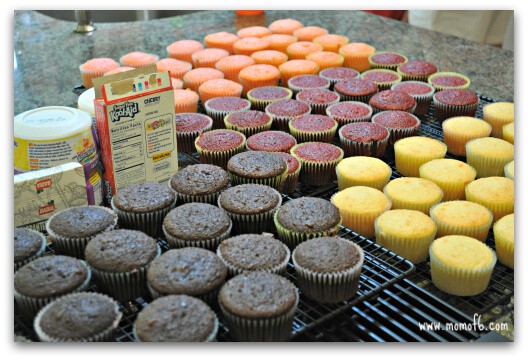 **Please note that some of the links above are affiliate links, which means I will make a small commission if you purchase through these links.
On the TV show "Cupcake Wars", the bakeries are required to create the batter from scratch and bake the cupcakes before decorating them. I knew that we wouldn't have time to get through several rounds of baking cupcakes in a 2-hour birthday party. So I baked four different types of cupcakes ahead of time- vanilla, strawberry, chocolate, and red velvet. I just used box cake mix to bake 2-dozen cupcakes of each flavor.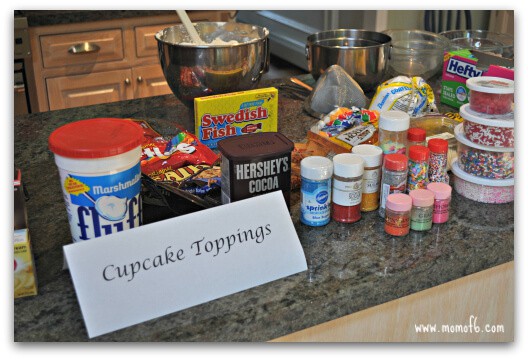 Next, I created a toppings area that the girls could choose from to flavor their frostings and decorate their cupcakes. I included chocolate chips, butterscotch chips, Heath bar bits, powdered sugar, cocoa, Hershey syrup, marshmallow fluff, and a selection of fruits such as blueberries, raspberries, strawberries, and bananas. I put out a large selection of cupcake sprinkles and also had supplies so the kids could create cupcakes fillings from puddings or instant chocolate mousse.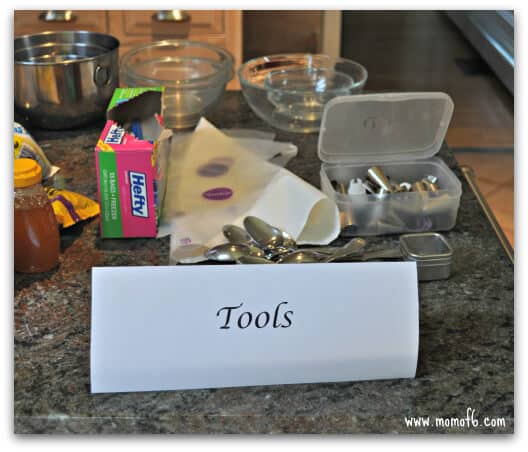 There was an area set aside for tools where the girls could grab bowls, spoons, piping bags and piping tips for the icing as they prepared their cupcake toppings.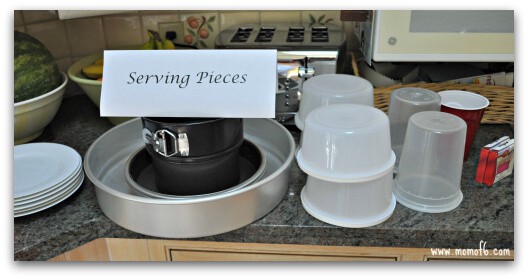 And I had an area set aside for presentation- where the guests could grab plates, forks, knives, as well as plasticware and bakeware that they could use to create their final cupcake display.
My husband and I each were assigned to one of the teams- so we could guide the girls through coming up with ideas for cupcakes- as well as navigating our kitchen to make their ideas come to life!
Getting the Cupcake Wars Birthday Party Started!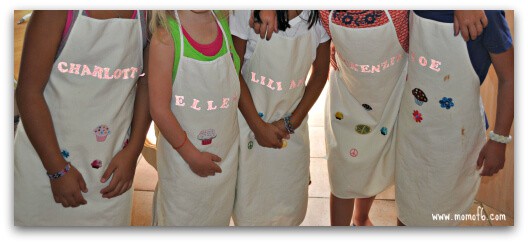 Since I knew what we would be doing would be messy, I wanted to give each of the party guests aprons to use that they could wear while decorating their cupcakes.
When the girls arrived, they found their personalized apron (you can buy the blank aprons here and then use iron-on letters to personalize them) waiting for them on their table, and they were allowed to select from a bowl full of additional iron-on patches to decorate their aprons.
They brought their apron and patches over to an "ironing station" that I set up in the kitchen, and I ironed the patches onto their aprons for them- which they took home as one of their party favors.
Cupcake Wars Birthday Party Order of Events
Fans of the show know that Justin Willman serves as the host of "Cupcake Wars", so we wanted to have our own host, and my 10-year-old son Jack volunteered for the job! I created a script for him that would explain everything that the "bakers" needed to do in the three different challenges (and Jack loved having this role at his sister's party!). You can download our full script for use at your own party at the bottom of this post!
Challenge One: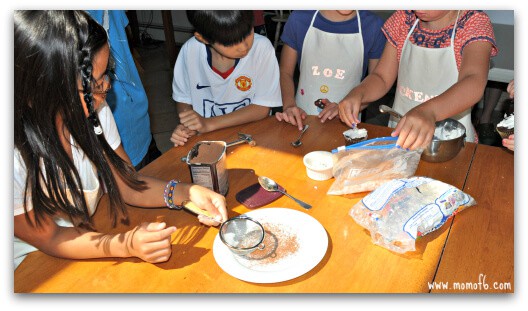 "Are you all ready for our first competition? Let's get started. The first competition is a challenge of "taste". You can pick from one of the four cupcake flavors on the counter- they are strawberry, vanilla, red velvet, and chocolate. Your job is to create a delicious cupcake topping that goes along with whichever flavor of cupcake you choose.
Judges will be determining the best cupcake based only taste, not on how it looks. Remember- you can put icing on your cupcake, you can use candy, sprinkles, and other toppings, and you can also put some filling inside of your cupcake. The choice is yours. But here's the catch- you have to use at least three of the ingredients on the counter.
And you need to pick one sweet topping, one fruit topping, and the flavor of your icing needs to be something other than plain vanilla frosting. So, teams, you have 10 minutes! Start brainstorming your ideas and let's get started! "
Judges Table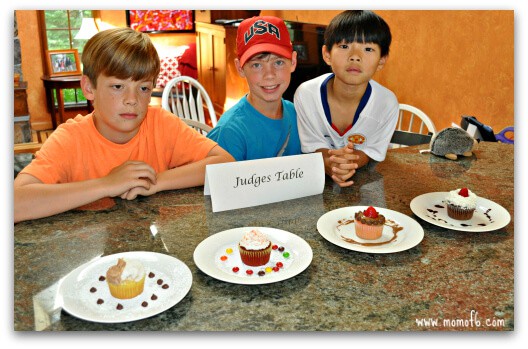 Of course you can't have a "Cupcake Wars" event without judges, right? Luckily Lili has three brothers willing to step in and do the job- tasting the cupcakes, offering their opinions for improvements, and selecting a winner for each round!
Challenge Two: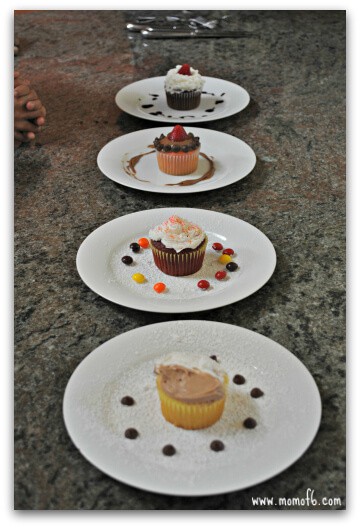 "This time around the judges will be choosing the best cupcake based 50% on how it tastes and 50% on how it looks. So it's time to make sure that your cupcakes look as delicious as they taste.
Here you will pick two different cake bases and we are going to allow teams to take turns choosing which type of cupcake you want to use. So Bakery __, since you lost the first round you will get to pick first. Would you prefer to work with strawberry, vanilla, red velvet, or chocolate cupcakes?
You have 15 minutes to create two delicious cupcakes. And they better be beautiful to look at and "wow" the judges! Ready? Go!"
Lunch
We took a break between the 2nd and 3rd challenges for the girls to sit down and have some pizza, that I had ordered in advance. (Normally I like to prepare a home-cooked lunch at our parties, but we were already doing enough cooking!)
Challenge Three: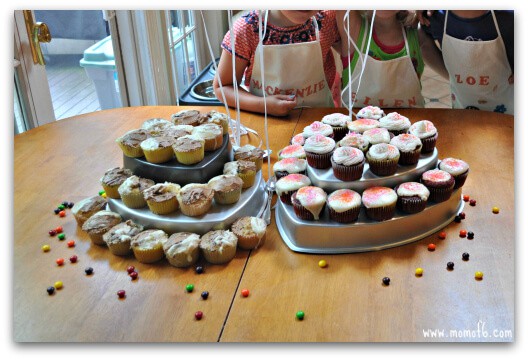 "In our final round, you will have a chance to make your perfect your cupcakes from round 2. Based on the suggestions from the judges- you'll want to improve your cupcakes from round 2, and in round 3 you have to decorate ALL of the cupcakes in your flavor.
You will be judged on taste and overall presentation. Today's theme is: Birthday Party! You'll need all of your decorated cupcakes presented in a way that fits that theme. You'll have 20 minutes for this challenge! Go!"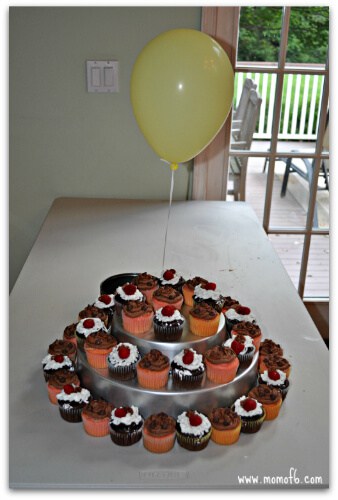 Wrapping It All Up
We ended the party with every guest grabbing their favorite cupcake so that we could sing "Happy Birthday" to my daughter, Lili Ann.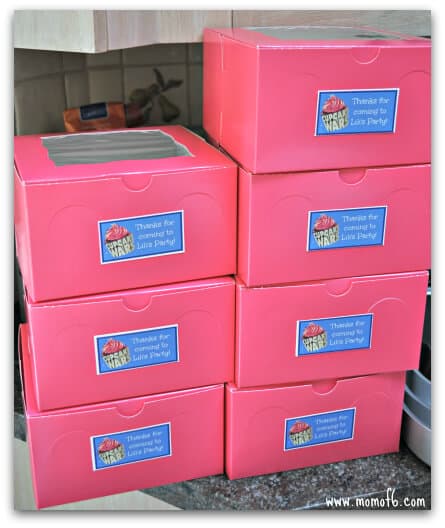 Each guest took home two boxes of cupcakes in these pink boxes their party favor (along with her apron). You can download the free printable box tag below! Our party guests had a great time, and my daughter adored her "Cupcake Wars" birthday party!
Shop This Post:
Ready to Download The Free Party Printables?
Awesome! Simply sign up below to join the MomOf6 community, and you'll be directed to a thank you page with access instructions! The download includes the Cupcake Wars party invitation, thank you note, and cupcake box favor tags, as well the "show script" for your party!
Join the MomOf6 community!
You'll receive our twice-weekly newsletter via email filled with ideas and resources for busy Moms! *You can view our Privacy Policy here. To access the printable without subscribing to our newsletter, click here to send an email requesting access.
Check out some more awesome Tween Birthday Party Ideas:
Check out all of our Kids Birthday Parties here: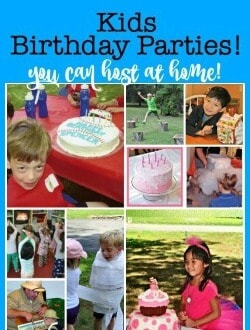 How to Throw Your Own Kids Birthday Parties at Home!
Looking for Some More Great Party Games, Crafts, & Activities for Kids?
or Shop for These Awesome Party Games!
Would your son or daughter love this Cupcake Wars birthday party? I'd love to hear about it if you hold one too!
*Please note: I am just a parent who is a fan of the TV show "Cupcake Wars" and created a Cupcake Wars birthday party theme that celebrates the fun of the show. This post is in no way affiliated with or endorsed by The Food Network. All ideas and opinions expressed here are my own.