Our family fell in love with the Western United States when we traveled cross-country on one of our big family road trips a few years ago, but one place that we didn't get to visit was South Dakota. So last summer we decided it was time to cross it off of our family bucket list and we made the 1800 mile journey from New York to enjoy all of the great things to do in South Dakota with kids!
We rented a vacation home for the week in Hill City through Rushmore Vacation Rentals. We loved the location, right along a creek where we could watch swallows swoop past and dive as they caught insects in the air. And every morning we spotted deer on the surrounding hillsides.
With three bedrooms there was plenty of room to spread out, and having a full kitchen allowed us to eat breakfast in every day plus prepare picnic lunches which saved us money on meals throughout the trip. Not to mention- cocktail hour on our patio was one of the best parts of the day!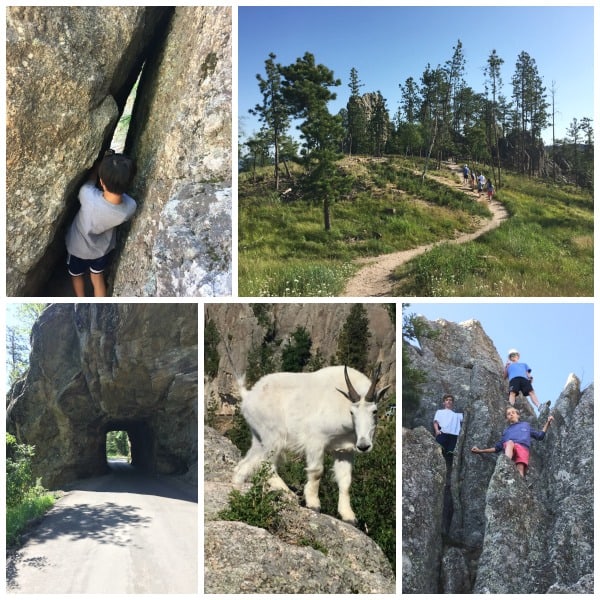 Great Things to Do in South Dakota #1: Custer State Park
The first place we visited during our vacation was Custer State Park. Just a short drive from Hill City, we drove there via the Needles Highway and were amazed by the winding roads and beautiful scenery. It wasn't long before we just had to pull over and do some hiking and rock scrambling.
At several points along the drive, there are narrow tunnels that only allow one car to pass at a time (and were just barely tall enough to let my Sprinter van to pass through!).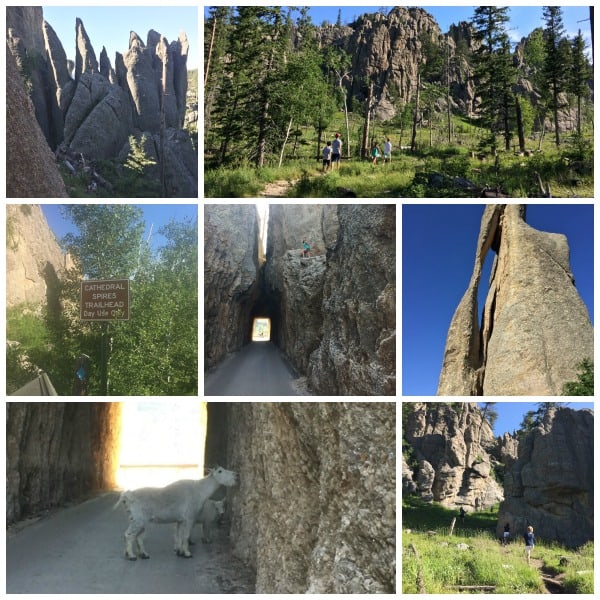 We loved Custer Park so much that we visited twice- and on the early morning arrival of our second visit, we had to wait for a Mama mountain goat and her two babies to scoot out of the tunnel (they were licking the minerals and salts from the tunnel walls!) before we could continue.
That day we took a spectacular hike on the Cathedral Spires Trail where we enjoyed amazing views of the needle-like peaks.
We learned to be prepared for quick changes in the weather! In spite of hiking on a sunny and warm 70+ degree morning, our plans to kayak on the lake were canceled by a sudden thunderstorm, and we were met with snow on our descent down into the valley! (We had to stop for a quick snowball fight in July!)
And no visit to Custer State Park would be complete without a drive along the Wildlife Loop Road to see the Bison herd! There were lots of babies this time of year (the first week of July), and once in awhile, you had to stop your car to allow some of the big guys to pass! Be sure to bring along some carrots or apples to feed the wild burros!
There is lodging available within the park, and some great places to stop for lunch or a snack. We enjoyed the lunch buffet at the State Gaming Lodge after seeing the bison.
#2: Badlands National Park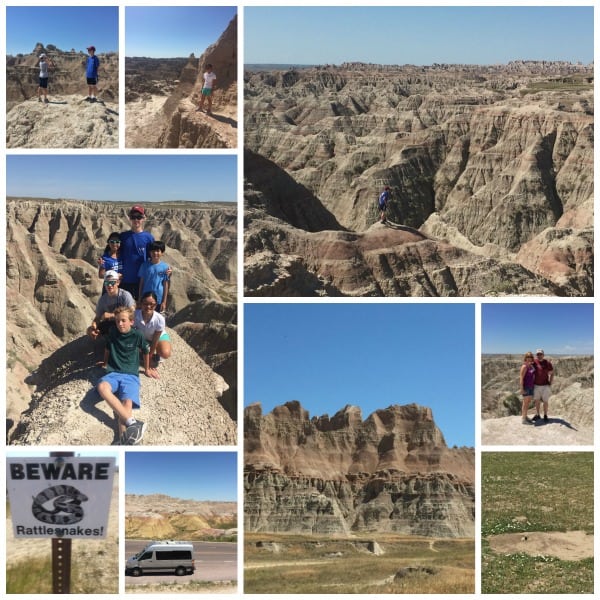 Now I am going to be honest with you, after visiting such incredible places as the Grand Canyon, Yellowstone, Bryce, Zion, and the Grand Tetons National Parks, I really didn't expect to be that impressed with the Badlands. But let me tell you- it was no less amazing!
The cool thing about driving through this park is that sometimes you are driving along the tops of the canyons, and you can get out and hike along the canyon edges to marvel at the vastness of the landscape and the layers of colors. And other times along the drive, you are in the valley looking up at the rock walls- feeling dwarfed by them.
We spent the better part of the day here and took several hikes out into the canyon. I highly recommend that you pack along plenty of water and snacks because there are not a lot of concession opportunities within the park, and it will be HOT!
While we never did see any rattlesnakes (thankfully), there were lots of chances to see prairie dogs along the way!
#3 Vist Wall Drug
If you are driving out to the Black Hills area, you'll see dozens and dozens of billboards advertising Wall Drug in Wall, SD which is right outside of the Badlands National Park. And for all of its cheesy-goodness, you have to make a stop!
We were starving after our hikes, so we dug into the hot beef roast platters, which were amazing as were the frosted maple donuts. (Be sure to get some to take home!) We spent a little while roaming the multitude of shops- but decided we would rather do some souvenir shopping in Hill City!
#4: Mount Rushmore
Another place that I wasn't entirely sure that my kids would be thrilled to visit was Mount Rushmore. Would gazing at past Presidents carved into a stone rock face be appealing to them? Of course, it was! What teen doesn't want a few photos to share on social media of themselves with this iconic monument?
Even better was the walk on the Presidential Trail which gave you up-close views from all angles, and a visit to the Sculptors Studio to learn more about how the monument was created.
#5 Rushmore Tramway Adventures
When you are traveling with kids, you've got to build in some adventures too- and Rushmore Tramway Adventures was one of those fun stops for us. We started with a ski lift to the top of the mountain where we enjoyed lunch overlooking a distant view of Mount Rushmore. From there we slid down the mountain on the alpine slides- which was awesome! There's a climbing tower, ziplines, and a jump tower- but my kids just wanted to ride the alpine slides over and over!
There's souvenir shopping and ice cream shops nearby along with mini golf. This was a great thing to do to surround our trip to Mount Rushmore!
#6: Crazy Horse
Crazy Horse Memorial is a work in progress and gives visitors a chance to see what a large scale sculpture looks like while it is being carved. We limited our visit to just the visitor's center here and didn't opt to take the bus closer to the memorial.
#7: Side Trip to Devil's Tour National Monument

Truth be told- Devil's Tower National Monument is actually located in Wyoming, not South Dakota- but was within driving distance of the Hill City area. And actually- this wasn't even on our family's itinerary for this trip- because I thought that after driving more than 2 days to get here, no one would want to hop back into the car to drive even further to see "another rock!"
But the kids caught a glimpse of this on a brochure in one of the visitor centers we were in earlier in the week- and begged to go and see it- and we were so glad that we did! This incredible monolith is a sacred site to the Northern Plains Indians, and you'll see prayer offerings tied to trees and left on rocks along the trails (be sure to leave these untouched).
You can rock scramble to the base of the tower, but beyond that point, you'll need a climbing permit to continue. We hiked the Red Beds Trail which circled the tower in a wide loop (perhaps a better / easier choice would have been to hike the Tower Trail instead).
#8: Spearfish Canyon
On the way back from Devil's Tower, we picked up lunch in Spearfish and then drove through the Spearfish Canyon area, stopping to see waterfalls and then hiking to Devil's bathtub where the kids swam and played in the cold water "slides"!
#9: Have dinner and dessert at the Alpine Inn
This was one of the highlights of the trip- dining at the Alpine Inn! This "famous" restaurant only serves a very limited menu for dinner: filet mignon or pasta (and the steaks were great!), but the real reason you go is for the extensive dessert offerings that are oh-so-delicious!
They don't accept reservations, so get there early and put your name on the list, and then enjoy shopping up and down Main Street. We loved it so much, we went back and enjoyed dessert in the bar another evening!
Great Things to Do in South Dakota #10: Ft Hays Chuckwagon Dinner
So I might have had to drag the kids along with me to the Ft Hays Chuckwagon dinner and show- as they knew it would be cowboy food and a cheezy dinner show- but based on the smiles all around as we were leaving- they were ready to admit that they had a pretty good time!
The food was tasty, and the show was very good. We happened to be there on the 4th of July- and I choked up at their tribute to the members of the military and to those who had served our country who were in the audience. We had a very good time!
So while this was a bit of a daunting trip in terms of distance for just a week's vacation, all eight of us loved it! We broke up the trip on the way home by stopping at a water park in the Wisconsin Dells for 2 nights which was a lot of fun and a great way to wind down such a wonderful vacation!
Want to Check Out More Great Road Trip Destinations?
Need Some Help Planning or Packing for Your Family Road Trip?