When we think of our country's great national parks, we often think of the ones found in the Western United States. But one of our family's favorite national parks is found in the Northeast corner of the US- Acadia National Park located near the town of Bar Harbor, Maine. This area is well worth a week-long family road trip– because there are so many things to do in Bar Harbor with Kids!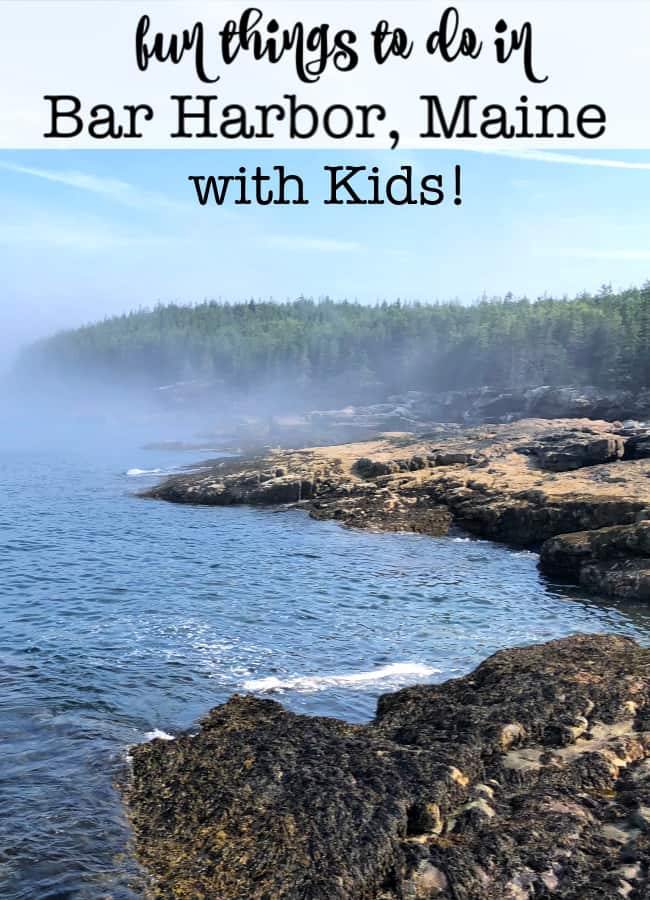 Enjoying Bar Harbor with Kids!
Where to Stay
As I have shared here before in my post on traveling with a large family, we prefer to rent a home or a condo when we travel so there is plenty of room for all eight of us, and everyone can have a bed to sleep in. I love to be able to cook breakfast, pack lunches, and grab snacks instead of having to eat out for every meal.
We chose to rent a home within walking distance of the town of Bar Harbor and it was such a great decision! (You can see the place we rented here). Parking in this small town can be challenging in tourist season- so it was wonderful just to be able to walk to restaurants and shops after spending time in Acadia National Park!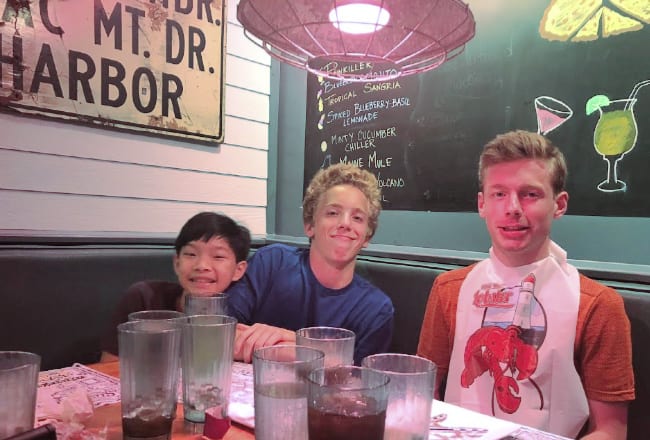 Restaurants:
There are some things that you just can't miss when visiting Maine! You've gotta eat lobster at least once or twice! Also blueberries! And definitely try the Blueberry soda made right in Bar Harbor!
Hands down- our favorite place to eat was Geddy's! The lobster was fantastic (they even offer a lazy man's lobster where they will clean it for you and just give you all of the meat!), and the service was friendly and fun. We ate here several times during our stay!
We also enjoyed Bar Harbor Beer Works, and highly recommend an evening at Reel Pizza Cinema for pizza and a movie! And for breakfast- you have to check out the blueberry pancakes at Jordan's Restaurant!
With so many yummy things to try- my girls and I opted to take a culinary walking tour one morning with Maine Foodie Tours– and it was great! In between food stops, we took a stroll on the shore path and enjoyed the beautiful coastal view!
Visit Acadia National Park!
Bar Harbor is the "gateway town" to one of the country's most beautiful National Parks- Acadia! Acadia is filled with rugged mountains (that top out at around 1500 feet), pine-filled forests, and beautiful rocky coastlines. There are lots of opportunities to hike, bike, rock climb, get out on the water- and take it all in!
Our first stop was to drive up to the top of Cadillac Mountain to enjoy the view- but as you can see, it was fogged in that afternoon!
Our family is made up of hikers who are adventure-seekers and hikers who want a challenging trail that doesn't involve rock scrambles or ladders. Luckily- Acadia has several hikes that could satisfy all of us, allowing us to take different trails to reach the summit, join up, and then walk back down together.
One such trail is the Beehive Trail which is one of the most popular hikes in Acadia (so go early!) and involves the use of iron rungs that have been drilled into the rock to help you as you climb.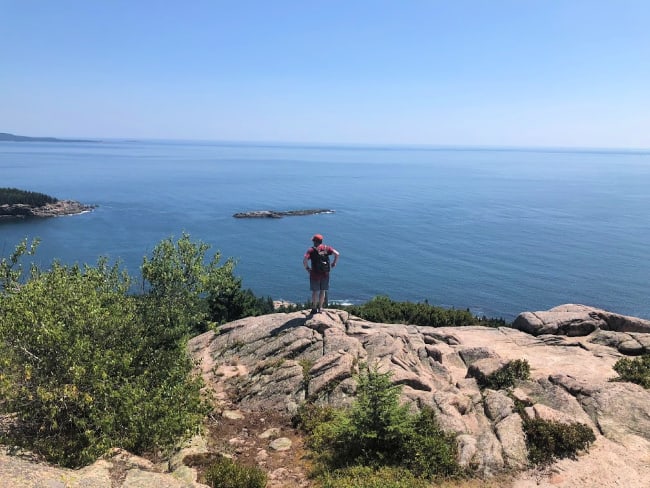 While some hiked the Beehive Trail, the rest of us took the Bowl Trail which is an easier climb, and we met up at the lake that is "the bowl". From there we connected to the Champlain Mountain Trail and made our way back to where we parked our car near the Sand Beach.
Another day the adventurous hikers tackled the Precipice Trail while others met at the summit after hiking the Champlain Mountain Trail. I would say that both groups got their share of a workout that day!
Another day we all tackled the Beach Cliff Trail (another iron rung/ladders route) together and then connected to the Canada Cliffs Trail.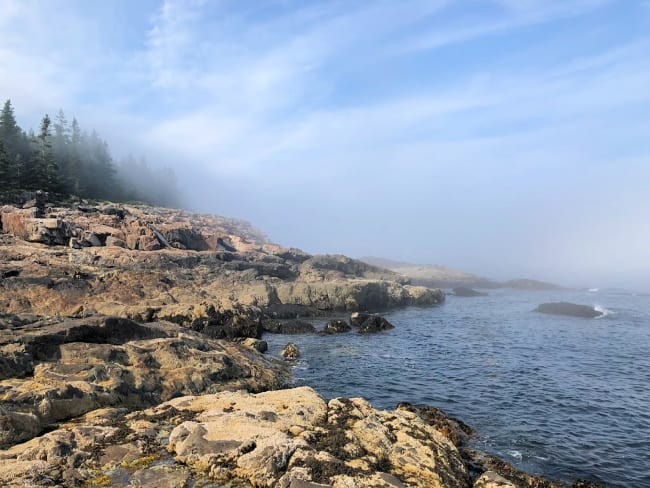 But aside from hiking the mountains, it was also lovely to spend some time hiking the shoreline. One day we watched the fog move in and change our view completely as we walked!
A few Acadia tips for you:
Make a lunch reservation at the Jordan Pond House Restaurant and enjoy their famous tea and popovers! Definitely make your reservation in advance- there is always a long line! And know that parking in this area can be a challenge- so come early well before your reservation time!
Purchase your Acadia National Park Pass online in advance and print it at home- so you don't have to wait in line at the Visitor's Center to buy a pass!
Some Interesting Adventures in Bar Harbor
There's a lot more to see and do here besides hike and explore Acadia National Park! A glider plane ride with Acadia Air Tours was one of the highlights of our trip!
Two passengers sit side by side behind the glider plane pilot- and your plane is towed behind a small prop plane to it's desired altitude and then released- and what comes next is a silent and smooth flight back to the airport!
My daughter and I weren't up for the glider flight, so we opted to visit the nearby Kisma Preserve where we received a tour of the place from the owner and had a chance to both meet a wolf as well as feed their resident black bear!
Another morning, the kids tried rock climbing with a fantastic guide from the Atlantic Climbing School over at Otter Cliffs. They loved it, but agreed that it is much harder than they thought it would be!
And our final day of vacation was spent exploring the water on a sea kayak tour with Acadia Outfitters. Our guide told us so much about the history of the area where we were paddling, but the best moment was when a seal popped her head above the water just to watch us paddle past!
Take a Side Trip to go White Water Rafting!
We decided to tack on a few days at the beginning of our vacation and start our Maine adventure up in the northern part of the state with a white water rafting trip!
We arrived at CrabApple White Water in The Forks, Maine on a Thursday night, and enjoyed dinner and played pool in their restaurant before bunking down in one of their cozy cabins for the night.
The next morning we were up bright and early for breakfast in the lodge before getting our safety instructions and picking up our equipment for our trip. We took a bus to the dam at the Kennebec River where we put it on our raft and started our trip down the river with our guide!
The entire rafting trip was just awesome!
After the rafting trip, we returned to the lodge where we enjoyed a delicious lunch, and then the boys ventured off with our same guide to play paintball, And the girls and I decided to check our Moxie falls- a gorgeous 92-foot waterfall located just up the road from the lodge.
That evening we asked the folks at CrabApple to recommend a good place to go to try to spot moose- something that had long been on my bucket list of things to see, and they suggested a drive up the road about 15 miles to a nearby town, cautioning us to take the trip back slowly at dusk because you definitely wouldn't want to hit a moose!
And we were lucky enough that we spotted two different groups of moose, including a Mama with a baby. Unfortunately, the light was too dim at the point to get a good photo- but here's proof:
We stayed a second night in our cabin, and the next morning got up and made our way to Bar Harbor, which was about a 3-hour drive.
This was such a fantastic vacation for us! There really is so much to see and do in Maine, and specifically in Bar Harbor with kids!
You might want to check out these other posts that offer tips and advice on planning and packing for road trips:
And if you are looking for some more cool destinations: