Just 29 short little days in the month of February…. but it was plenty of time to set our sights on a big task and actually ACCOMPLISH IT! After 12 years of using our basement as a giant dumping ground in our attempts to try to keep the upstairs living areas of our home neat and organized, it was time to finally do sometime about this "giant closet"- the one that I stuffed everything into that we didn't need to access on a regular basis. And that's why it looked like this….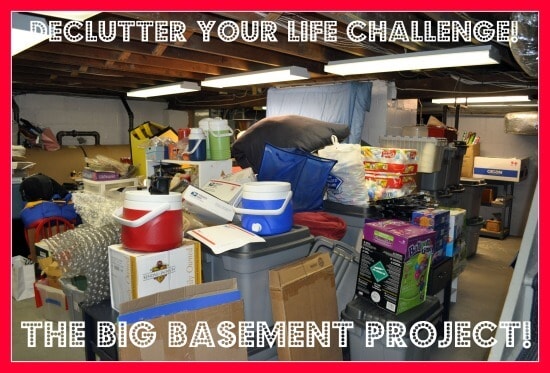 Inspired by Org Junkie's 29 Day Challenge, Steve and I decided that it was finally time do so something about it. We began by spending a few hours together one Saturday afternoon to sort through the furniture that we wanted to keep, and some that we wanted to donate, and found an unused corner of the basement in which store all of it. And that was the "motivational kickoff" event that led to this!
I mean seriously, check out this before and after picture of the exact same area! Shocking, isn't it?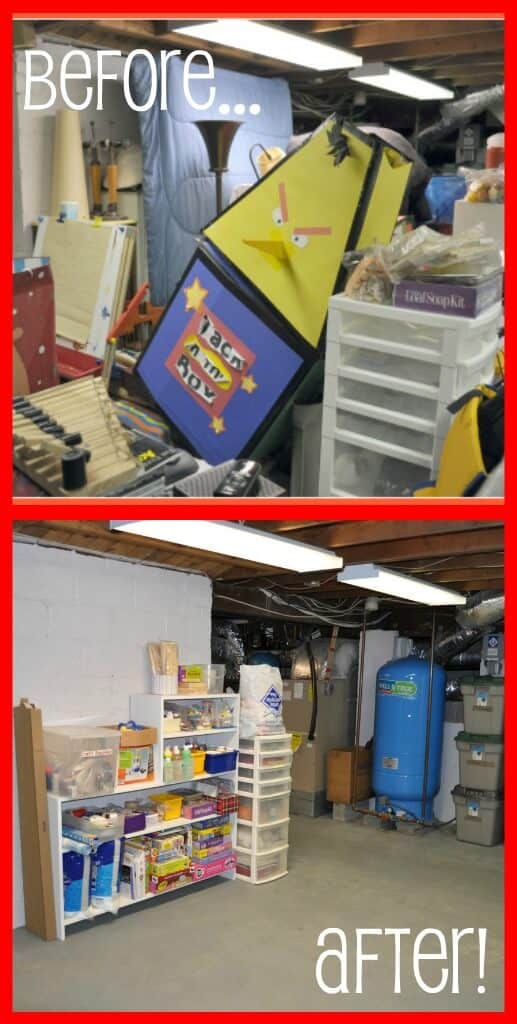 Why did we decide to start our home decluttering with the basement?
I mean, after all, its not like it is a room that anyone is ever going to see anyway (that is until I displayed our room of shame here on Momof6!). The problem was that we had developed a habit of cleaning and organizing the rest of the house by stuffing all of the unneeded items from the other rooms into the basement. If I needed a new vacuum cleaner because the old one stopped working, I would store the new one upstairs in the cleaning closet and put the old one in the basement… you know "just in case". If the pantry was getting too "filled up" with appliances that I rarely used, I solved the problem by storing them in the basement. Kids toys that they never played with? Basement. School projects that we wanted to keep around? Basement. New shoes? Keep the box they came in down in the basement. Cute shopping bag? Keep it around in the basement.
On and on and on.
And if I started my whole-home streamlining and decluttering plan in one of the upstairs rooms…. I knew that I was going to rely on this old habit once again. BUT if I started in the basement, did some SERIOUS streamlining followed by organizing of the space into small areas by category- then I knew that as we moved on to tackle the rest of the house, we would no longer use the basement to store things that we really shouldn't be keeping around.
How did we accomplish decluttering the basement in just 29 days?
My husband and I started by spending a few hours in the basement together on Saturday afternoon- sorting through the big furniture items and discussing how we could better store things. We also made an agreement right up front, that if I decided the item should go- either through donation or trash- that Steve wouldn't question the decision. He gave me "carte blanche" to conquer the clutter!
After that first weekend, I tried to devote an hour or two just a few afternoons a week to tackle one small area of the basement at a time. In order to stay focused I would start in one "section" and work my way from the left to the right, touching every single item, every box, and every bin. Nothing was left until "later". Every item was dealt with as I came to it. By dealing with it- I mean that I needed to decide should I keep it, donate it, toss it or relocate it? And the criteria to keep an item was that I had to love it, use it, need it, or want it…. AND I had to have room to store it!
I found that working in 1-2 hour bursts and then walking away from the project when I started to become sluggish with my decision making was the best course of action. If I started to linger in my emotional attachment to an object, then I knew it was time to take a break and return to the project with a fresh perspective tomorrow.
The hardest part of the challenge? Staying "In Scope"!
At first I thought the hardest part of the challenge was going to be getting this accomplished in the timeframe that I had set. 29 days to tackle 12 years of accumulated stuff seemed daunting. But once we got started, the momentum built and I actually looked forward to finding an hour or two a few days during the week to work on it! I as so excited by the progress that we were making… and for goodness sake- we could actually SEE the FLOOR!
So as I continued the decluttering I started uncovering all kinds of things that I had forgotten that we even stored down there. I started to think about other areas in our home where I was storing the same category of "stuff" and it made me want to start tackling those areas too. But I knew…. that if I headed down that path- pretty soon I would have the shelves in the kids room all taken down for sorting, and the DVDs in the media cabinet all over the family room floor… and the basement would still be undone as well. So I thought back to a phrase that I learned during my business-woman-career days called "keeping a project in scope". Define the scope of what you are trying to achieve (in this case, a decluttered and organized basement)… and then try to limit your work to only what pertains to the original project. So while there were a few times that I did go into other rooms to gather items of the same category (such as the other two places in our house where I had been storing craft supplies), I limited my work in those rooms to only gathering the items! You gotta stay in scope girl!
Ahhh- the delight of the purge piles!
I wrote a whole post about "what do you do with all of the junk?" because for this project we had ALOT of stuff that we were getting rid of! In some cases, things that I want to get rid of likely have some monetary value, and I would like the chance to sell them on either Ebay or Craiglist. However, tackling the sale of that stuff feels a little "outside the scope" now- and as I declutter the rest of the house and work to maintain a decluttered home I will continue to find items that I plan to sell. So I created a space in the basement to store that stuff, as well as the packing materials that I will need to ship the items, all in one space until I am ready to tackle that project.
I used Good Donor to help me locate charities that accepted donations of the items that I wanted to give away- furniture, lamps, books, kitchen items, and so on. And I was able to schedule a pick up day and time online that worked for me. A good deal of what we were storing was directed to our recycling bins- cardboard, paper, plastic containers, metal, and even e-waste (all of the old computer equipment that we had kept around).
And finally some junk is just truly junk that needs to go out with the trash. We bagged up about 7 large black trash bags of stuff. And man- does it feel good now that all of this stuff is out of our basement!
Proudest moment?
This is IT! Getting to share the AFTER pictures with all of you and bask in glory of this accomplishment! Here- allow me to share a few more!
Before….
After…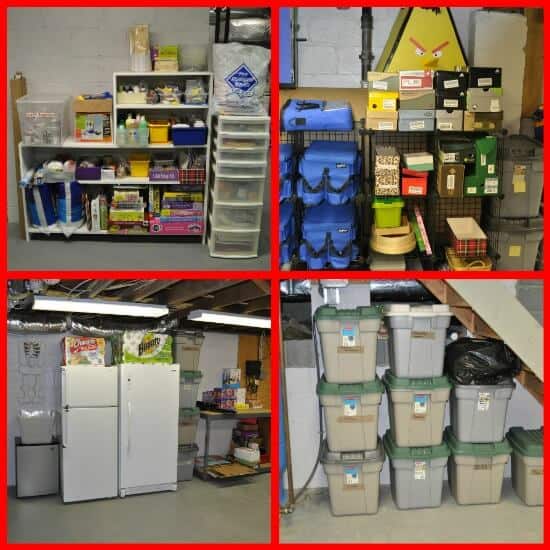 Before…
After…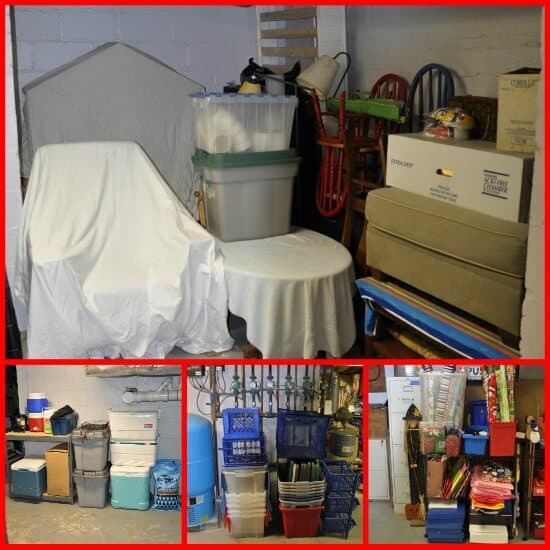 Organizing Tools? I didn't spend a DIME!
In our past quests to try to contain all of the stuff that we had stored in the basement, my husband purchased 4 large metal shelving units a few years back- so I was able to pull them into different areas of the basement to create container spaces. I used one to house all of my home decor items, one to hold items that I plan to sell on Ebay, one for home items and camping equipment, and one for birthday party presents and supplies and kids school projects.
Steve also owned this black grid system that you can use to create storage cubbies- from his early post-college days. We had been using to store heaps of shoe boxes and other containers, but once I cleared out most of what had been stored there and moved the grids in front of our oil tanks, I was able to create separate storage sections- one for wrapping paper supplies, one to hold the bins we use in our car on road trips, and one for all of the containers that I wish to keep around.
And about those shoe boxes…. I have put them to use everywhere! To contain like items on my craft supply shelves, to hold candles on my home decor shelf, to hold a big bunch of books and CDs related to learning how to play the guitar (not that anyone in our house currently plays….). Shoe boxes are a great way to organize your things- without spending a dime!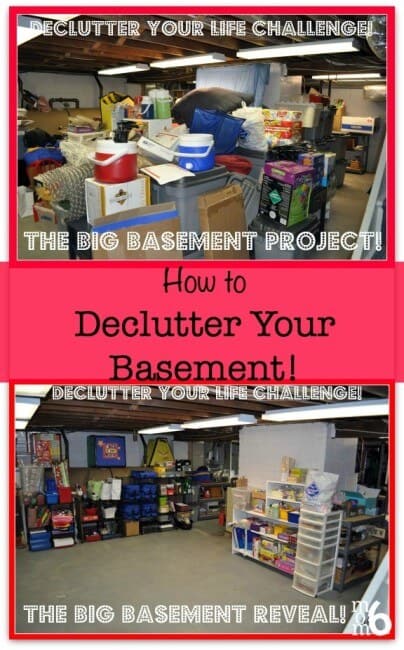 My advice to someone just getting started with decluttering?
You've just got to jump in and get started. Whether you start small on a 10 minute project (I tackled one of those each week in February as part of this challenge), or whether you want to start in the largest messiest area of the house- you need to set your goal and get started. And as you get going- work from left to right- touching each item and deciding should you keep it, donate it, toss it or relocate it? And the criteria to keep an item was that you have to love it, use it, need it, or want it, AND have room to store it!
I owe a huge thank you to Laura at Organizing Junkie providing the inspiration and motivation to tackle this mammoth task! Had she not put forth the challenge… our basement would still be looking like all of those BEFORE pictures above!
If you missed my other posts on the Big Basement Challenge- I would love for you to check them out here:
The Declutter Your Life Challenge: The Big Basement Project
The Declutter Your Life Challenge: Working Towards An Organized Basement
Declutter Your Life- The Big Basement Challenge: Keeping the Project Focused!
Declutter Your Life- The Big Basement Challenge: What Do You Do With All of the Junk?
So… what do you all think?