One of the best times of day to start putting a routine into place is in the evening. By creating a calming bedtime routine, kids are able to settle down and get ready to go to sleep. And if your evening routine includes some steps for the kids to follow that can get your family ready for the next day- that's a great way to get organized! Here's how to create an evening routine for your family:
The First Step to Creating A Night Time Routine
It all starts with having a clean kitchen.
Fans of the Fly Lady know that she says that every evening you should "shine your sink", which is just her way of saying that the next morning when you walk into your kitchen- it is so much more pleasant to face the day when things are clean, the dishes are washed, and the sink is empty. Your day starts out with total drudgery if the first thing you need to do is to scrape the hardened crud off of last night's dishes and load the dishwasher.
So at our house, immediately after dinner, the kids are asked to scrape their plates into the garbage, rinse them, and then put them into the dishwasher. They help me wipe down the table, put away the leftovers, and wash and dry any dishes that need to be done by hand.
Have the Kids Get Themselves Ready for the Next Day of School
Next, it's time to get things ready for the next day of school. Once homework is completed and I've had a chance to check it over, I ask the kids to take their homework, put it back into their homework folders, and put the folders into their backpacks.
We also check to see if they need to return a book to the school library the next day or if there's anything else that needs to be in their backpacks. For my kids that play an instrument at school, we also take the instrument and place it near the front door- so won't be forgotten in the morning rush to meet the bus.
Our Sunday Night Time Routine to Start the Week
On Sunday evenings we do a few extra things which "sets us up for success" for the week ahead. After dinner, we review the school lunch menu for the week, and the kids can tell me if they intend to purchase the hot lunch at school or if they want me to pack a lunch.
For the days they wish to bring a lunch from home, we plan in advance what they would like to pack. This makes my school-day mornings go so much easier- because I don't have to think about what to make everyone- it's already all planned out for me.
On Sunday nights after the kids have showered, we will also pick out their clothes for the week ahead- laying them out by day. This helps us to avoid most of those early morning "clothing dramas" when one of my daughters can't find anything to wear!
The Bedtime Routine
Once we accomplish all of this "getting things ready for the next day", it's time to do what most families do in the evening-  which means get the kids to brush their teeth, take showers, put on clean jammies, and cuddle up in bed with a book. Kisses and sweet dreams!
Want to See More?
Here's a quick 3-minute video of our family's evening routine:
Once you create a bedtime routine for kids, try these routines that have also worked for our family:
Looking for the best family calendars, planners, & to-do lists?
Best Family Calendars – whether you prefer electronic, paper, or wall calendar- these are the best ones of the year!
Best Planners for Moms – a family calendar can help you organize your schedule and your time- but a planner can help to make sure that you are giving your life purpose!
15 Perfect Paper to Do Lists for Busy Moms- pretty paper lists to guide you as you get it all done!
Here are some great ideas on how to organize your home!
Are you ready to get your life organized? Register for Busy Moms Boot Camp!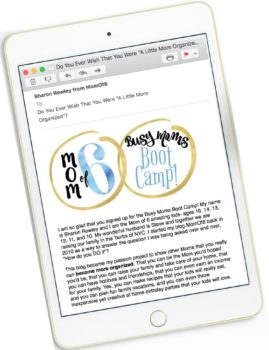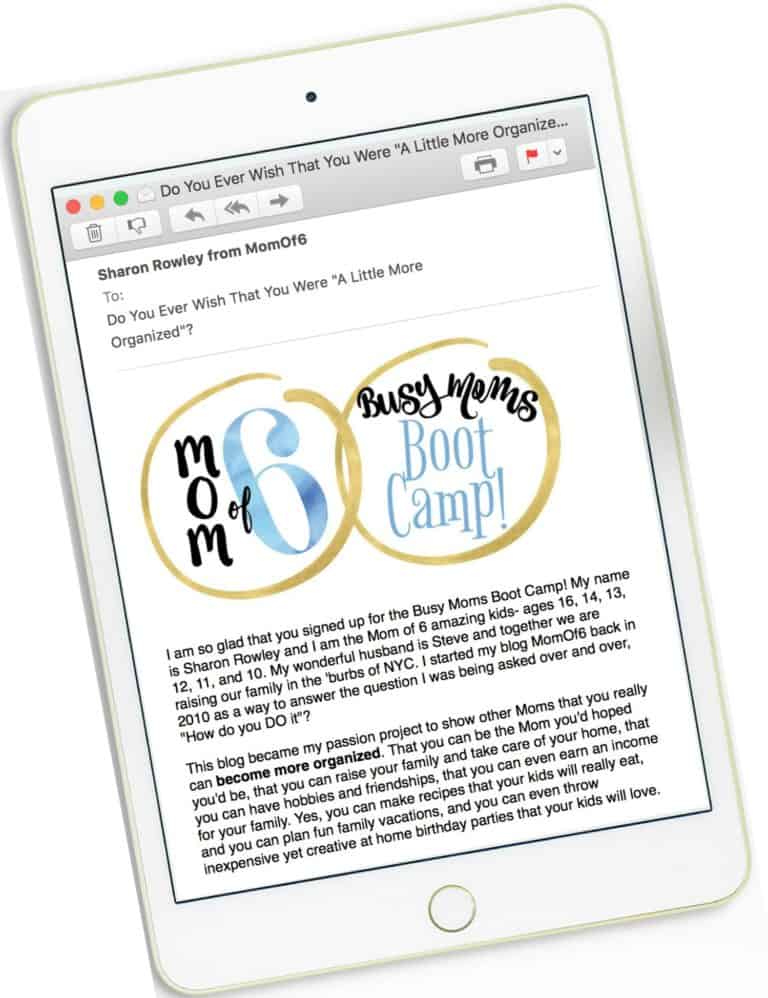 It's a free series of 10 weekly emails that can help you put some organization back in your life and help you to create room for all of those things that you'd like to be doing- whether that's making time to celebrate the little things with your family or carving out some space for yourself. Busy Moms Boot Camp can help you to move from chaos to organized! Simply sign up below to get started!

How is your bedtime routine working for you? Please leave a comment below!