I am SO excited to share this awesome birthday party with you today! If your kids love to watch the cooking shows on the Food Network as much as mine do- then they would love to have a "Cutthroat Kitchen" Birthday Party to celebrate their special day! The TV show features chefs in a cook-off- where they create unique and delicious recipes to fit a specific criteria (appetizer, entree, dessert) in a short amount of time. But the twist to this show- is that chefs can set each other up for failure by bidding on "sabotages" to be used against their competitors- things like having to cook while blindfolded or without utensils! And this summer, "Cutthroat Kitchen" came out with some special episodes called "Camp Cutthroat" where chefs had to make camp-themed food while competing in the great outdoors! And this is what I thought would make for a perfect birthday party theme!
The Invitation:
You are welcome to download this invitation and use it for your own party. (Just right click on the image and save it to your computer.) If you would like to make changes or add text, please see this tutorial: How to Create Birthday Party Invitations Using PicMonkey.
Not only did my daughter (who was turning 10) want an outdoor cooking-themed party, but she also wanted to sleep in out in our giant tent with her friends (mostly likely so they could stay up until the wee hours talking without parents "shushing" them from upstairs all night long). So we decided to co-theme this party- Camp Cutthroat and "Glamping"!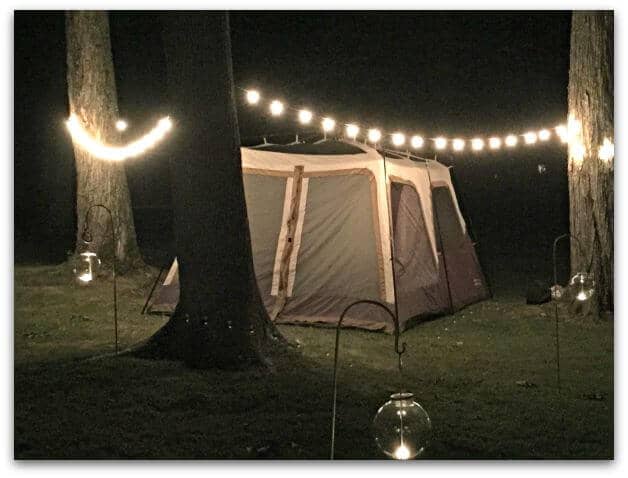 By the way- this is what "glamping" looks like. A tent with lots of glamourous lighting!
Party Set Up: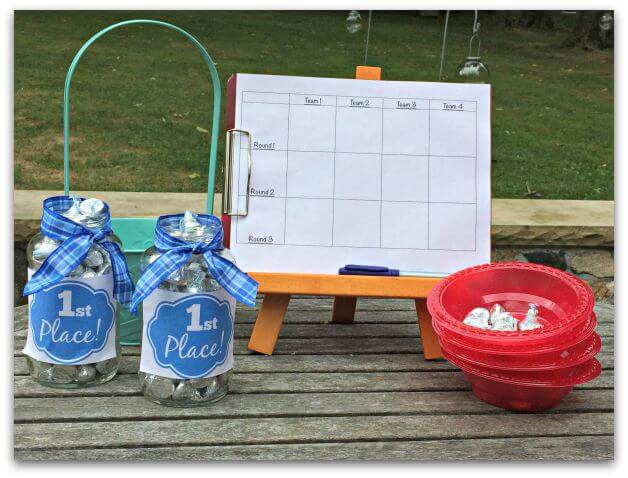 Every competition needs a prize, right? In our case we decided the "currency" of the party as well as the 1st place prize would be Hershey's Kisses (the birthday girl's favorite candy!). We filled two glass pasta sauce jars to the top with kisses and added this label and a ribbon to "pretty them up".
(Again- right click to download and print for your own use). We also placed 10 kisses in each of 4 bowls which the teams would later use as "money" to bid on the sabotages (more on that later). We created a quick gird sheet to keep track of every team's scores as we moved through the competition (unlike the TV show, we did not want to eliminate a team with each round…. this is a party and everyone wants to participate!).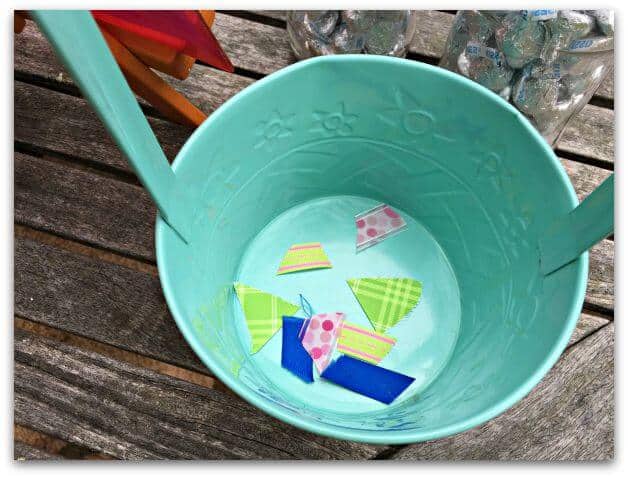 And to facilitate picking teams, we placed two pieces of 4 different kinds of ribbon in a bucket. Each girl would reach in, pick a small piece of ribbon and hide it in her fist until everyone selected a ribbon, and then we asked everyone to "reveal" at once. The guests found their ribbon-mate and ta-da we had teams!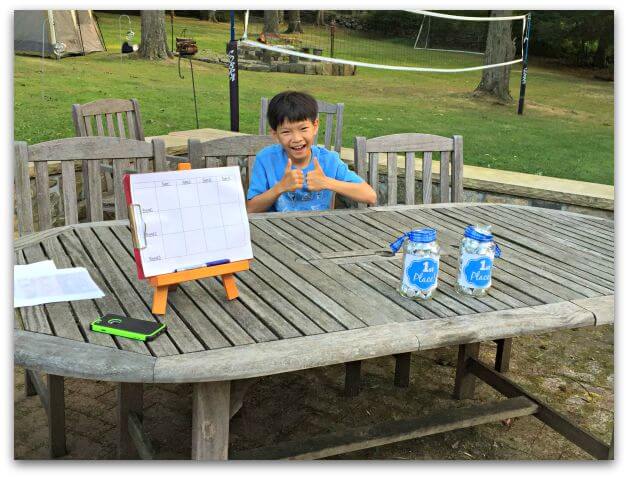 Siblings and parents took turns serving as one of the three judges for the three rounds of cooking competitions.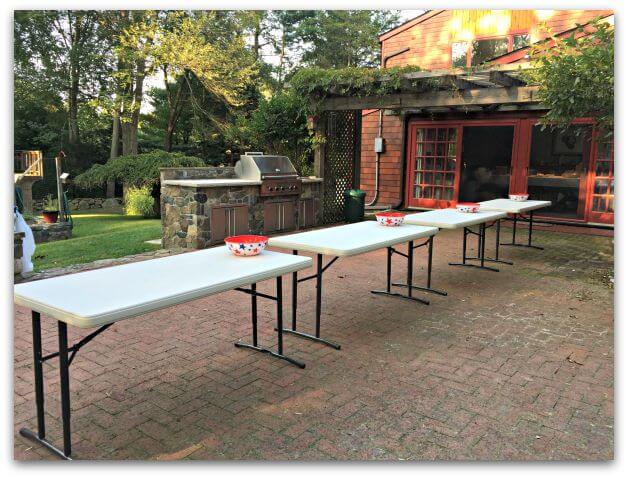 We set up a large folding table for each team. And they were given a bowl that contained cooking utensils.
Our Cutthroat Kitchen Birthday Party!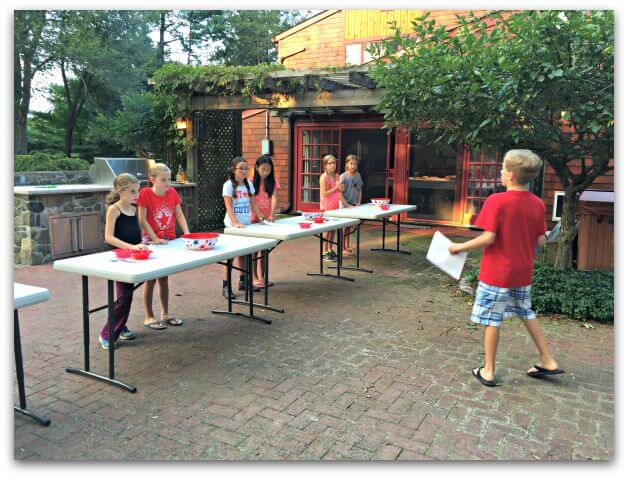 With an older sibling serving as our own "Alton Brown" (the TV show's host), we kicked off our party with the first competition: Create Your Own Trail Mix!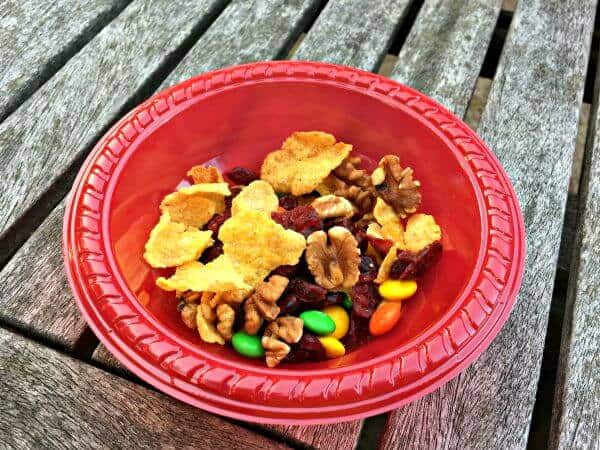 (Worth 5 points for 1st place, 3 points for 2nd place, and 2 points for 3rd place, 1 point for 4th place)
We started by passing out an idea sheet to each team to inspire them with different trail mix possibilities (you can download a copy of this idea sheet over on The Food Network's site). (Please note: I did not buy every item listed on the idea sheet- that would have been a lot of ingredients! So I just used a Sharpie to cross off the items that wouldn't be available in our "camp kitchen".)
Teams were given 1 minute to look over the idea sheet and decide what ingredients they wanted to go for in the camp kitchen. When our host announced "GO", teams had 1 minute to get everything they needed from the camp kitchen (which was actually our dining room table). Teams were limited to 4 ingredients each (so everyone had a chance to grab items!) Next, teams were given 4 minutes to create their own unique trail mix.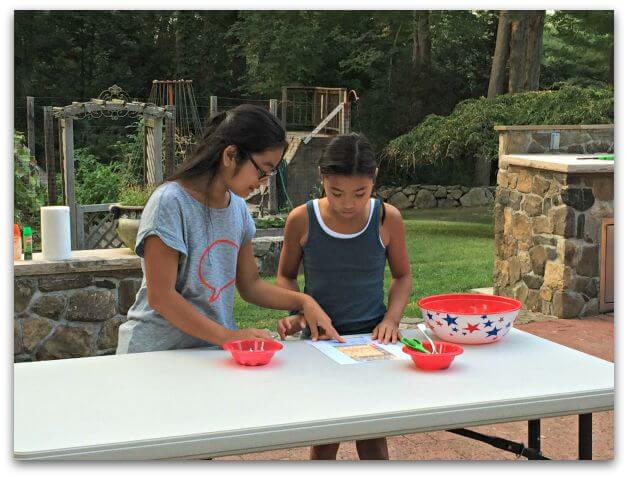 But before this round began- the sabotages were offered to the teams for bidding:
Sabotage #1: One team will have to create their trail mix while hopping on one foot the entire time. (allow them to bid and decide which team to sabotage)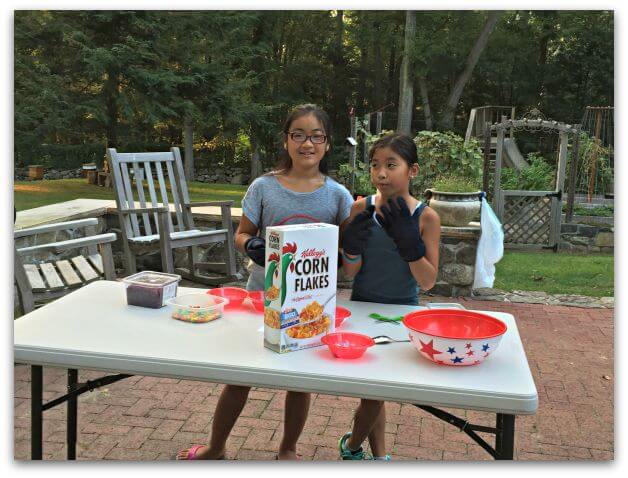 Sabotage #2: One team has prepare their trail mix, while wearing winter gloves! (allow them to bid and decide which team to sabotage)
After the 4 minutes were up, each team gave a small sample of their trail mix to the judges table and allowed the judges to taste the creations, offer comments, and then declare the winners of 1st, 2nd, and 3rd places.
Competition #2: Follow a Recipe and Create a Foil Packet Dish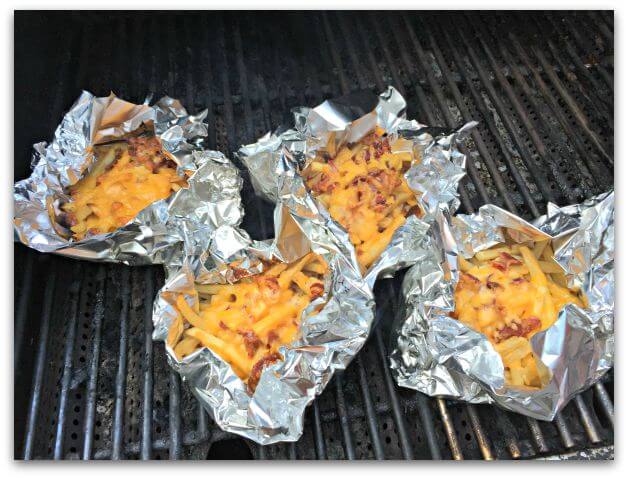 (Worth 10 points for 1st place, 7 points for 2nd place, and 4 points for 3rd place, 2 points for 4th place )
Teams were given the choice of these 4 foil packet recipes- and the team currently trailing was allowed to pick first (click on the links below to get the printable recipe):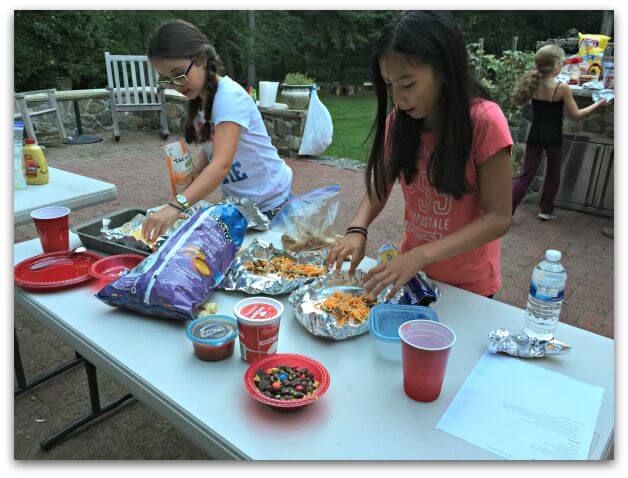 When our announcer said "GO", teams could collect their ingredients from the camp kitchen, and start to read and prepare their recipes.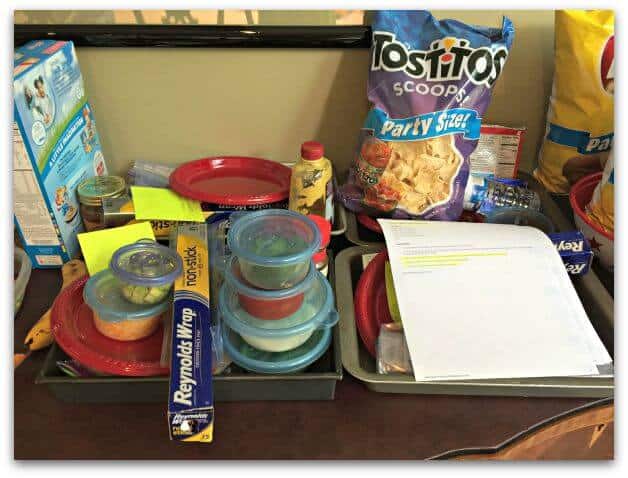 (I had prepared in advance all of the ingredients for each recipe and placed them inside of a 13×9 pan, so the teams just needed to go and retrieve their pan.) Teams were given 35 minutes to create their dish- and they had to give their prepared foil packets to the "Grill Master" (my husband) who cooked the packets according to the team's instructions.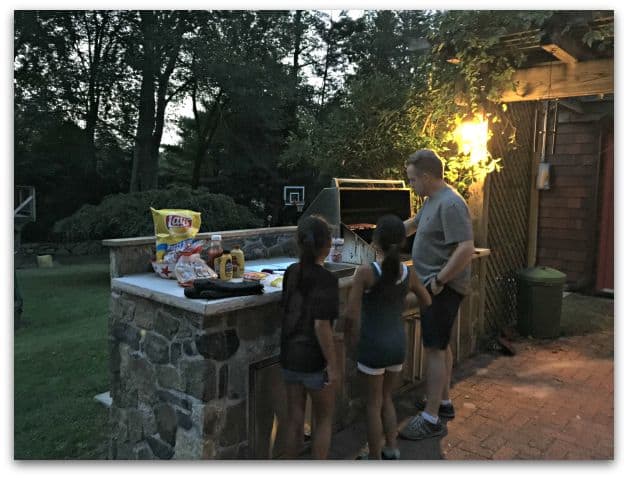 But first- the sabotages! (We took advantage of some backyard "games" we own)
Sabotage #1: Every time you hear the timer go off, you and your teammate have to run to the back of the yard and walk across our slack line. (allow them to bid and decide who to sabotage)
Sabotage #2: Every time you hear the timer go off, you and your teammate have to tackle the "badminton challenge"- getting three volleys back and forth over the net before continuing. (allow them to bid and decide who to sabotage)
We made sure that they guests could prepare at least 4 packets of each dish, and after this round of competition we took a break and allowed the guests to sample each other's entrees and enjoy dinner! (We also added some hot dogs to the grill to make sure there was enough food for everyone)
Competition #3: Create a Unique S'More!
(Worth 16 points for 1st place, 11 points for 2nd place, and 7 points for 3rd place, 5 points for 4th place)
For this last round, teams were once again given an idea sheet to use, to help them think up a unique s'mores creation. You can find a copy of the S'Mores Idea Sheet here. Teams were given 1 minute to look over the idea sheet and decide what ingredients they wanted to go for in the camp kitchen, but this time during the ingredient selection- we made teams take turns picking their desired ingredients one at a time- this gave each team a fair chance at "the good stuff".
Teams had 10 minutes to create and cook their unique s'more creation. (We had already built a bonfire and had sticks and marshmallows ready and waiting.)
But first- the sabotages!
Sabotage #1: Your team will have to complete this sheet of math facts (which I created at madpractice.com) before you can begin to create your s'mores. (allow them to bid and decide who to sabotage)
Sabotage #2: Your team will lose one of your ingredients, as chosen by the sabotaging team. (allow them to bid and decide who to sabotage)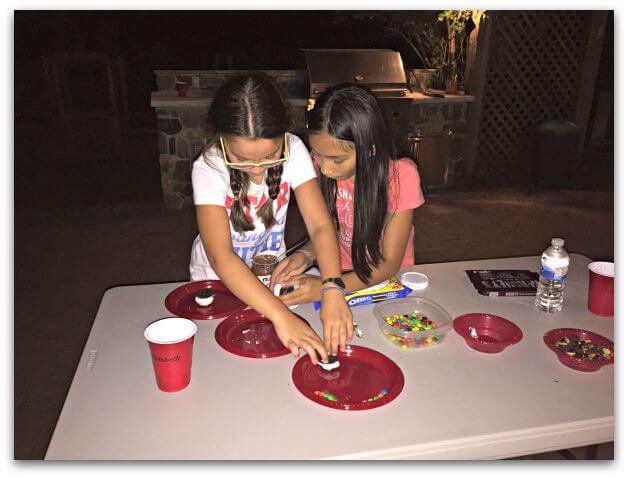 As a judge, I have to say that this last round was my favorite- the teams put together some amazing new s'mores combinations- ones made with white chocolate, ones with Oreos and caramel, others with Biscoff cookies- they were delicious!
Would You Rather, Party Favors and Breakfast!
After the Cutthroat Kitchen part of the birthday party- the girls all moved into the tent to hang out and chat. I had already left this jar inside of the tent so the girls could play "Would You Rather"?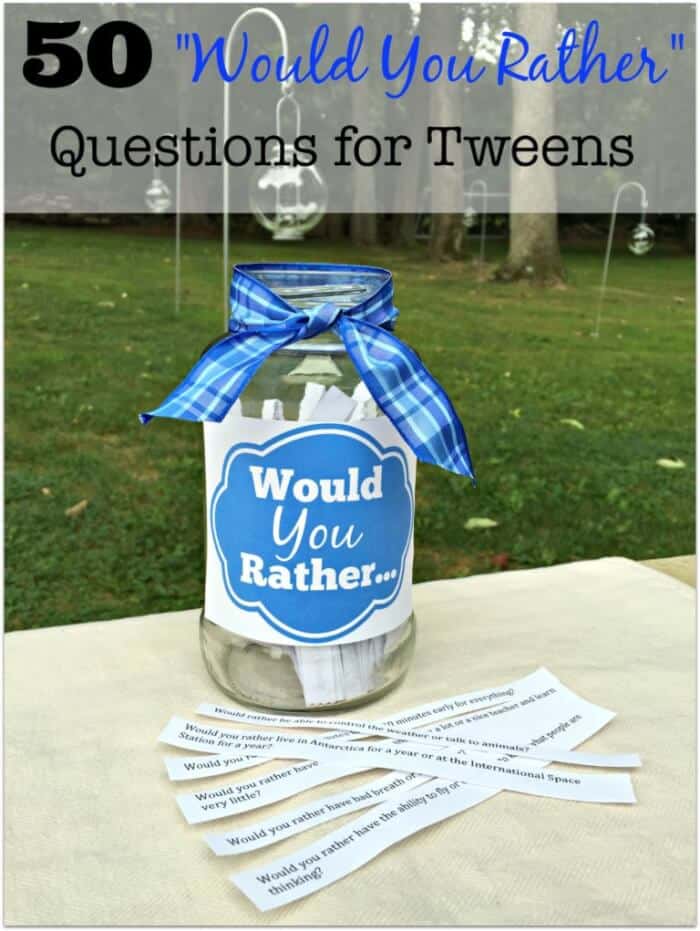 You can download the list of 50 "Would You Rather?" questions to create your own party game here!
And I love, love, love to give a picture collage of the party guests as a favor- kids love to have pictures of their friends, and I am told by Moms all of the time how much their kids love these pictures- even years later!
I used PicMonkey to create this college and added it to this picture frame!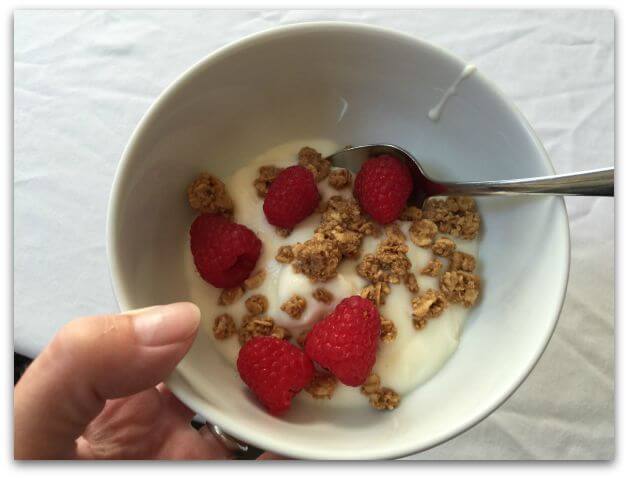 The next morning, I served our party guests a breakfast buffet that included Monkey Bread and "Make your own yogurt parfaits". Then my husband and I helped the girls to pack up their sleeping bags and find their belongings before their parents came to pick them up!
This was such a fun party to host- and my daughter and her friends had a great time!
Do you think your child would love a Cutthroat Kitchen Birthday Party? Check out my full list of awesome birthday parties that you can host at home!