We love to camp while on family road trips, staying in campgrounds and exploring national and state parks and historic sites nearby. We have hiked in gorges, rafted down a gently flowing river, explored caves, visited a glass museum, and even mined for gemstones- all while staying at a nearby campground. Camping with kids is a great and inexpensive way to travel and to explore all that a vacation destination has to offer! But I can tell you- it is a far more enjoyable family experience when you have right gear!
Creating a comfy place for everyone to sleep, a camp kitchen that you can make a meal in, and having the right equipment for camping activities makes all of the difference! Here's what you need:
*Please note that some of the links in this post are affiliate links, which means I will make a small commission if you purchase through these links.
Camping with Kids: Your Tent is Your Home Away From Home!
I suppose that it goes without saying that a tent is the most important piece of camping equipment that you'll need! You want one that is large enough to fit your family- so I suggest sizing up by +2 people. So a family of 4 would be more comfortable in a 6-person tent- that way you'll have enough room for your belongings as well!
Another pro-tip: go with an instant pop-up tent. They come with a built-in pole structure that makes set up quick and easy, and take down is a snap too!
And before you set up your tent, you'll want to exam your tent site and remove any large rocks (they can be rather uncomfortable to sleep on!), and you'll want to lay down a ground tarp first. This will ensure that your tent stays nice and dry on the bottom.
Be sure to leave about 2 feet of tarp uncovered by the tent near the door of the tent, so everyone can sit down and remove their shoes before coming inside. A no-shoes policy helps to keep the dirt outside where it belongs!
Investing in a camping air mattress is always a wise choice (we use four queen-sized air mattresses and just wedge them all together in the tent, sleeping two per mattress), and be sure to get one with a rechargeable pump (it can be charged ahead of time or with a car charger). Of course, everyone will need a comfy sleeping bag as well. There are two-person bags available if you and your spouse want to share- or we just unzip two single bags and put one down on the air mattress to sleep on and use the other as a blanket.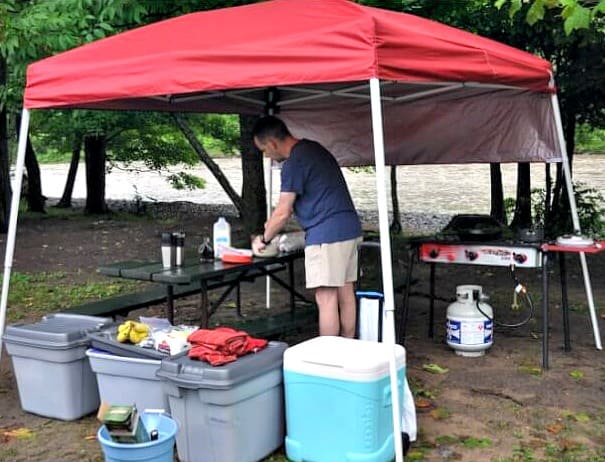 Create Your Camp Kitchen!
There is nothing like waking up in the morning to the smell of bacon frying on the camp stove, and coffee brewing right alongside! (Even better when it's your spouse that wakes up first and gets breakfast started!) A 2-burner camping stove (fueled by propane) is just what you'll need to play camp chef!
We like to set up our camp kitchen under a pop-up canopy– which gives you a nice break from the sun (or a light rain shower) when cooking!
I also recommend having two of these 2-gallon water jugs on hand. You'll want one for water (for drinking, cooking, and washing hands), and one for lemonade (which we refer to as "bug juice" while camping!) You'll also need a good-sized 3-day cooler to hold everything that needs to stay cold (burgers, hot dogs, eggs, juice).
And rather than using disposable plates and utensils (which are not good for the very environment that you are there to enjoy!), I suggest purchasing some camping dinnerware that can you wash after each meal using biodegradable dish soap! (We bring along a set of these wash tubs for scrubbing and rinsing).
You can search the woods for an appropriate s'mores stick (my husband always carries his Leatherman pocket knife to clean up and sharpen the ends), or pack along these extending smores sticks from home!
Looking for some camping recipes? These foil packet cheesy fries, grilled taco nachos, lemon chicken with potatoes, and shrimp fajitas are all camping favorites!
Make Your Camp Cozy!
Many campgrounds include a picnic table at their campsites, which is great for meals, but it's tough to pull up a picnic table next to a campfire and feel comfortable! We also pack along camping chairs to relax in.
You'll want to have a lantern or two stationed both inside and outside of your tent, as well as a few flashlights on hand for those late-night walks to the bathroom.
Equipment for Camping Activities!
Camping is just sleeping outside in a tent and making smores over the campfire. You'll want to get out and enjoy the wilderness too! If hiking is part of your camping plan, be sure to get a trail map for the area, and use the Geocaching app to look for hidden treasures with your kids. Make sure that everyone carries a refillable water bottle and a snack along the trail!
If there's a lake or a meandering waterway nearby- consider an inner tube or an inflatable kayak or paddleboard. And no camping trip is complete in our family unless we spend some time fishing! We take along a couple of these fishing rods and fly fishing rods on every trip!
Planning a Family Road Trip? Here are some more tips that might help!
Want to Check Out Some Great Road Trip Destinations?