If you're having trouble deciding on a theme for your tween's birthday party, consider planning your kids birthday parties around things that your children just love to do. My daughter loves to draw- especially pictures of dogs and horses. So when it came time to plan her 10th birthday sleepover party, I knew that if we could pull off an art birthday party– it would be an exciting night for her, and a lot of fun for her friends! Here's what we did: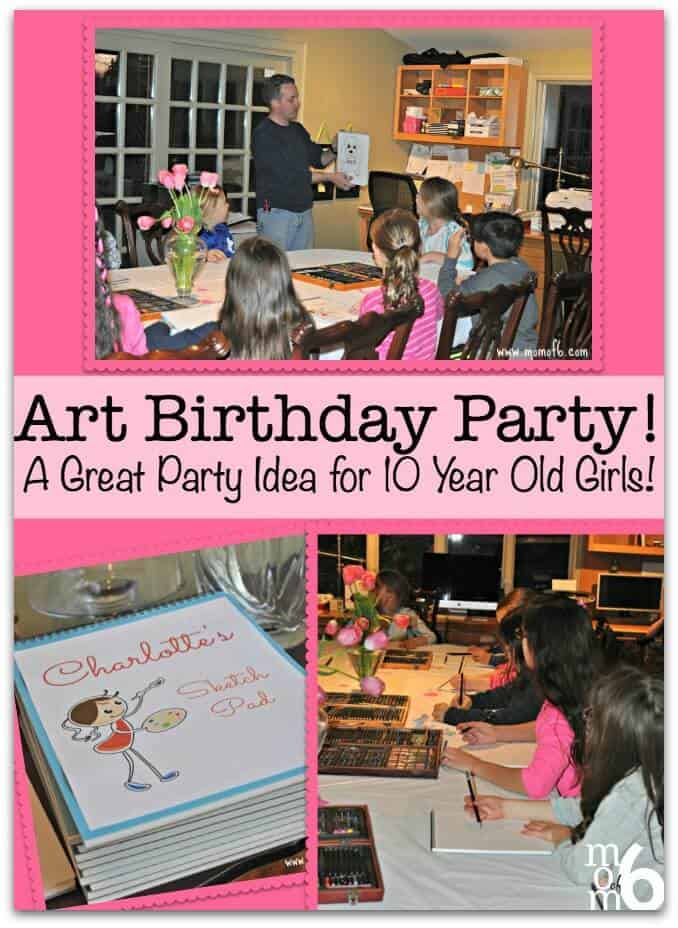 Art Birthday Party Invitation

I created my invitations using the design site PicMonkey. You can see my whole tutorial on how to use PicMonkey to create birthday party invitations here.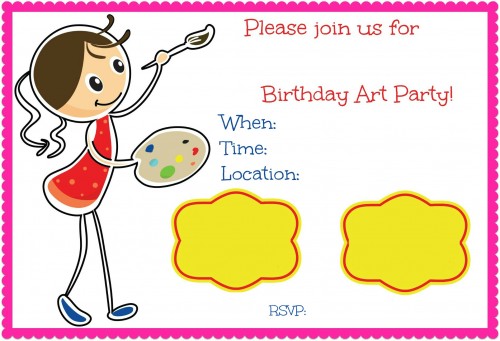 If you would like a blank copy of the invite, scroll down to the bottom of this post for instructions on how to download yours!
*Please note that the links in this post are affiliate links, which means I will make a small commission if you purchase through these links. 
Art Birthday Party Timeline
6:30- Guests Arrive
When the guests walked in the door, we had them stash their sleeping bags and jammies in the room downstairs where they would be sleeping. The girls then went into the dining room to chat and to check out the setup. We decorated simply with just white table roll (plastic tablecloths), flowers, the birthday cake, and a sprinkling of pink hearts and diamonds that my daughter had cut out of cardstock using a craft punch.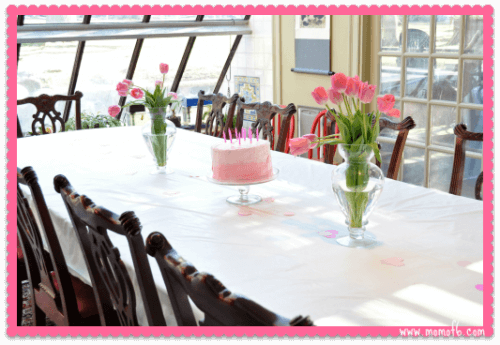 And here's a little tip- we set the table with 3 layers of table roll so that after dinner we could remove the top layer and throw it out- leaving a clean tablecloth underneath for the art party. Later on, after the crafts, we removed the second layer so that the table was already cleaned up for breakfast the next morning!
6:45- 7:15 Pasta and Salad Bar for Dinner
We set up a serve-yourself-dinner-bar on the kitchen table, offering 2 kinds of pasta and 2 kinds of sauce (tomato sauce or butter), a platter of garlic bread, and a big salad where guests could add on cucumbers, carrots, croutons, and their choice of dressings. The kids all lined up and made up their own plates, then headed to the dining room to eat together.
7:15 -7:30 Freeze Dance Party
The girls ran off to do a little freeze dancing downstairs, while Steve and I quickly finished clearing the table and cleaned up from dinner. We stripped on the top tablecloth and set out the art supplies which consisted of sketch pads for each guest and several art kits where the kids could access drawing pencils, oil pastels, watercolors, and more.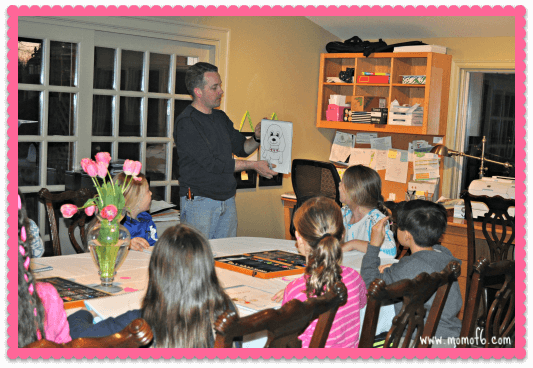 7:30-8:15 Art Time!
We found a great YouTube video that shows how to draw an adorable cartoon dog in less than 2 minutes. My husband (being a far better artist than I) watched the videos to learn how to draw the character so that he could lead the girls through creating their own. The second item they drew was this sweet panda:
I know what a thrill it is for kids to be able to create a piece of artwork and have it turn out way cooler than anything they thought they could create! And these simple step-by-step instructions allowed them to do just that!
Steve led the girls through each step needed in order to create their own cartoon dog, and after going through the entire lesson once, most of the girls wanted him to go through it a second time so that they could improve on their masterpieces!
Other girls used the chance to color in their drawings.
We provided each girl with her own personal sketch pad, which I labeled with our little art girl ahead of time. (You can download the sketchbook cover at the end of this post).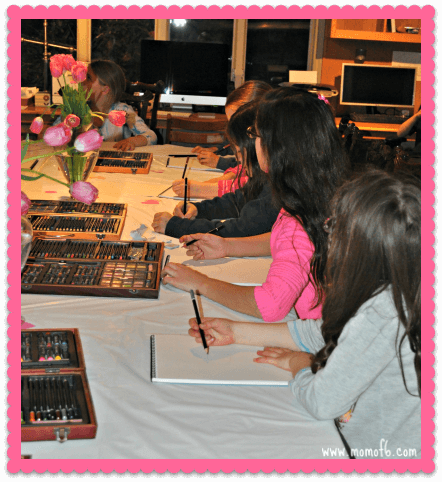 Our family already owned 5 wooden art sets, so that's what we shared with the girls to create their drawings- the art boxes contained colored pencils, oil pastels, and watercolors- and some girls also used thin black Sharpies to make their dog and panda.
8:15-8:30 Birthday Cake Time!
I baked a version of my "rainbow cake", but instead of creating a rainbow, I used different layers of pink cake- working from light to dark to create an ombre effect!  (Tip: the trick to getting vibrant colors like this with cake batter is to add a little yogurt into the cake batter when you drop in the food coloring. The acid in the yogurt makes the color pop!)
I frosted the cake in the same ombre effect from light to dark and just added candles to the top. So simple and so lovely.
8:30-8:45 Lip Gloss Craft!
The girls created their own lip gloss and put it into small acrylic jars that I purchased at Amazon, by using craft sticks to mix together a large dollop of Vaseline with 1/2 teaspoon of sugar-free Kool-Aid (we did grape and strawberry). The girls used plastic bathroom cups and knives to mix it all together before scooping it into the jars. I will admit this is a little bit of a messy craft but the girls really enjoyed making it.
We used Sharpies to label the bottoms of the lip glass containers so the girls would know which one was theirs.
8:45-10:15- Movie Time!
We showed the movie "Frozen" which had just been released on DVD. The girls loved the film, and honestly, I think some of them had seen it 4,782 times because they knew all the songs, the dialog, and even the motions. Several of them acted out most of the scenes!
10:15- 12:00- Settling In
Not all of the guests ended up sleeping over (I always make it clear to parents that the sleeping over part is optional- some girls love it and others don't), so some girls were picked up at this point. Those that stayed got ready for bed, changing into PJs and setting up their sleeping bags. The girls settled in for the evening and chatted until they fell asleep.
Pick Up 9:30am
Our pick up time the next morning was 9:30am, which gave the girls enough time to wake up, hang out, enjoy a big breakfast of homemade pancakes and bacon before packing up all of their gear!
Art Birthday Party Favors
The guests took home their sketch pads and lip gloss as their party favors.
Art Birthday Party Thank You Notes
If you would like a blank copy of the thank you note, scroll down and sign up below!
Shop This Post:
Would You Like to Download Your Free Printable Art Birthday Party Invite and Thank You Note?
Awesome! Simply sign up below to join the MomOf6 community, and you'll be directed to a thank you page with access instructions!
*You can view our Privacy Policy here. To access the printable without subscribing to our newsletter, click here to send an email requesting access.
Check out some more awesome Tween Birthday Party Ideas:
Check out all of our Kids Birthday Parties here: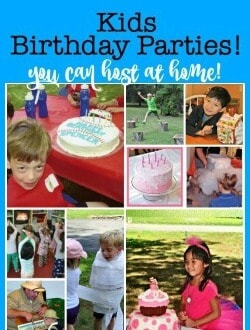 How to Throw Your Own Kids Birthday Parties at Home!
Looking for Some More Great Party Games, Crafts, & Activities for Kids?
or Shop for These Awesome Party Games!