Are your kids as obsessed with the game "Minecraft" as mine are? One of the 4th grade teachers at my kids' school really embraced the idea of using Minecraft as a class reward for good behavior and hard work- and once they've earned it- she dedicates some class free time to teaching them how to use the game. Last year, she and the kids worked together to create a "world" that was based on a map of the town we live in. She had the kids work to plan it out and then everyone was assigned a component of the town to build as they all worked together on the class project. It was a brilliant way to motivate the kids and teach them about this very creative game. And this has carried over to playing the game at home- with my son teaching the younger children how to play. They like to play together as a group- and work on a common goal. I think it's awesome! Which is why I know that my youngest son (turning 8) would love to have a Minecraft birthday party this year! Here are some ideas: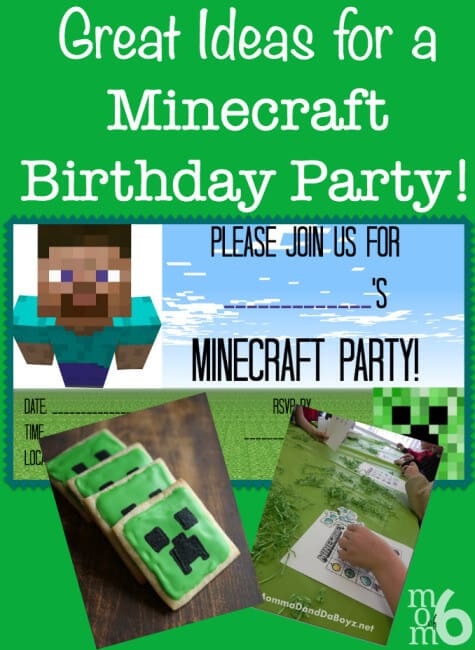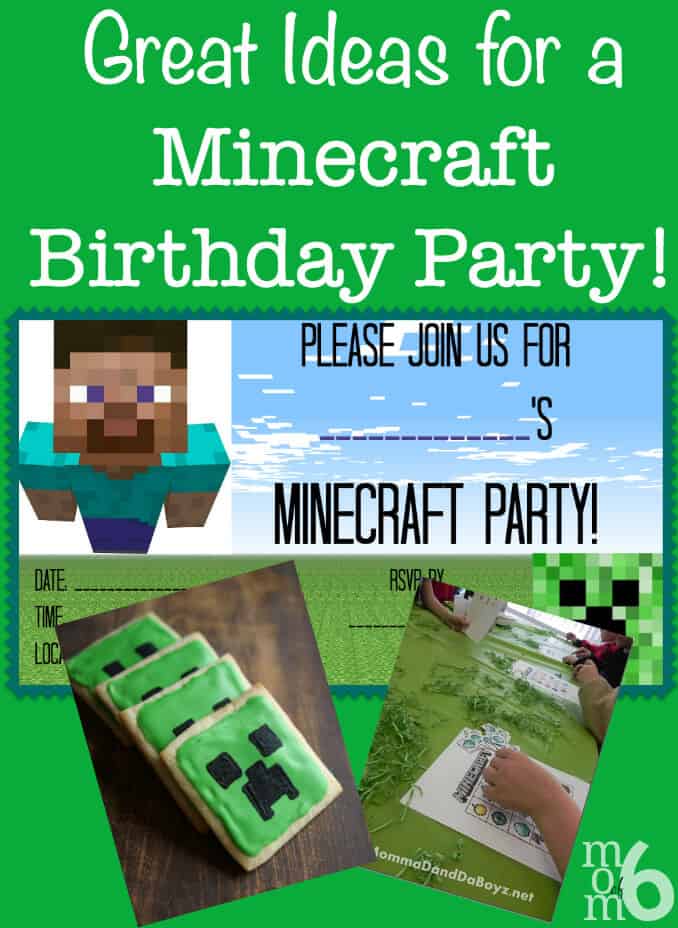 Minecraft Birthday Party Invitations:
I created these cute Minecraft party invites using PicMonkey: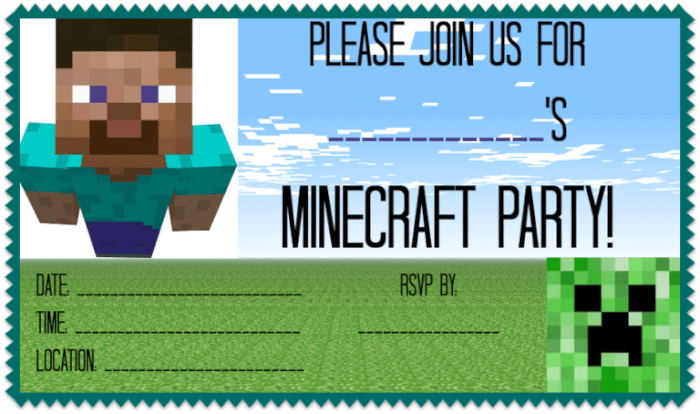 If you would like to print a blank copy of the invite and handwrite in your child's name and event details, you can click on this image to open the invite in a new window and print it on your home printer!
Minecraft Birthday Party Games/Activities:
I love the idea of taking some of our favorite "Minute to Win It" party games- and making them Minecraft-themed:
Bucket Head– contestants bounce a ping-pong ball onto the floor, which then bounces off a wall, and attempts to catch the ping pong ball in a bucket on his or her head. The bucket could be painted green with a creeper face!
Face the Cookie– using only the facial muscles, move a cookie from the forehead to the mouth. Use creeper cookies!
Junk in the Trunk– 8 ping pong balls are placed in an empty tissue box, which is tied to the back of the contestant's waist….. who then needs to jump up and down until the tissue box is emptied. Paint the ping pong balls to look like creeper!
Egg Roll– using pizza boxes, contestants fan hard-boiled eggs from a starting line, across the floor, to reach a target. Have the pizza boxes painted to look like a minecraft landscape
Suck It Up– use a straw to move skittles one at a time from the tabletop to balance on top of 4 flexible straws taped vertically to the end of a table. Use green skittles to look like a creeper face!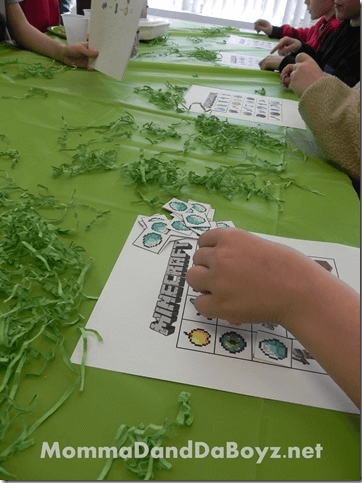 But for a somewhat calmer party game- you could always put together some Minecraft Bingo like Momma D and Da Boyz did for her Minecraft-themed party!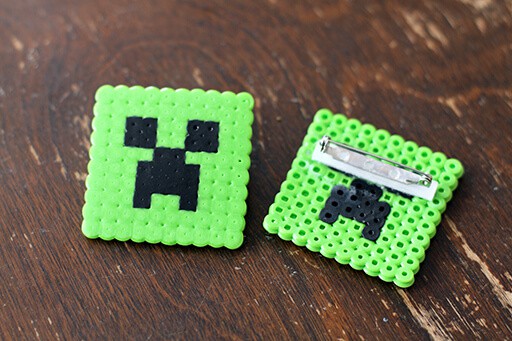 Or make these Minecraft Creeper pins out of Melty Beads like The Kitchen Magpie!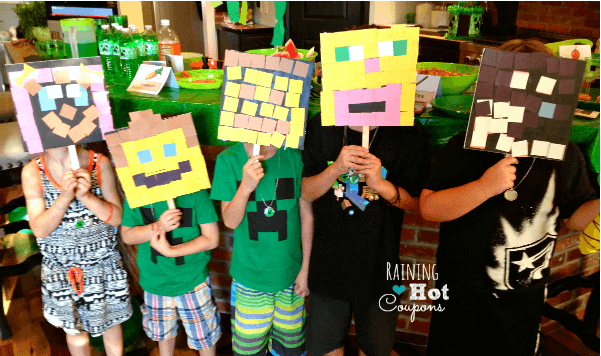 Or create Minecraft masks for each guest to "wear"! Idea courtesy of Raining Hot Coupons
Minecraft Birthday Party Cake: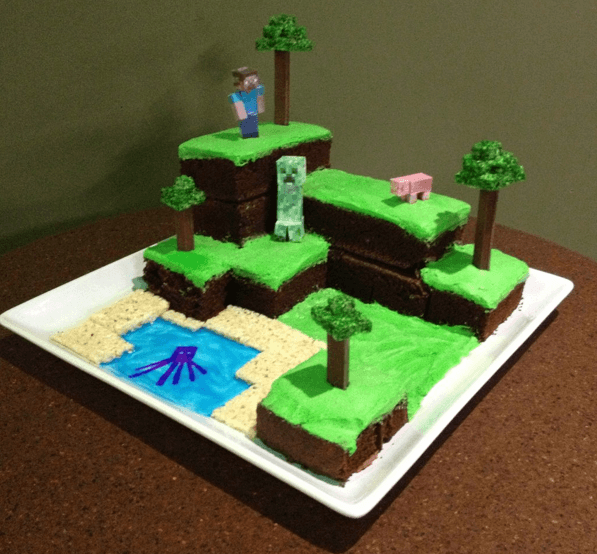 I love this Minecraft World Cake from Instructables.com
And I love this idea of creating Minecraft block Rice Krispie Treats from Parties 4 Ever!
Minecraft Birthday Party Favors: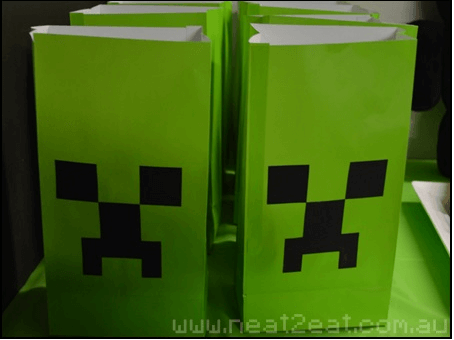 Neat 2 Eat Blog came up with this great idea for a favor bag… simply use green paper bags and cut shapes out of black paper to create Creeper's face.
And inside you could stick some of these awesome looking Creeper cookies (source: TheBrownOven site on Etsy– but they are no longer selling them)
Minecraft Birthday Party Thank You Note: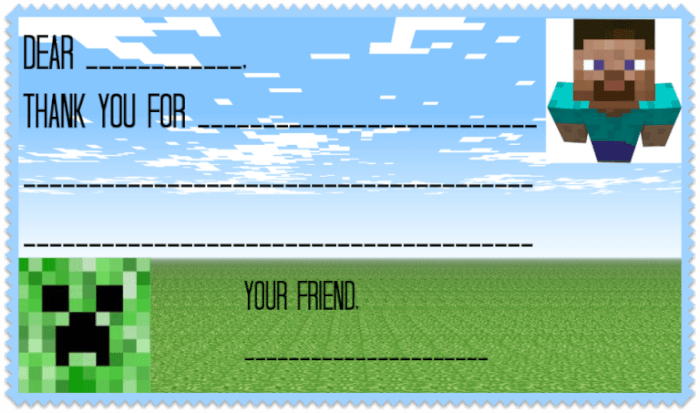 You are welcome to print these thank you notes for your own use- simply click on the image to open them and then print them at your home printer.
If you liked this party idea, you might also enjoy these other at-home birthday parties we've thrown for our kids:
At Home Birthday Parties YOU Can DO!