What tweens don't love the Star Wars movies? When my son's 11th birthday coincided with the release of the latest Star Wars film "Rogue One"- we knew we had a theme that would be perfect for kids birthday parties! I'll show you what we did at our Star Wars themed sleepover party along with some other great Star Wars Party Ideas for Tweens!
**Please note that some of the links above are affiliate links, which means I will make a small commission if you purchase through these links.
We invited our guests to be dropped off at our home in the late afternoon where we loaded them into our large 12-passenger family van and headed over to the movie theatre. (Since this was opening weekend, we purchased our tickets ahead of time online so we wouldn't have to worry that the movie would be sold out!) I distributed popcorn and water bottles to our guests, and we settled in for a fantastic movie (truly- Rogue One was all kinds of AWESOME!).
After the movie, we returned home where the kids made their own mini pizzas and enjoyed these cupcakes that were made with these cool Stormtrooper cake toppers I found on Etsy!
And I forgot to mention that my son dressed for his party in a Star Wars themed tee shirt that we found at Kohl's (similar to this one here).
After pizza and cupcakes, the boys spent time playing Lego Stars Wars on the Wii U before settling down for the night. The next morning they feasted on homemade belgian waffles and played some more video games before picking up their Stormtrooper watch party favors and heading home. (Note on the party favors, my husband works for the watch company that makes these amazing Stormtrooper watches so we were able to score a deal on them, but you find similar ones for much less here!)
So now that you've seen what we did at our Star Wars themed party…. let's check out some more Star Wars Party Ideas!
Star Wars Party Invitations and Printables
If you are looking for free printable party invitations, thank you notes, and food labels- I think these ones over on All Things with Purpose are fantastic!
I love these R2D2 cups that you can make yourself- or even get the kids to do it as a party activity! (From DIYCandy)
Party Wear!
At lots of our home parties, I divide the kids up into teams- giving them different colored tee shirts to wear (which becomes one of their party favors). But they upped the game over at More Than Thursdays– with these DIY jedi costumes ready to outfit all of the guests!
Star Wars Party Games and Activities
Sunshine and Hurricanes has some great ideas on how to make lightsabers using bubble wands and silver duck tape, and then use them for various lightsaber birthday party games! Daze and Nights also has some ideas on how to play tag using lightsabers (she made her lightsabers out of pool noodles so they are softer for tag).
Frugal Fun 4 Boys has some cool ideas on how to make Star Wars themed target games for Nerf guns that younger tweens would love!
And I am in love with this concept- creating a Jedi Training Academy for party guests with various obstacles to test the agility of these jedis in training! (courtesy of Easy Breezy Parties). You can find some more ideas for jedi training over on Hostess with the Mostess!
If your tween would like to include a craft activity- this R2D2 craft is a fun idea (courtesy of The Laws of My Life).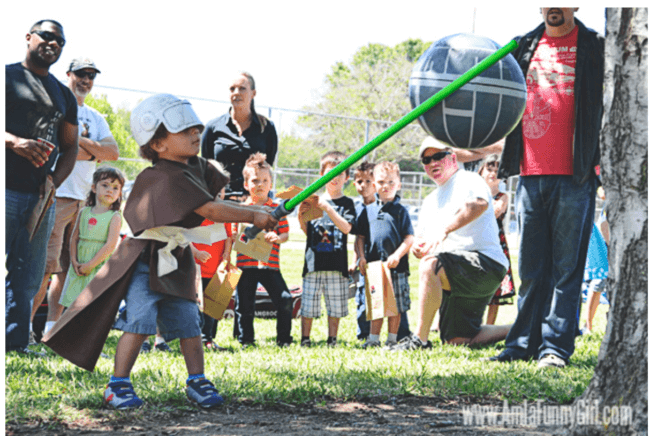 Tweens still dig a pinata- and they would absolutely love this Death Star pinata- created "old-school" style- using a beach ball, newspaper, flour, and water! You can check out the instructions over on More Than Thursdays!
Star Wars Party Favors
The smarties lightsabers are a fun idea! (From Busy Creating Memories)
Check out some more awesome Tween Birthday Party Ideas:
Check out all of our Kids Birthday Parties here: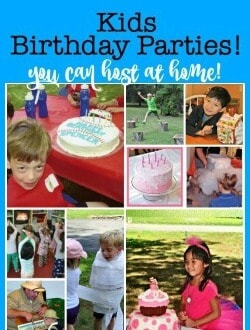 How to Throw Your Own Kids Birthday Parties at Home!
Looking for Some More Great Party Games, Crafts, & Activities for Kids?
or Shop for These Awesome Party Games!
Are you in the middle of planning a birthday party?
Then let me show you how to plan an awesome birthday party at home for less than $100!
Would your son or daughter love a Star Wars themed birthday party? I'd love to hear about it if you hold one too!