My daughter just loves playing the Ubisoft game- Just Dance. We've been doing it all summer as part of the Just Dance Just Sweat Dream Team Challenge… so when it came time to play her big 7 year old birthday soiree, she didn't even hesitate. She wanted a Just Dance birthday party! Influenced by the great time we had last spring with Charlotte's Puppies and Ponies half-sleepover party… she decided she wanted to do the half-sleepover thing too- and invite all of her friends to come wearing their jammies, and snuggle up together and watch a movie after they were done dancing. And that's just what we did:
The Invitation
I designed these myself using PicMonkey and sent them out to guests via email. I love how they came out! I also designed the favor bag tag (which you can see below) and the thank you note- all in PicMonkey.
The Party Set Up
Since the girls would be eating dinner in our dining room, I wanted to "fancy-it up" for them just a bit. So I hung feather boas from our chandeliers along with pictures of dancers from the Just Dance game, and I decorated the table with centerpieces of oversized hurricane vases filled with colorful tissue paper pom-poms, and skittles candies polka-dotting the table. Every place setting also had a small "Just Dance"place card".
The Party Plan
I like to have a game plan for each of our parties, where I list the activities and the length of time estimated for each. While I only use this as a guideline, it helps me to keep the party moving along. Without it, I might start the movie too late and then have all of the parents standing around waiting for it to finish…. a bummer for parents whose other kids are along with them for pick up! This schedule of events for this party was…
6:30pm- Guests arrive
6:40-7:00 Dinner and Cake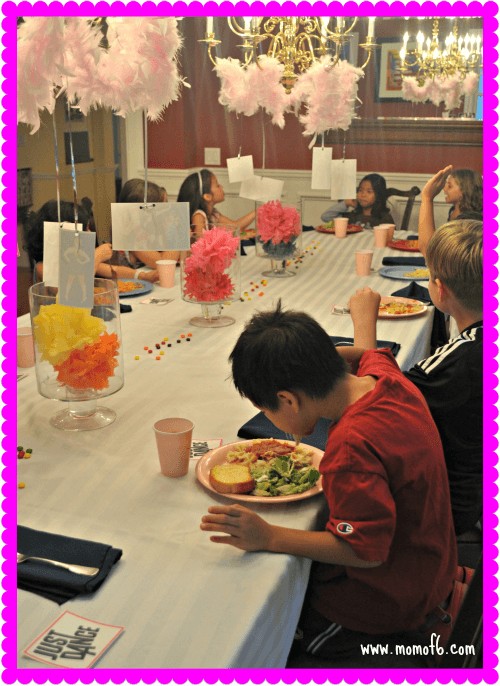 The birthday girl graciously allowed her brothers to join her girlfriends at the dinner table for the party! Instead of doing the "traditional thing" and ordering pizza for the party guests, we decided to offer a salad and pasta bar instead. For 12 kids we cooked up 2 large batches of pasta (2 boxes each) of bowties and linguine, and then had melted butter, plain red sauce, or sauce with meatballs which the guests could select from. They also could make up a a salad with a choice of dressings, and there was plenty of garlic bread on hand too.
After dinner we served the birthday cake…. and lest you miss the exquisite details of this homemade confection… allow me to share….
I am in love the Ombre trend, and my daughter adores everything pink…. so I combined the two ideas and used my technique for the rainbow cake to make a layers of pink cake (and the trick is to put some yogurt into the cake batter to achieve really vibrant colors!). It was a huge hit! (Another little tip: when using paper cake toppers for your Just Dance characters, be sure to remove them before adding and lighting the birthday candles!) No one wants their cake flambeed!
7:00-7:45pm Just Dancing!
I adore this picture of Spencer and Alex high-fiving each other while dancing behind the girls!
7:45-9:00pm Movie
Lili received "The Lorax" for her birthday, so we placed some of our fuzzy blankets on the floor for the guests, popped several big batches of popcorn, and let the girls enjoy the movie together!
9:00pm- Guest Pick up and pass out Party Favors
To fit our Wii dance theme, I found these cute Wii remote candy dispensers
and I included a book and summer notebook (I had a few leftover from our iVillage Summer Reading Challenge Party)… and packaged them in a plain white bag along with this favor tag.
This was such an easy and inexpensive party- and Lili Ann loved it! Do you think this is a great 7 year old girl birthday party idea?
If you liked this party idea, you might also enjoy these other at-home birthday parties we've thrown for our kids:
At Home Birthday Parties YOU Can DO!
To stay up to date on the latest tips and ideas, please consider signing up to have Momof6 delivered daily to your email inbox!