Over the years I have thrown dozens of kids birthday parties, using all different kinds of themes. Most of the time my husband and I are the ones leading the guests through the activities, but depending on the party- sometimes we'll hire someone to bring in animals or entertain the kids for us. At-home parties don't need to be over-the-top-professional-photography-worthy affairs- they are meant to be homemade, simple, and fun for you as well as for your child. So if you are looking for a fun at-home birthday party for your little princess- here are 12 Awesome Birthday Party Ideas for Girls!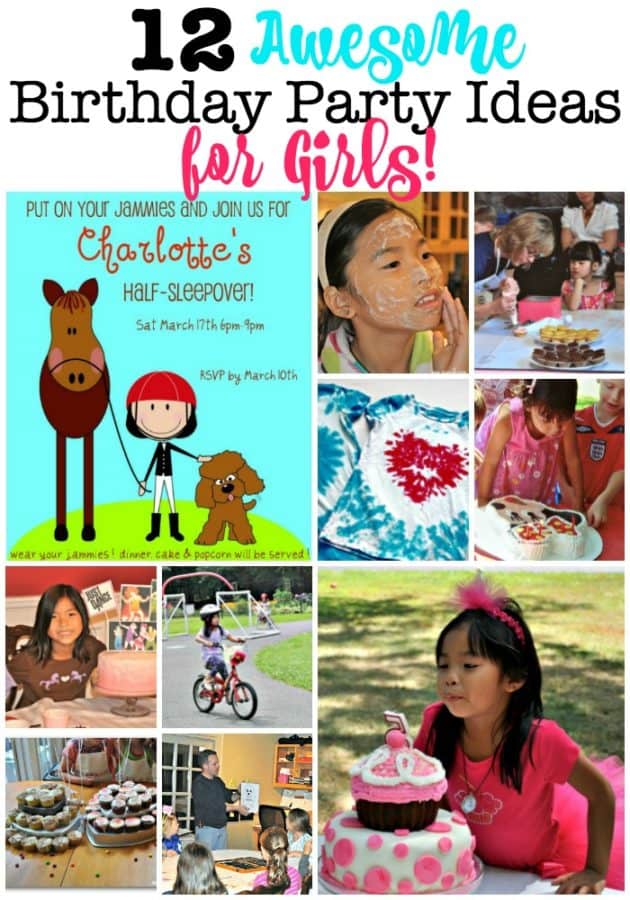 I am such a huge fan of the at-home birthday party. I love creating magical days of fun for my kids and their friends that are easy to pull together, don't cost a lot of money, and create the kind of memories that my kids will look back on fondly on when they are all grown up with kids of their own.
When you have a birthday party at home- you are free to invite more kids because you aren't shelling out $25 apiece per guest. So it's easy to include all of the girls in the class vs. having to narrow it down to just six girls and risk someone feeling left out.
Birthday Party Ideas for Girls: Puppies and Ponies Party!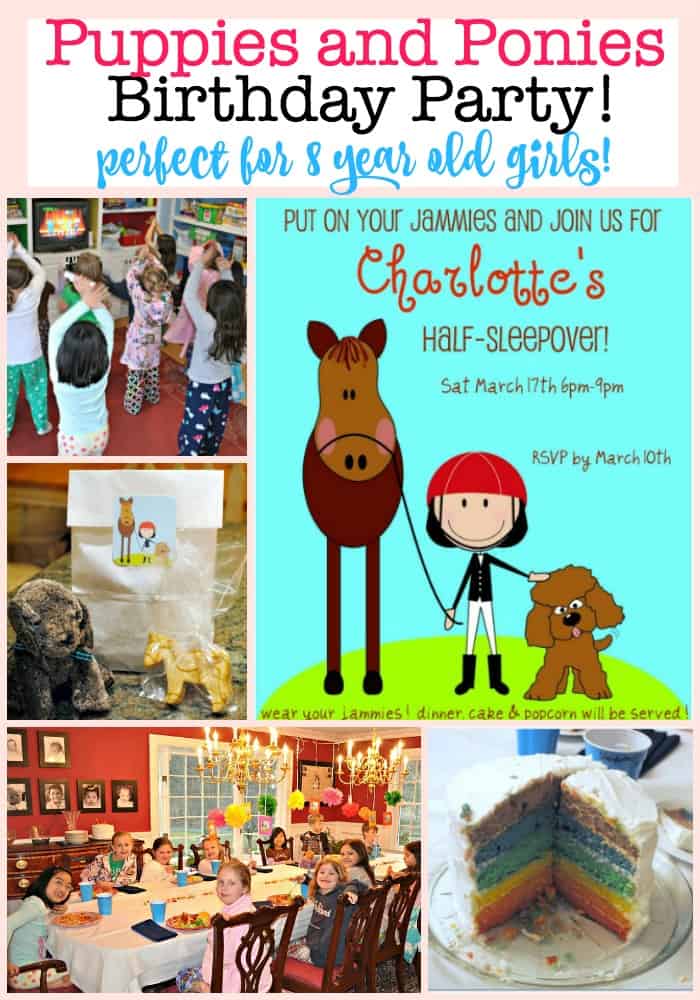 This party is centered on the things that my daughter loves best- dogs and horses! And we combined that party theme with a half-sleepover- which has all the benefits of fun hanging with your girlfriends in your jammies, eating lots of birthday cake, popcorn, and other goodies, with none of the commitment of a full night away from Mom & Dad!
This Puppies and Ponies Party post shares a free printable invite and thank you note and a complete order of events to make your party a success!
Cupcake Wars Birthday Party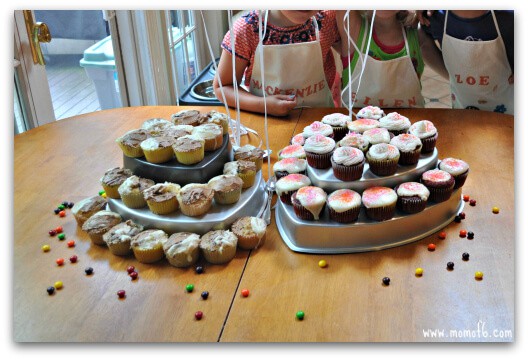 I love parties that are based on TV shows that kids already enjoy- and my kids LOVE The Food Network's Cupcake Wars! We designed this party to work as an easier version of the show- (no baking, only decorating cupcakes), and it was so much fun for my daughter and her guests. This post on our Cupcake Wars Party gives you the whole run-down of how to host it- including a script for your Master of Ceremonies!
Spa Birthday Party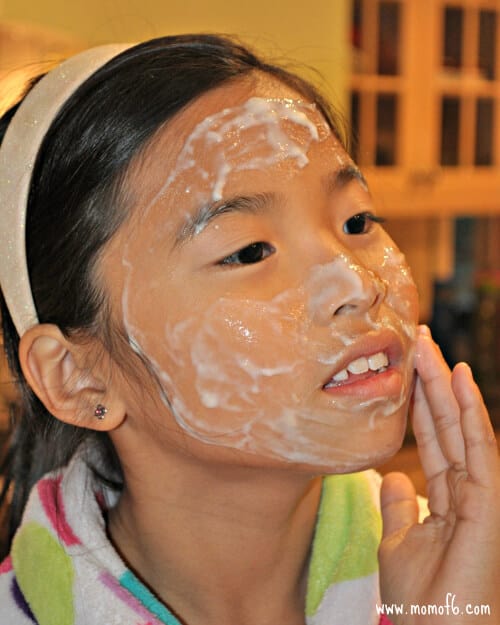 What girl doesn't love the idea of a day shared with her friends, relaxing and being pampered? I think it's safe to say that girls of ALL ages love this! In this Spa Party post, I share my ideas on how to throw a spa-themed birthday party for your daughter, including free printable invites and thank you notes, recipes for DIY spa products, and ideas for spa food!
Tie-Dye Birthday Party
I know… you're thinking "Whoa- this sounds too messy for me!", but I promise you- this can be done neatly and easily at the kitchen sink- calling guests up one by one to add their dye to the tied-up shirts. And the best part- is that you can teach the girls how to create their tie-dye effect in the shape of a heart or a peace sign!
This Tie Dye Party post gives you the low down on all of that, plus free printable invites and thank you cards!
Minnie Mouse Party
Any little girl who has been on a trip to Disney has fallen in love with Mickey's sweetheart. This Minnie Mouse Birthday Party post shows you how to hold a fun party outdoors and play simple party games that young kids will love!
Cooking Party
Girls love to help in the kitchen- so how about a party where the girls get to decorate aprons, make their own pizzas, and decorate cupcakes? This Cooking Party was all done in our own kitchen, using some folding tables to create workstations for the guests.
Art Party
My daughter and her friends love to draw, so we turned that hobby into a great at-home birthday party. This Art Party post shares with you the two Youtube videos we used to learn how to draw a cool cartoon dog and panda that we could easily re-create with this kids. I also share a full party timeline as well as a free printable invite and thank you note.
Bike Decorating Party
This was a fun outdoor party where the guests created decorations for a new bike basket and fancied-up the spokes on their wheels too. In this post for our Bike Decorating Party, I also share how we made chocolate cups to hold ice cream for dessert rather than serve a birthday cake. And the cool bike cookies we created as party favors.
Rainbow Loom Party
Rainbow loom bracelets are so much fun to make- so why not create a birthday party around making these rubber bracelets and rings in a new way? In this Rainbow Loom Party post, I show you how you can use the mini looms for your event, how to plan your party, free printable invites and thank you cards as well as an idea for the cake and punch!
Pinkalicious Party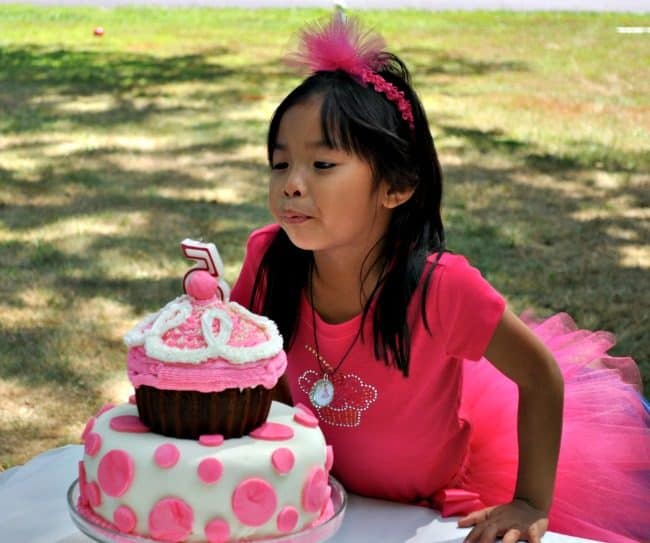 It's also fun to theme a party around a much-loved book character- and all little girls know about Pinkalicious and her love for her Mom's pink cupcakes! This Pinkalicious post shares how we pulled together several basic birthday party games and made them fit into the theme, as well as a fun craft idea, and of course- the cake!
Tea and Crafts Party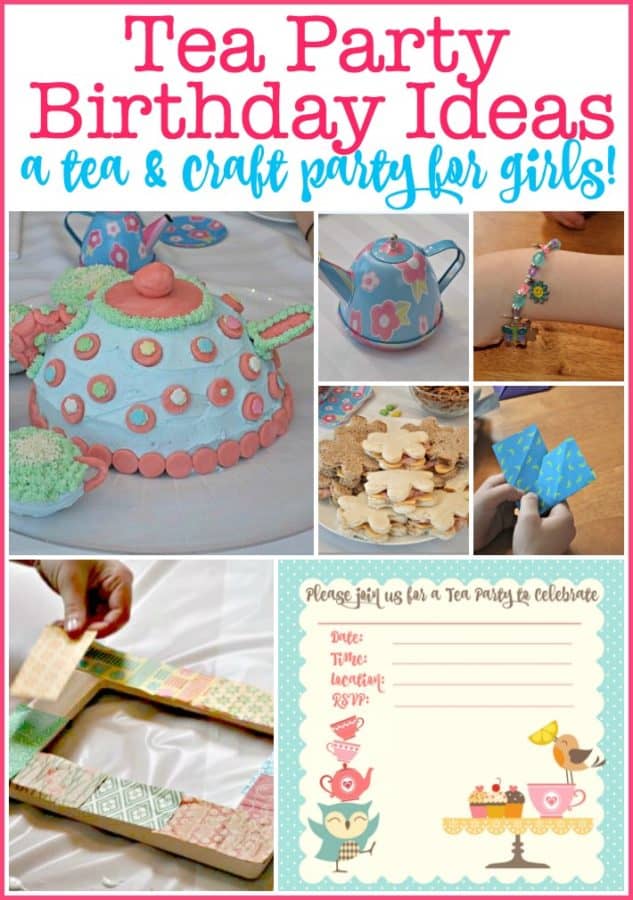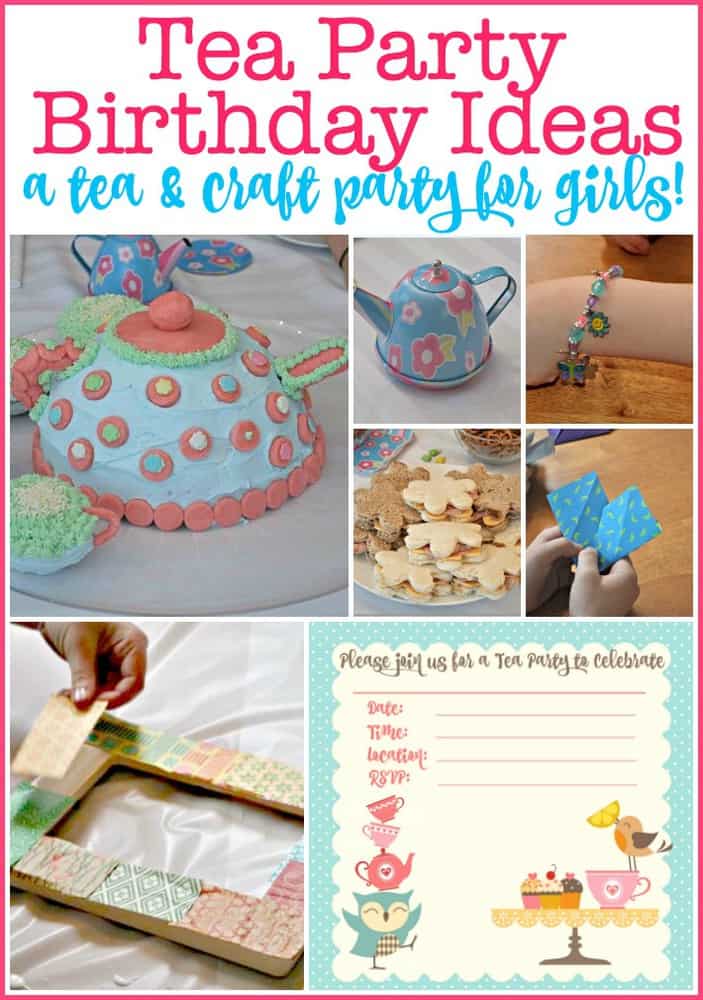 Little girls love tea parties! My girls get their tea sets out practically every time a friend comes over! So setting up a real-life tea party along with some fun crafts makes this a great birthday party for girls! My Tea and Crafts Party post shares our ideas for making a decoupage picture frame, a beaded bracelet, and an origami heart- along with free printable invitations and thank you notes!
Just Dance Half-Sleepover Party
My girls love playing Just Dance, so combining that activity with a half-sleepover was a natural! This Just Dance Party post shares with you the whole order of events on how we pulled this off! And how we turned the rainbow cake idea into an ombre cake!
I hope that you enjoyed these birthday party ideas for girls!
Looking for Some Great Birthday Party Games, Crafts, & Activities?
Shop for These Awesome Party Games!