If your child is a fan of the Food Network's show "Cupcake Wars", a "Gingerbread Wars" Party could be a huge hit! And trust me- gingerbread houses aren't not just for the winter holidays anymore- they make an excellent vehicle for adding candy no matter what time of year! At our most recent "Gingerbread Wars" themed party- we made houses using Valentine's candy- but this would also be great for St Patty's Day, Easter, and Halloween! Here are our ideas for a Gingerbread Wars Party!
The Invitation:
I created these invitations in PicMonkey and emailed them to Alex's friends three weeks in advance of his party. I created a "blank invite" here, which you are free to click on the image to open it, and print it for your own personal use!
The Party Set Up:
Since we would be decorating cookies for rounds 1 and 2 of our Gingerbread Wars Party, as well as a gingerbread house for round 3, it was important to have plenty of decorating supplies on hand!
We purchased all kinds of candy that would work well for decorating- skittle, sprees, hot tamales, jelly beans, life savers, spice/gum drops, and hard candies too. Chocolate candies are not a good candidate for cookie and gingerbread decorations because they melt!
We baked two different kinds of cookies for our party- and they can be sugar or gingerbread cookies (we went with sugar because it seems to be more universally loved by kids!). These were baked ahead of time and waiting in bins to be decorated.
For our gingerbread houses, we purchased these fantastic Candy Cottage Plastic Gingerbread Houses
. I love them because they are relatively inexpensive (which makes them perfect for a party!), they are easy to snap together, and they can be washed off and re-used over and over!
Order of Events:
Just like the TV show "Cupcake Wars", the party needs a host to explain the "rounds of competition" and what the guests need to do! At our party, Alex's older brother Jack served as our host…. here's the script he used:
Round 1:
Hi -I'm Jack and I'm your host of today's edition of "Gingerbread Wars"! Are you already for our first competition? Let's get started! The first competition is the Holiday Cookie Challenge! Your job is to create a delicious holiday cookie using at least three of the ingredients on the counter. You'll need to create 3 cookies- decorating them all the same way to show off to our judges! Each of you will receive a can of frosting that needs to last you through three challenge rounds- so use it wisely! If you'd like to add food coloring to a small amount of frosting, let one of the head chefs (Mom & Dad!) know and they will help you! So bakers you have 10 minutes! Start brainstorming your ideas and let's get started! GO!
Round 2:
This round is the "Gingerbread Man" challenge. Again, you'll need to create 3 cookies decorated the same way to show your talents to our judges. And this time you need to use 3 different ingredients on the counter. You have 10 minutes to create three awesome gingerbread men. And they better be beautiful to look at and "wow" the judges! Ready? GO! 
*At this point in the party we stopped to feed the kids pizza for lunch, and then we sang "Happy Birthday" to Alex- celebrating with candles in one of the decorated cookies!

Round 3:
In our final round, you will have a chance to make a gingerbread house! You can use any of the ingredients on the counter! But make them to look nice to impress the judges! Here's a tip: make sure to use plenty of frosting so that the candy will stick to the house! You'll have 20 minutes for this challenge! GO!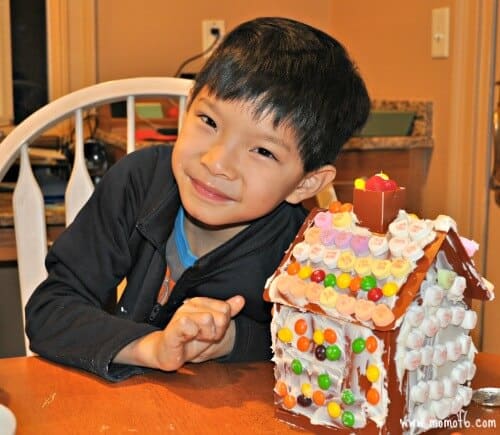 Party Favor:
All of the guests took home their gingerbread house (we put them inside of a box lid to make them easier to carry), as well as their decorated cookies.
Thank You Notes:
And later, after opening the gifts, Alex was able to send thank you notes to his friends using this fill-in-the-blank thank you card!
If you liked this party idea, you might also enjoy these other at-home birthday parties we've thrown for our kids:
At Home Birthday Parties YOU Can DO!