*Please note: I am just a parent who is a fan of the TV show "Cupcake Wars" and created a Gingerbread Wars party theme that celebrates the fun of the show. This post is in no way affiliated with or endorsed by The Food Network. All ideas and opinions expressed here as part of my kids birthday parties posts are my own.
If your child is a fan of the Food Network's show "Cupcake Wars", a "Gingerbread Wars" Party could be a huge hit! In this post, you'll find lots of ideas you can use, as well as free printable invitations, favor tags, and thank you notes! Here's how we hosted a Gingerbread Wars Birthday Party for our son Alex and his friends!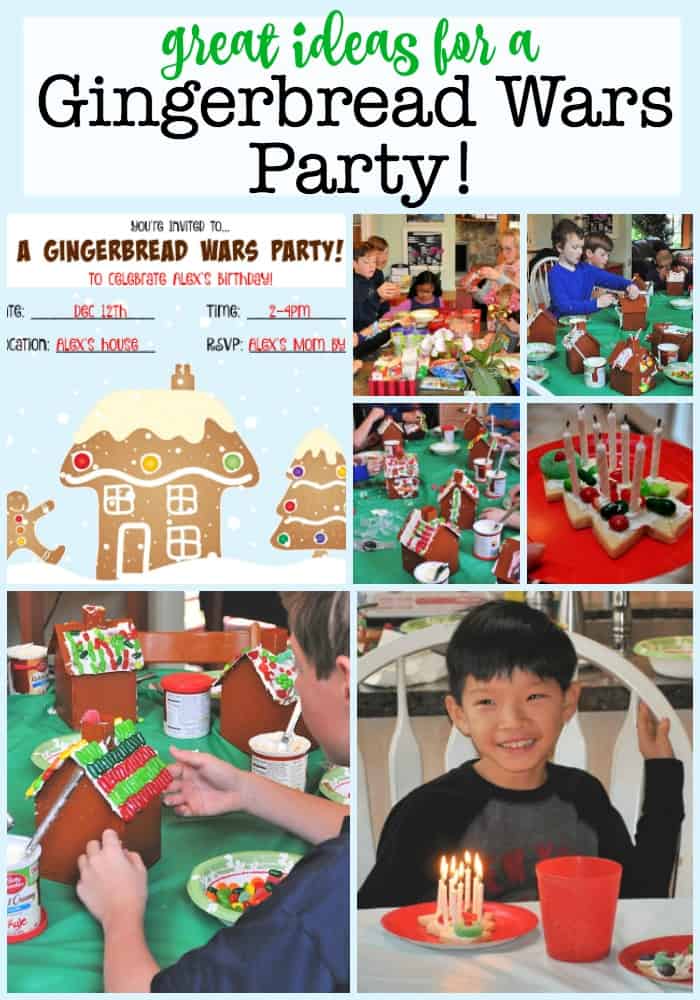 Gingerbread Wars Party Invitation:
I created these invitations in PicMonkey This is an affiliate link: MomOf6 earns a commission if you purchase, at no additional cost to you. and emailed them to Alex's friends three weeks in advance of his party. You'll find a blank version of this invitation at the end of this post!
Gingerbread Wars Party Set Up:
Since we would be decorating cookies for rounds 1 and 2 of our Gingerbread Wars Party, and decorating a gingerbread house for round 3, it was important to have plenty of decorating supplies on hand!
We purchased all kinds of candy that would work well for decorating- skittle, sprees, hot tamales, jelly beans, lifesavers, spice/gumdrops, and hard candies too.
Chocolate candies are not a good candidate for cookie and gingerbread decorations because they melt!
We baked two different kinds of cookies for our party- sugar and gingerbread cookies. These were baked ahead of time and waiting in bins to be decorated.
For our gingerbread houses, we purchased these fantastic Candy Cottage plastic gingerbread houses This is an affiliate link: MomOf6 earns a commission if you purchase, at no additional cost to you.
. I love them because they are easy to snap together, and they can be washed off and re-used over and over! (note: we purchased ours a few years ago- so they are a slightly different shape than the ones they sell now!)
Gingerbread Wars Party Order of Events:
Just like the TV show "Cupcake Wars", the party needs a host to explain the "rounds of competition" and what the guests need to do! At our party, Alex's older brother Jack served as our host…. here's the script he used (which you can download as part of the party pack at the end of this post):
Round 1:
Hi -I'm Jack and I'm your host of today's edition of "Gingerbread Wars"! Are you already for our first competition? Let's get started! The first competition is the Holiday Cookie Challenge! 

Your job is to create a delicious holiday cookie using at least three of the ingredients on the counter. You'll need to create 3 cookies- decorating them all the same way to show off to our judges! 

Each of you will receive a can of frosting that needs to last you through three challenge rounds- so use it wisely! If you'd like to add food coloring to a small amount of frosting, let one of the head chefs (Mom & Dad!) know and they will help you! 

So bakers you have 10 minutes! Start brainstorming your ideas and let's get started! GO!
Round 2:
This round is the "Gingerbread Man" challenge. Again, you'll need to create 3 cookies decorated the same way to show your talents to our judges.

And this time you need to use 3 different ingredients on the counter. You have 10 minutes to create three awesome gingerbread men. And they better be beautiful to look at and "wow" the judges! Ready? GO! 

Break in the "Action"!

At this point in the party we stopped to feed the kids pizza for lunch, and then we sang "Happy Birthday" to Alex- celebrating with candles in one of the decorated cookies!

Round 3:

In our final round, you will have a chance to make a gingerbread house! You can use any of the ingredients on the counter! But make them to look nice to impress the judges! Here's a tip: make sure to use plenty of frosting so that the candy will stick to the house! You'll have 20 minutes for this challenge! GO!

Gingerbread Wars Party Favor:

All of the guests took home their gingerbread house as well as their decorated cookies. We just wrapped them up using a cellophane roll This is an affiliate link: MomOf6 earns a commission if you purchase, at no additional cost to you. , tied the top with a ribbon and added our favor tag! (You can download a sheet of favor tags at the end of this post).

Gingerbread Wars Thank You Notes:

And later, after opening the gifts, Alex was able to send thank you notes to his friends using this fill-in-the-blank thank you card! (and again- you can grab yours below!)

Planning a party or get together for tweens?

Then be sure to check out this list of The Best Backyard Games This is an affiliate link: MomOf6 earns a commission if you purchase, at no additional cost to you. for Tweens and The Best Party Games This is an affiliate link: MomOf6 earns a commission if you purchase, at no additional cost to you. for Tweens over on my Amazon influencer page This is an affiliate link: MomOf6 earns a commission if you purchase, at no additional cost to you. !

Ready to Download The Free Party Printables?

Awesome! Simply sign up below to join the MomOf6 community, and you'll be directed to a thank you page with access instructions!  The download includes the Gingerbread Wars party invitation, thank you note, favor tags, as well the "show script" for your party!

*You can view our Privacy Policy here. To access the printable without subscribing to our newsletter, click here to send an email requesting access.

Check out some more awesome Tween Birthday Party Ideas:

Check out all of our Kids Birthday Parties here:

How to Throw Your Own Kids Birthday Parties at Home!

Looking for Some More Great Party Games, Crafts, & Activities for Kids?

or Shop for These Awesome Party Games!