It isn't always possible to get away and take a big trip just because the kids have time off from school. But with a little creativity- you can pull together a great plan to enjoy a staycation together! This post is filled with some fun staycation ideas with tweens and teens that you can do without leaving home! And at the bottom of this post you can find the instructions on how to download the free printable staycation planner!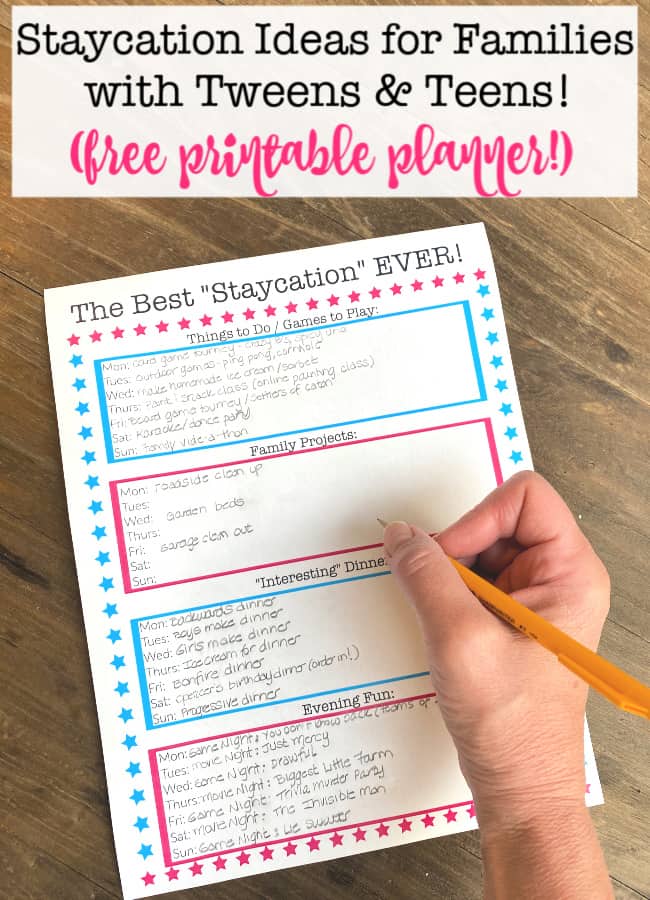 Let's face it, on a staycation with tweens and teens you have to allow for the fact that they are going to sleep in late (and likely stay up late as well). So there's no need to plan a ton of daytime activities! Instead, pick one fun thing each day to build your day around.
The place where you really want to invest your creative efforts is on the dinner hour and the after-dinner activities. And I've got some great ideas for you below!
Staycation Ideas for Completely Staying at Home
Most of the time when planning a staycation, you look at the museums, rec centers, sports venues, and state parks that are located near your hometown and plan outings to these attractions. But if you are planning a staycation that is going to be totally based at home- either inside of your house or in your own backyard- it can be a lot more challenging to make it fun for everyone!
So here are the best ideas I've found for enjoying a staycation with tweens and teens while staying completely at home!
Staycation Ideas: Things to Do / Games to Play
These staycation ideas can become the foundation for your day. I've grouped them into activities for the inside of the house and ones for the backyard:
Indoor Staycation Ideas:
Backyard Staycation Ideas:
Backyard games tournament (cornhole, ladder ball, spike ball, soccer, badminton)
Driveway games (4-Square, basketball)
Send the kids on a backyard photo scavenger hunt
Set up a tent and do any of the indoor activities (above) together in the tent
Staycation Ideas: Family Projects:
I love the idea of working on a few family projects together over a staycation. While cleaning out the garage might not seem very vacation-worthy… finding all kinds of things to play with that you forgot you even owned can make this family project a whole lot of fun!
Create your own American Ninja Warrior course
Start planning and prepping for your Vegetable Garden (I've decided that I'll be growing everything from seeds this year- so we'll be prepping garden beds and starting plants indoors during our staycation!)
Conduct a roadside clean up on the street in front of your house
Clean out the basement or the garage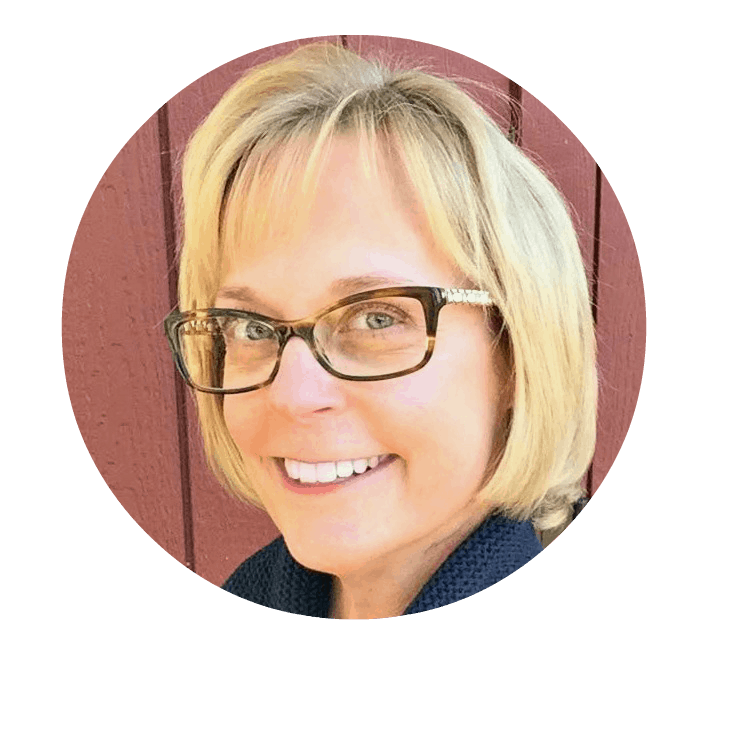 Looking for some fun things to do with the kids?
Check out some of our family's favorites! Here's our list of the best Backyard Games This is an affiliate link: MomOf6 earns a commission if you purchase, at no additional cost to you. and for those rainy days- here are our favorite board games This is an affiliate link: MomOf6 earns a commission if you purchase, at no additional cost to you. !
You can find more great resources for busy Moms over on my Amazon influencer page This is an affiliate link: MomOf6 earns a commission if you purchase, at no additional cost to you. !
Staycation Ideas: "Interesting Dinner" Themes!
Here I tried to come up with some new ideas that we haven't tried before (because we do "Pizza Night", "Pasta Night", "Chinese food night", "Taco Night" on a regular basis!)
Backward dinner (you serve dessert first, then the main course, then the salad or appetizer)
Kids make dinner- with no rules! (If they decide that dinner is popcorn, soda, and candy- so be it! It's just one night!)
Ice Cream for dinner (with all of the fixings. Again- it's just one night!)
Bonfire dinner (everything has to be made over our backyard fire pit. The appetizer can be nachos made in a foil pouch that's draped over the fire on a stick, hot dogs for the main course, and s'mores for dessert.
Progressive dinner night- serve the appetizer in one room, the salad in another, the main course in another, and the dessert someplace else. Bonus points for "bed spreads" and "floor picnics"!
Backyard picnic dinner
Staycation Ideas: Evening Fun with Tweens & Teens
Family game night: We plan to download some Jackbox games: "You Don't Know Jack", "Drawful", "Lie Swatter", and "Trivia Murder Party" and play against each other using our phones. We'll use Apple TV to run the games and display everyone's answers!
Family movie night using Netflix or Amazon Prime- complete with popcorn and movie box candy

This is an affiliate link: MomOf6 earns a commission if you purchase, at no additional cost to you.

Escape Room game (downloadable from Lock, Paper, Scissors

This is an affiliate link: MomOf6 earns a commission if you purchase, at no additional cost to you.

)
Ready to Download the Free Printable Staycation Planner?
Awesome! Simply sign up below to join the MomOf6 community and you'll be directed to a thank you page with access instructions!
*You can view our Privacy Policy here. To access the printable without subscribing to our newsletter, click here to send an email requesting access.
Want to See More Resources for Busy Moms?
I hope that you found this to be a great resource for you as you plan your staycation!